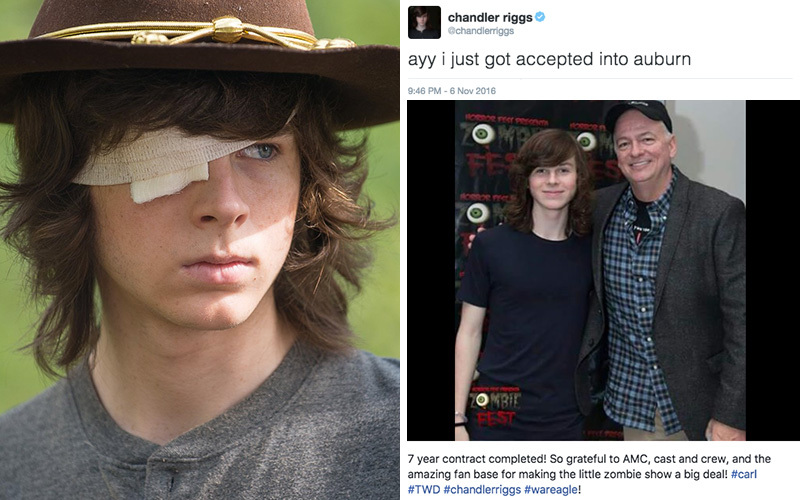 They say life is the best teacher. You learn lessons that no school can teach you simply by living. So growing up in a zombie wasteland must be like the equivalent of taking AP classes all year long. But apparently, that's not good enough for the actor who plays Carl Grimes on AMC's The Walking Dead.
Sure, he may have been shot, lost an eye, killed his mother, and come this close to having his father chop his arm off, but apparently that's just not enough for the young Chandler Riggs. Earlier this month, he tweeted the following message announcing his intent to head off to college.
ayy i just got accepted into auburn

— chandler riggs (@chandlerriggs) November 7, 2016
Apparently, he wants to do more with his life than just inspire a line of great memes.
Losing Chandler/Carl would be a big hit for the show. Despite not always being the most popular character, he's kind of crucial to the story. He's one of the last things keeping Rick somewhat grounded in his world, and for those who keep up with the comics, you know that his role in the show is only supposed to grow more prevalent as time goes by.
So when Riggs made this announcement, it raised some flags for fans of the show. But they shrugged it off, citing the close proximity to the Alabama school and Atlanta where the AMC series is shot.
But then Riggs' dad went and posted this, stoking the fire that he might actually be leaving the show.
Talk of the end of the contract made it seem like it was inevitable that Riggs was leaving the show, and the rumor started spreading across the internet quicker than a zombie infection. But, a quick glance at Riggs' mother's Instagram tells a different story.
In a posted picture, she leaves a comment saying, "Don't over analyze. His seven year contract is up. That's all he was saying, nothing else. Pretty big accomplishment for a child actor (and for the parent who had to quit his job for the child to be able to follow his dream)."
Apparently his father had to chaperone the young Chandler while on set, which forced him to put his own career on hold. He even had his own contract with AMC.
So what does it all mean? The creators of TWD are notorious for keeping their cards close to their chest to avoid any potential spoilers, so I doubt we'll get a firm answer from them anytime soon. Other actors are currently in negotiations for contract renewals, however, so it may only be a matter of time before the truth comes out.
Be the first to receive breaking news alerts and more stories like this by subscribing to our mailing list.