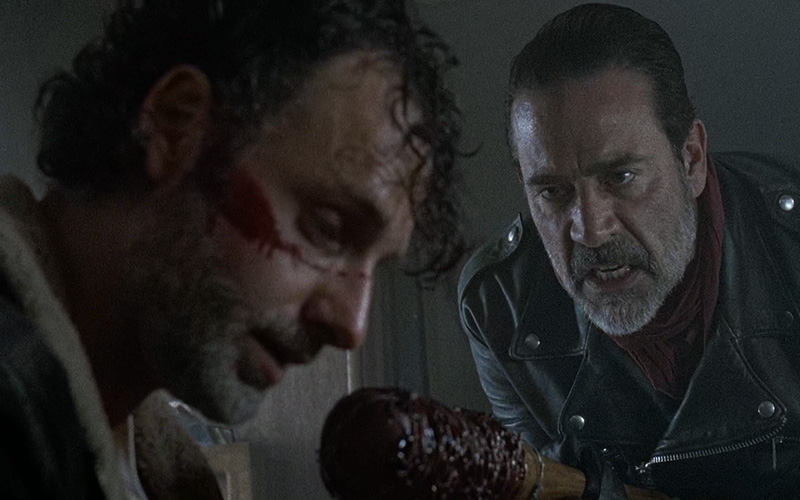 The Walking Dead has become a cultural phenomenon since it first aired six years ago. It has amassed a huge following over its six seasons, earning a spot in the top five most viewed shows on television right now. And after a long hiatus between season 6 (which ended in a brutal cliff hanger) and the season 7 premiere this past Sunday, fans were clamoring for the latest episode in this violent series.
And it certainly didn't fail to live up to its violent history, with some critics calling it, "an hour of pure, relentless misery," and "as much fun as…a barbed-wire baseball to the skull." For those who haven't seen it yet, just know that it was eye-poppingly brutal.
In fact, the episode was so violent and tough to watch, many viewers are saying they've finally had enough:
Good bye forever @WalkingDead_AMC. That was disgusting. #TheWalkingDead didn't just jump the shark it pulped it.

— John Hocevar (@JohnHocevar) October 24, 2016
Why did I say I want the walking dead back. No take it away. I'm emotionally unstable now. I'm crying. No thanks. I quit. #TheWalkingDead

— Ally G (@allyg765) October 24, 2016
https://twitter.com/samm_ferguson_/status/790369269284569088?ref_src=twsrc%5Etfw
I QUIT I HATE THE WALKING DEAD I CANT WATCH THIS HOW ANYMORE WHAT THE HELL

— megan (@mxgzilla) October 24, 2016
So, @WalkingDead_AMC jumped the shark. I'm done and won't be watching from here out. Sorry @AMC_TV @AMCTalkingDead, but it was too graphic. pic.twitter.com/2H2MsFS7AB

— Corey (@coreyblaser) October 24, 2016
These threats of being done with the show are nothing new for TWD crew. You only have to look back to the season 6 finale when countless people vowed to drop the show because of the cliffhanger ending. There was even a change.org petition created to rally fans to stop watching.
How'd that work out, you ask? Sunday's season 7 premiered with an average of 17 million viewers, up 20% from last year's finale. So for now, it's tough to believe all the angered chatter on social media.
They've proven they will keep coming back. As the executive producer of the show, Greg Nicotero, put it, "I think it's a kneejerk reaction that people have, because they care about these characters. If we killed someone they didn't care, like, 'no big deal, just gonna go have a bagel and not worry about it,' that means we haven't done something to connect our people to the characters."
So it's probably safe to say The Walking Dead is in no trouble of losing its viewship. Besides, there's a freakin' tiger this season, and who's not going to keep watching for that?
Be the first to receive breaking news alerts and more stories like this by subscribing to our mailing list.