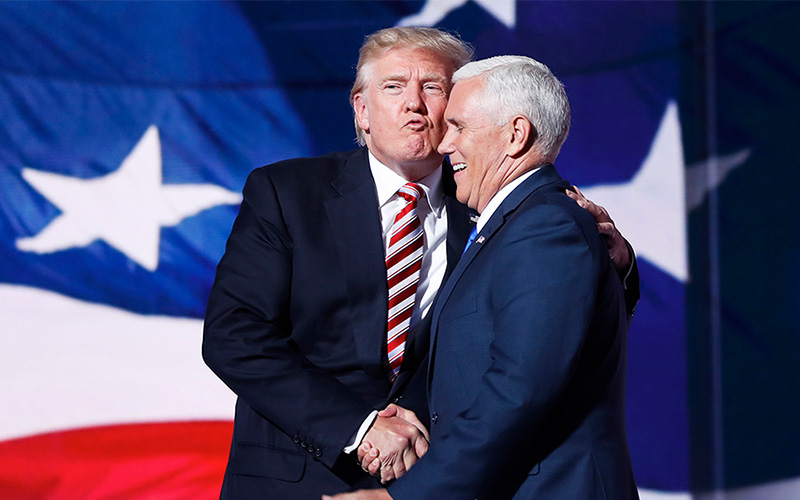 Donald Trump is extremely butthurt over Mike Pence getting booed at Hamilton and being lectured by the cast during last night's performance.
Before Friday night's showing of Hamilton, as he made his way to his seat, Pence was loudly booed by the audience, and the whole thing was caught on video, which instantly went viral on Twitter.
SEE MORE: Vice President-Elect Mike Pence Booed at Hamilton Performance, Cast Delivers Important Message
At the end of the show, as Pence was walking out, the cast (via Brandon Dixon) addressed him directly, in a very respectful manner, mind you, asking him if he would stick around for a special message.
Tonight, VP-Elect Mike Pence attended #HamiltonBway. After the show, @BrandonVDixon delivered the following statement on behalf of the show. pic.twitter.com/Jsg9Q1pMZs

— Hamilton (@HamiltonMusical) November 19, 2016
"We have a message for you sir, we hope that you will hear us out," Dixon said. "We, sir, we are the diverse America, who are alarmed and anxious that your new administration will not protect us, our planet, our children, our parents or defend us and uphold our inalienable rights. But we truly hope that this show has inspired you to uphold our American values and to work on behalf of all of us."
Trump, who is just two months away from being inaugurated as the 45th president of the United States, obviously didn't take his VP-elect being criticized too well, because Saturday morning (Nov. 19), he took to Twitter claiming that his running mate was "harassed by the cast of Hamilton" and demanding that they "apologize" for being "very rude to a very good man."
Our wonderful future V.P. Mike Pence was harassed last night at the theater by the cast of Hamilton, cameras blazing.This should not happen!

— Donald J. Trump (@realDonaldTrump) November 19, 2016
The Theater must always be a safe and special place.The cast of Hamilton was very rude last night to a very good man, Mike Pence. Apologize!

— Donald J. Trump (@realDonaldTrump) November 19, 2016
It didn't take long for Dixon, who plays Aaron Burr in the show, to respond to Trump, also via Twitter, saying that that they simply held a "conversation" with Pence, which "is not harassment," and he also praised Pence for actually listening to said conversation.
conversation is not harassment sir. And I appreciate @mike_pence for stopping to listen.

— Brandon Victor Dixon (@BrandonVDixon) November 19, 2016
Meanwhile, the hashtag #BoycottHamilton is trending on Twitter, because there are a large number of people in this country who obviously don't believe in the First Amendment of the United States Constitution.
https://twitter.com/riyasharma266/status/800084461392011264
https://twitter.com/andieiamwhoiam/status/800054544466112512
https://twitter.com/JackPosobiec/status/800053313643356160
Im very dissappointed in the treatment of our Vice President Elect @mike_pence. Of course @realDonaldTrump will defend ALL #BoycottHamilton

— Pastor Mark Burns (@pastormarkburns) November 19, 2016
Of course, most of Twitter looks at this whole #BoycottHamilton thing as one of the biggest jokes of the year:
#BoycottHamilton? Good luck with that. Tickets are already sold-out past President-elect Troll's impeachment.

— Jeffrey Wright (@jfreewright) November 19, 2016
Like those supporting #BoycottHamilton can even COP a tick in the 1st place. This just becameTHE HOTTEST ticket in town yet AGAIN.

— Questlove (In E flat) (@questlove) November 19, 2016
Hey everyone #BoycottHamilton so I can actually get some tickets thanks

— Frank Gioia (@CrankThatFrank) November 19, 2016
https://twitter.com/classy_dame/status/800085344779583488
I'm here to help! For those joining the #BoycottHamilton I'll take two tickets of your hand for any show during the coming week.

— Ian (@iiamit) November 19, 2016
Yes, people should #BoycottHamilton! Show your support by taking a pic of your tickets & posting online! Make sure the barcode is visible!

— wikipedia brown told Santa the truth about you (@eveewing) November 19, 2016
You know what? I support #BoycottHamilton. I hope it intensifies — especially during the first week of March, maybe that Sunday matinee?

— Patton Oswalt (@pattonoswalt) November 19, 2016
#BoycottHamilton? How can you boycott something that is sold out until late 2017? You got imaginary tickets? pic.twitter.com/qCKuARq2v6

— ??Kayla Ava Maria?? (@Maria_Giesela) November 19, 2016
Be the first to receive breaking news alerts and more stories like this by subscribing to our mailing list.