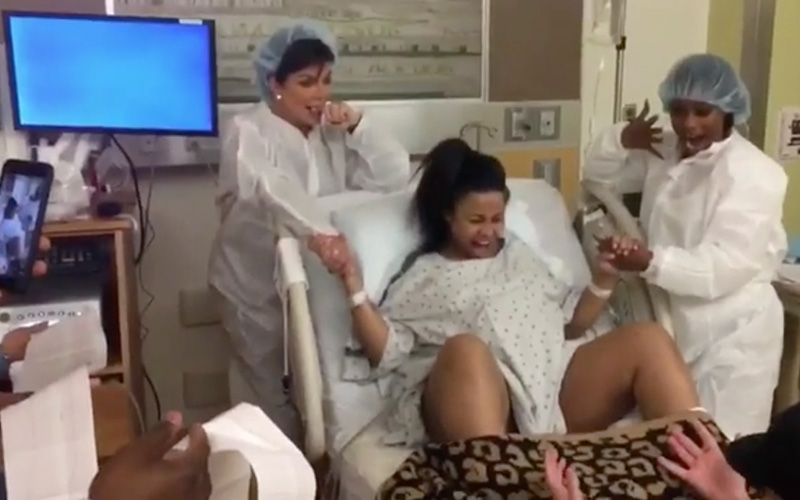 Blac Chyna, Rob Kardashian and their family may have just won the #MannequinChallenge FOREVER with this one!
Rob Kardashian and Blac Chyna took the Mannequin Challenge to a whole new level Thursday (Nov. 10) just moments before Chyna gave birth to their daughter, Dream Renee Kardashian.
WATCH HERE:
https://www.instagram.com/p/BMpaNqRhcp2/
The staged video shows Chyna — who actually delivered via C-section — posing in the "pushing position" as she's flanked by Dream Kardashian's grandmothers Kris Jenner and Tokyo Toni (Rob & Chyna's moms) on either side, while dad Rob Kardashian sits at the end of the bed with his arms stretched out ready to "catch" the baby as it pops out.
Chyna's BFF Paige can also been seen in the video "recording" the birth, as well as step-grandpa Corey Gamble (Kris Jenner's boyfriend), who appears to be reading test results with a technician. And even though we can't see her, Baby Dream is probably in mommy's tummy frozen in time with the rest of her family too.
The video, which is of course backed by Rae Sremmurd's "Black Beatles" (the official song for the Mannequin Challenge), was initially posted on Chyna's Instagram and has since gone viral, with over 3 million views.
Sucks for you if you planned on doing the Mannequin Challenge anytime soon, because we doubt whatever you do won't top this one.
Be the first to receive breaking news alerts and more stories like this by subscribing to our mailing list.