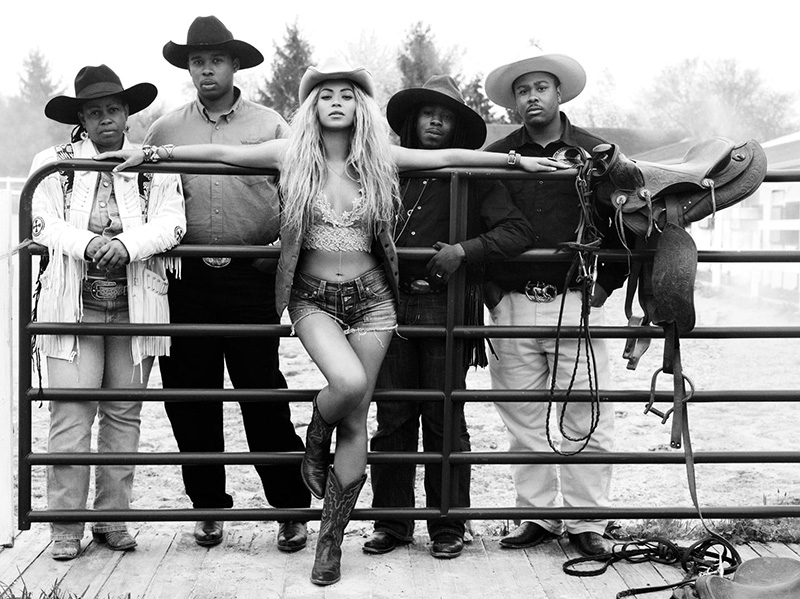 Continuing her apparent plan of global domination, Beyoncé is taking her talents to the 50th annual Country Music Awards!
After a ridiculously busy year of wig snatching, with the release of her "Formation" video, her visual album Lemonade, and the Formation World Tour, as well as distinctly different performances at the BET Awards, the MTV VMAs AND the Super Bowl, Beyoncé STILL ain't done yet.
I mean, honestly, at this point, most artists would be like, "OK, tour's over, it's Holiday season … time to rest!" But then again, Beyoncé isn't like "most artists" and continues to prove she's at the top of her game by going as hard as she does.
Various sources have been reporting throughout the day that Beyoncé would be taking the stage tonight at the CMAs, and Brad Paisley, the show's host, confirmed the rumors on Twitter this afternoon, revealing that she'll possibly be performing some type of crossover collaboration.
Frequently, country crosses over. But every now & then a major pop superstar wants to be a part of this too. Welcome, Beyoncé.#cmaawards50

— Brad Paisley (@BradPaisley) November 2, 2016
Good Morning America, which airs on ABC (the same network where the CMAs will air), also confirmed the news:
JUST IN: @Beyonce will perform TONIGHT at the CMA Awards, 8|7c on ABC! @CountryMusic #CMAawards50 pic.twitter.com/pjtSL9trj2

— Good Morning America (@GMA) November 2, 2016
Additionally, "multiple sources" confirmed to People that Beyoncé is "currently in Nashville and will attend the awards ceremony tonight — plus, she appears to be performing."
And if that's not confirmation enough, a number of popular Beyoncé fan pages have said that a Beyoncé performance at this year's CMAs is definitely happening, and one Twitter user shared a personal story about how they heard about Queen Bey's upcoming appearance/performance:
my mom is working the CMA's tonight and she just texted me saying she rode next to Beyoncé on the elevator ??

— Sommer L ? (@sommerlovin_) November 2, 2016
https://twitter.com/TheBeyHiveTeam/status/793872339691864068
For those who don't know, Beyoncé has a country-ish song on Lemonade called "Daddy's Lessons," so while it's thrilling that she's taking the stage, it isn't TOTALLY surprising. Word is, she'll be sharing the stage as she opens the show with the Dixie Chicks, who LOVE "Daddy's Lessons" and have performed the song every night on their tour.
But while all of this is exciting for members of The BeyHive, some fans of country music are P-I-S-S-E-D that "cop hater" Beyoncé was invited to perform at the CMAs, and they've been expressing their disgust on social media all afternoon.
https://twitter.com/andieiamwhoiam/status/793904210551115776
https://twitter.com/OMJItsRachel/status/793885972979212288
WHY???? Just why?????? She's not even remotely close to country

— Dee (@DeSargent) November 2, 2016
Whomever decided that Beyonce should be on the @CountryMusic Awards should be fired!

— Meri Ross (@MusicFan7KU) November 2, 2016
@CountryMusic why @Beyonce ? That POS? Really? you please announce the time she will be performing? So I can turn the TV off? #CMAawards50

— OutInTheCountry (@NCmasonjar) November 2, 2016
@CountryMusic Beyoncé can keep her lemonade and stay far away from country music's biggest night. Honor and respect the legends.

— Adri ? (@adriananikkole) November 2, 2016
.@CountryMusic …lost me. Nothing "country" about @dixiechicks & cop-hating @Beyonce on same stage together. Disgusting. #CMAawards50

— Kathy Murphy (@katmur23) November 2, 2016
And the complaints don't end there. Fans also took to Facebook to express how disappointed they were with the Country Music Awards for allowing such a thing to happen.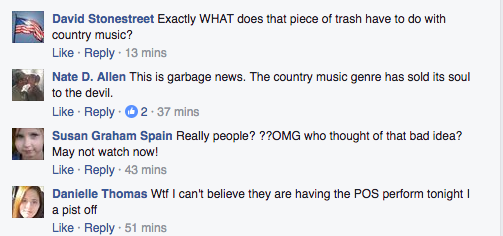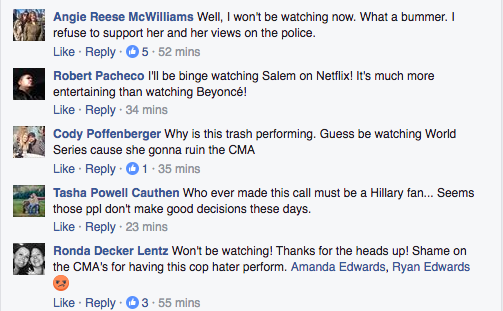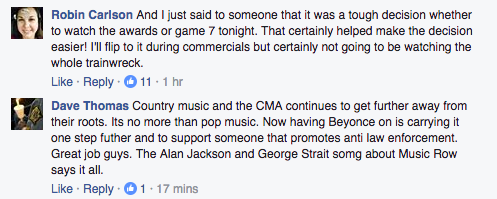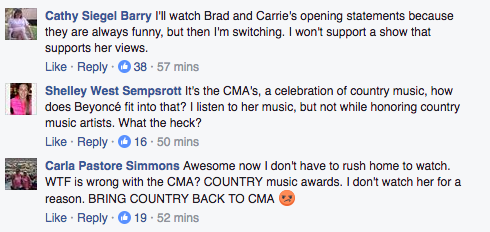 Meanwhile, us members of the BeyHive have basically accepted the fact that haters are gonna hate, and we can't wait to see our queen's big crossover performance:
I'll be tuning into the @CountryMusic awards tonight to watch @Beyonce! #CMAawards50 pic.twitter.com/jx86P4vIDD

— Dawn Neufeld (@DawnNeufeld) November 2, 2016
And I hope @Beyonce milly rocks all over that @CountryMusic Awards stage. #CMAs #BlackWomenDidThat pic.twitter.com/hKM4I8blfd

— R.I.P. James Baldwin (@KevitoClark) November 2, 2016
Who cares if @Beyonce is performing at the @CountryMusic awards! She's a well deserved artist and Entertainer! To all the HATERS BYE ??????

— Brittany (@britttanyyy08) November 2, 2016
Racists start #BoycottBeyonce to boycott @Beyonce @CountryMusic performance; calling her cop hater. #CMAawards50 @CMT

Bey gone show up like pic.twitter.com/ghTe6UXbqs

— Jerome Trammel (@MrJeromeTrammel) November 2, 2016
https://twitter.com/lovebscott/status/793932073920696321
all I want on my feed tonight are audience reaction shots of trump supporters @ the @CountryMusic awards as #Beyonce performs tonight #petty pic.twitter.com/x3rD1s75E5

— Alex Phillips (@alex_onTV) November 2, 2016
So @Beyonce will be performing on the @CountryMusic Awards tonight and I'm gunna explode ????

— Cassadee Pope (@CassadeePope) November 2, 2016
Of course Beyoncé isn't the first "non-country" artist to perform at the CMAs, as Justin Timberlake performed "Tennessee Whiskey" last year with Chris Stapleton, and the year before that, Meghan Trainor teamed up with Miranda Lambert for a countrified version of Trainor's hit single at the time, "All About That Bass."
The 2016 Country Music Awards will air live from Nashville on ABC starting at 8 p.m.
h/t: Love B. Scott, That Grape Juice
Be the first to receive breaking news alerts and more stories like this by subscribing to our mailing list.