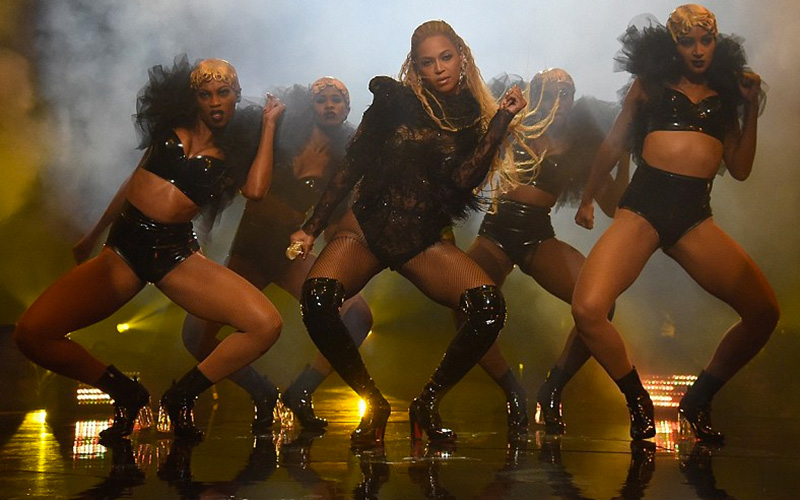 They say that wine gets better with age, but the same is also true of America's national treasure, Beyoncé.
For years, Bey has been blowing the competition away with her live performances. Her energy, talent and penchant for spectacle is simply unmatched. And every time Beyoncé raises the bar, we think to ourselves: This is it. It can't get mo' better than this.
And yet here we are, in the year 2016 and Bey has miraculously done it again. While Beyoncé has certainly turned in several memorable award show performances, this 15-minute abridged performance of her visual album, Lemonade, will surely stand out as her best.
Cherry picking a selection of tracks from her album, Beyoncé wove a complex, gorgeous and enthralling story throughout her performance. While it certainly followed and picked up on the cues from the visual album, such as the baseball bat in "Hold Up," it was also infused with distinctly new choreography and visual treatments.
It started with "Pray You Catch Me," which was imbued with rich symbolism and hinted at the nation's racial tensions as angels' white lights turned red as they fell to the ground.
Then, Beyoncé turned up the heat and brought her swagger out for "Hold Up."
And there was so, so, so much more. Just do yourself a favor and sit down to watch these 15 minutes of glory Beyoncé has gifted us.
WE ARE NOT WORTHY!
And the BeyHive let the world know that their wigs were absolutely snatched by Beyoncé's flawless performance.
Y'all don't understand that my wig has been snatched from Beyoncé's performance… like I need a day to think about my life..

— Jazzmin Samone (@Jazzmin_Samone) August 29, 2016
PRAY YOU CATCH ME I'M BALD pic.twitter.com/pGD2SIB0xY

— The Lion Queen is coming (@beyceipts) August 29, 2016
Beyonce shook my life and snatched my wig off with that VMA performance

— Swerv-io (@nipplevevo) August 29, 2016
https://twitter.com/SheSeauxSaditty/status/770088506530140160
I'm still trying to find my damn wig Beyoncé snatched off ?????????? #VMAs #KingBey #BeyHive

— BaddieDrine (@SexyDrine88) August 29, 2016
https://twitter.com/wulfhaley/status/770094440081948673
Bey recovery pack #VMAs #BeyMAs pic.twitter.com/iLo53bwhgr

— ??????, ??????? ?. (@cynfinite) August 29, 2016