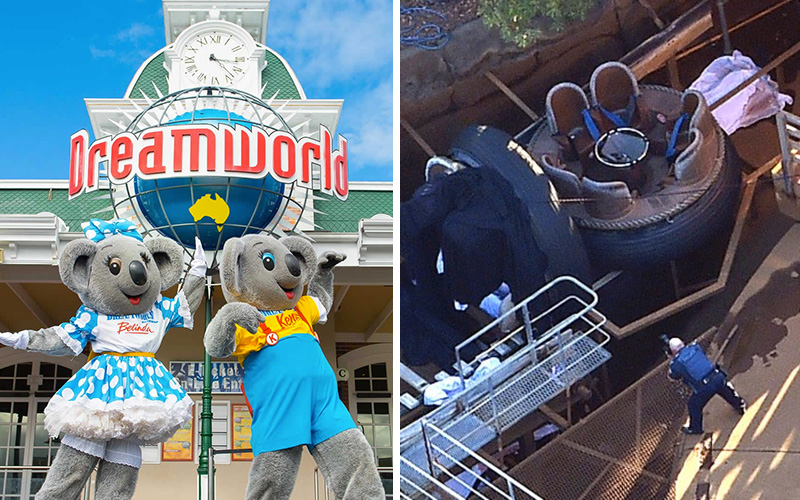 Four people were killed Tuesday (Oct. 24) on the Thunder River Rapids Ride at Dreamworld, Australia's biggest theme park, located on the Gold Coast in Queensland.
Here are some things to know about the tragic incident.
1. The four victims killed in the accident were all adults.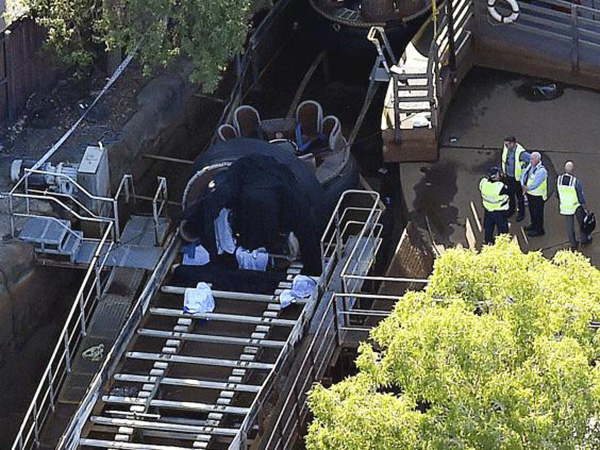 Police were called to the site at Coomera around 2:20 p.m. Tuesday afternoon following reports that "a number of people had been injured by a conveyor belt."
When they arrived to the scene, officers found two victims were ejected after a malfunction on the ride and the other two victims were trapped inside. All four victims died from their injuries.
The victims were later identified as 32-year-old Kate Goodchild, 35-year-old Luke Dorsett, 38-year-old Roozi Araghi, and an unidentified 42-year-old New Zealand woman.
Queensland Ambulance spokesman Gavin Fuller said a "malfunction" was to blame for the incident. "The ride had sustained some sort of malfunction causing two people to be ejected," said Fuller. "Another two people were caught inside the ride — two males and two females, they were assessed by Queensland ambulance personnel and had all sustained injuries that were incompatible with living."
Two children, ages 10 and 13, were on the same raft as the victims, but managed to escape before being harmed.
2. Three of the four victims were family and had traveled around 2,300 km (over 1,400 miles) from Canberra to the theme park in Queensland.
Kate Goodchild and her brother Luke Dorsett along with his partner Roozi Araghi (L to R, all three killed in the incident) were visiting Queensland from Canberra (2,300 km/1,400 mi away) when they decided to stop by Dreamworld.
Kate and Luke's mother Kim Dorsett told Courier-Mail that she is deeply devastated by the incident. "I have three children and have lost two of them today — my whole family has been wiped out," she said.
She describes her son and daughter as kind, loving souls. "They really were just wonderful people – that would be the best way to describe them," Dorsett said. "They were kind, loving souls that would honestly do anything for anyone."
Kate Goodchild was the mother of two daughters, a 12-year-old and an 8-month-old. The oldest child is said to have been at the theme park when the accident occurred. Kate's mother Kim said the oldest child is blaming herself for her mother's death.
"Like me, she [the older daughter] is still coming to terms with it all but she is completely devastated – she is blaming herself for what has happened," Dorsett said. "She has had a truly terrible day, she is going through unimaginable pain at the moment."
Dorsett continued, "I'm at a loss as to how to deal with this now – I woke up this morning with three children and tomorrow I am only going to have one left. I have two granddaughters … and it truly breaks my heart to know that my eight-month-old is never going to get to know her mum."
The other woman killed in the tragedy is said have been vacationing from New Zealand with her husband and two children at the time of the incident.
3. The park is now closed in light of the tragic incident.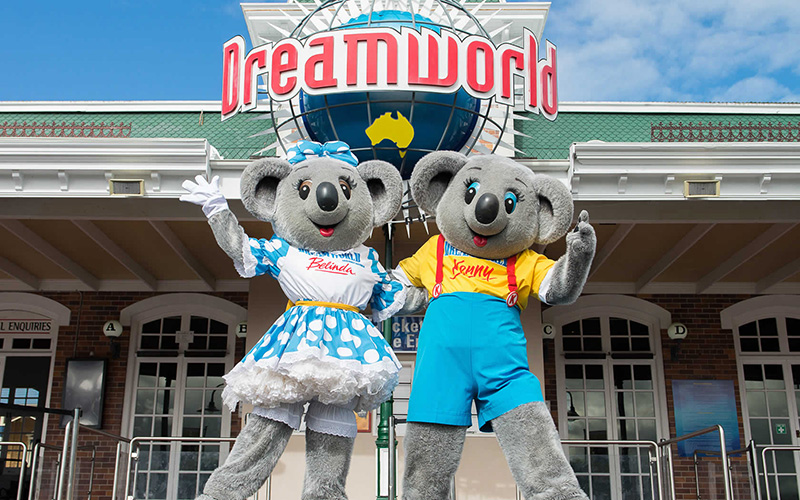 Dreamworld's CEO Craig Davison announced in a news conference following the accident that the park is closed and the situation is under investigation.
"At this stage, the park is closed and Dreamworld is working closely with police and emergency services to establish the facts around the incident," Davison said. "We are deeply shocked and saddened by this and our hearts and our thoughts go to the families involved and to their loved ones."
The company's secretary Alan Shedden issued a statement saying, "Dreamworld's focus and priority is with the families of those involved in this tragedy."
4. US Olympian Matthew Centrowitz was on the ride minutes before the tragedy occurred.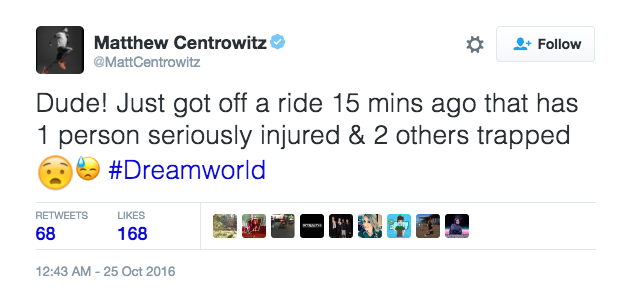 US Olympian Matthew Centrowitz tweeted that he had just got off the ride 15 minutes prior to four people being killed. "Dude! Just got off a ride 15 mins ago that has 1 person seriously injured & 2 others trapped. #Dreamworld," he tweeted.
hearing more news about the tragic event at Dreamworld today. Thoughts and prayers go out to people and families involved.

— Matthew Centrowitz (@MattCentrowitz) October 25, 2016
He also sent out another tweet giving his thoughts and prayers to all those involved: "hearing more news about the tragic event at Dreamworld today. Thoughts and prayers go out to people and families involved."
5. The ride had stopped earlier in the day.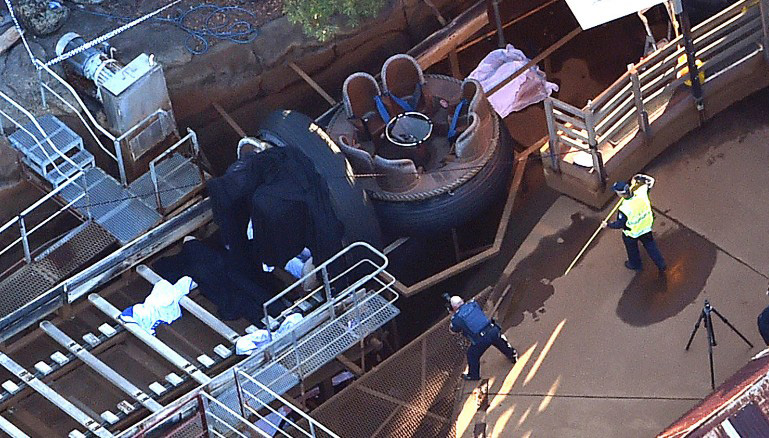 Witnesses said that there had been a problem with the ride earlier in the day and engineers had been called in for repairs.
"They drained all the water out and then had to refill it back up, and then we were allowed to go. We were stuck there for about 30 to 40 minutes at least," a witness told Telegraph.co.uk.
Jesse Lovett told reporters that the velcro seat holding passengers in didn't feel secure when he was riding with his 2-year-old daughter.
"It's so rough and you had to hold it really tight. It was my favourite ride and now with my daughter I was pretty scared to go on it," he said to news.com.au. "All that was holding her in securely was me. The strap did nothing and easily came undone because it was wet."
Authorities would not comment on the cause of the malfunction, but forensics and workplace safety experts were investigating the matter.
6. Witnesses were seen hysterically crying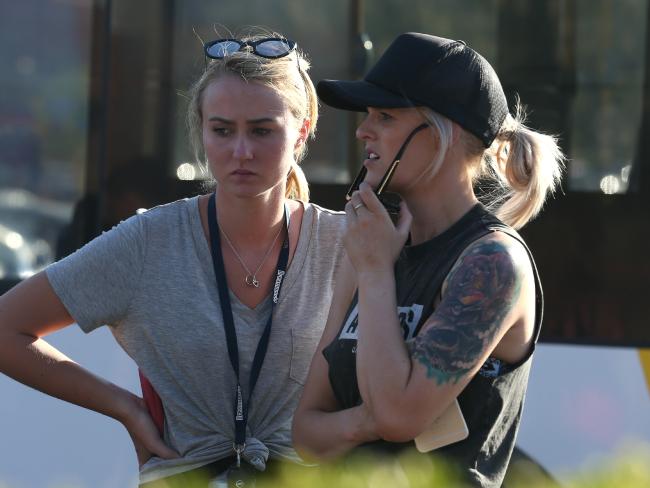 Witnesses said they saw a young girl was screaming who they believe was the daughter of one of the victims. "We saw people hysterically crying, running around … One of the daughters said it was her family," a witness told Sky News.
Another witness Lisa Claire said that she and others tried to comfort the young girl.
"We saw [a] little girl and we believe it was her mum because it was just her and her little sister that was an infant. We tried to comfort her to the side to distract her," Claire said. "The kids and people in there were screaming. It all happened so quickly. There were heaps of people crying, it all happened so fast."
Claire Wooley told reporters, "She just kept screaming 'Where's Mummy? Where's Mummy? We tried to comfort her, but she was so emotional it was hard. We were in tears ourselves and she was just hysterical."
Other people who were on the ride at the time of the incident were said to have been hysterically crying as they were leaving the scene.
7. The ride was almost over when the malfunction happened.
A former Dreamworld employee who worked at the park for over a decade told the Gold Coast Bulletin that the ride was nearly finished when it hit an empty raft and flipped over.
See example below (via news.com.au):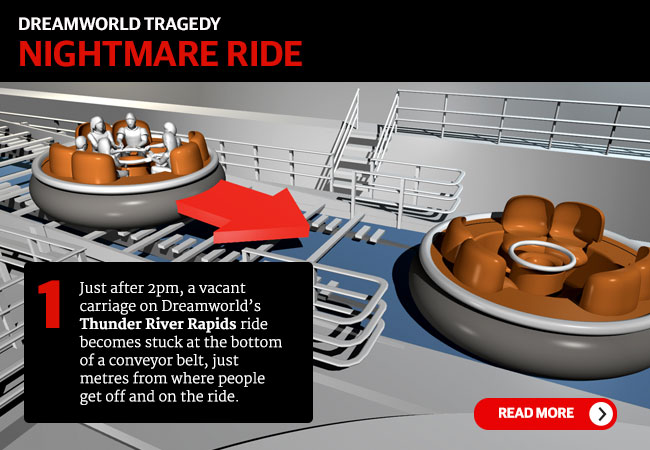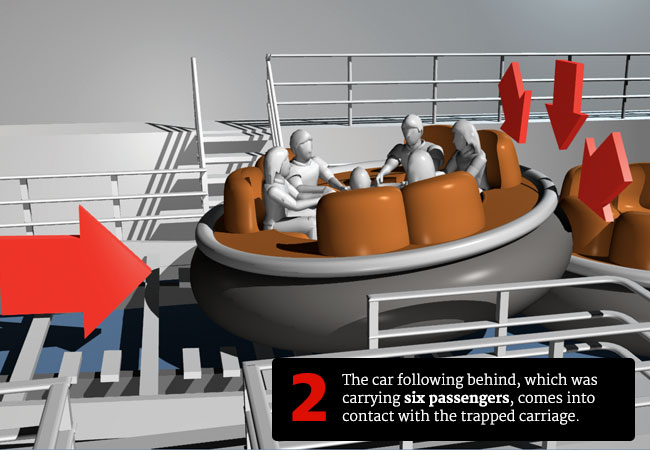 "If you ever saw a doughnut being made at Donut King, they have a conveyor belt at the end that the doughnuts go up to dry off. It's exactly the same thing … It just takes them from the water in the bottom to the unloading point at the end," the former staffer said.
8. Police said that it was a miracle the two children on the raft survived.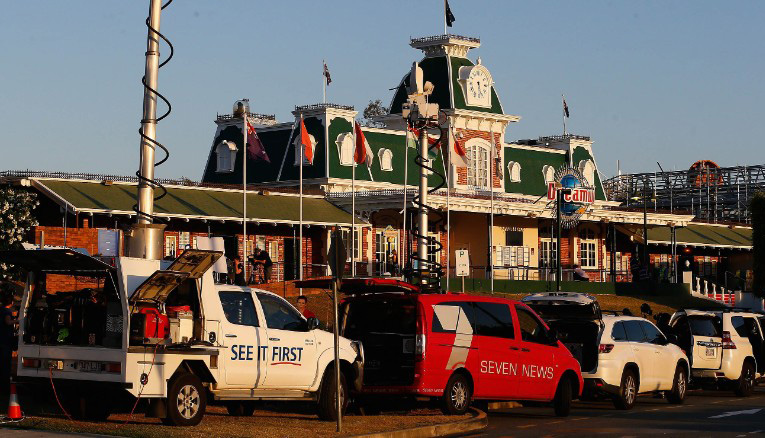 Queensland police assistant commissioner Brian Codd said that the two girls who survived the tragedy were extremely lucky. "It was absolutely traumatic for these children. Almost a miracle that anybody came out of that," he said in a statement.
The children were taken to the hospital and were receiving counseling.
"Our focus at the moment is on the two young children that were on that ride. We need to make sure that they are getting the care and the counselling that they need," Annastacia Palaszczuk, the premier of Queensland said.
9. The Australian Prime minister released a statement.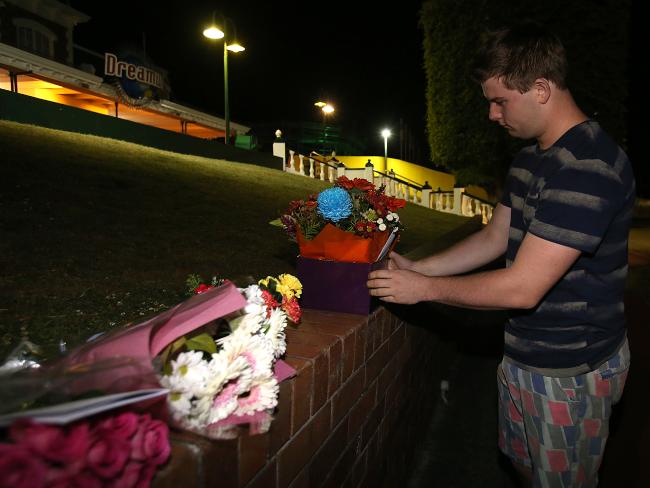 Prime Minister Malcolm Turnbull said that he was sad to hear the news and assured a thorough investigation will be held.
"Theme parks are a place for family fun and happiness, not tragedy. This is a very, very, sad, tragic event. Our thoughts and prayers are with the families of those who lost their lives," he said.
He added, "This is a very sad day, and we trust there will be a thorough investigation into the causes of this accident over the days to follow."
Be the first to receive breaking news alerts and more stories like this by subscribing to our mailing list.