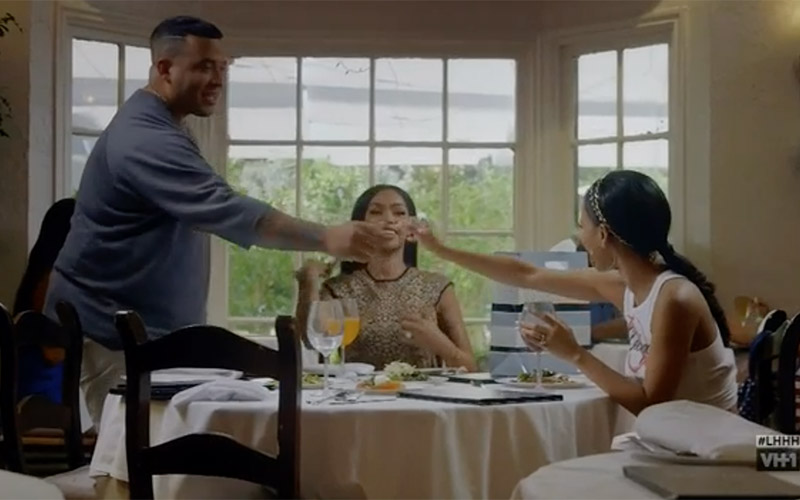 Brandi Boyd, Ray J's family friend, has made upgraded herself from a B-list character to a A-list star with remarkable speed.
Her wild mouth and rodent-like antics make her exhausting and exhilarating to watch at the same time. But she crossed Hollywood Unlocked blogger Jason Lee the wrong way last season and ended up with a cold drink splashed all over her face.
Unfortunately, now that Brandi is feuding with Moniece, it turns out that her former enemy, Jason, might hold the key to her sweet revenge against Moniece. It turns out that Jason knows of someone who has an explicit sex tape of Moniece. Word of this sex tape's existence reaches Princess's ears and she perks up.
Princess has to play Switzerland to Jason and Brandi's France and Germany, but she expertly navigates the troubled diplomatic waters and manages to bring the two together for lunch.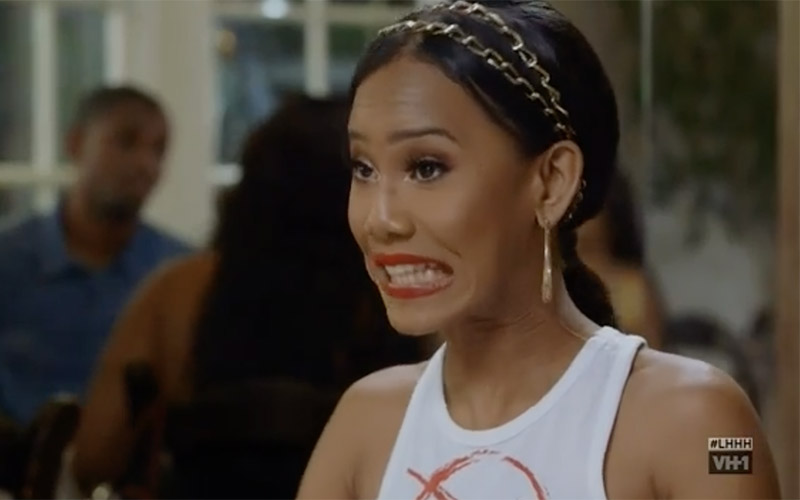 But Jason isn't gonna let bygones be bygones for nothing. Before he gives up any info on the sex tape to Brandi, Jason instructs Brandi to hop on one leg and bark like a dog like the woman in Coming to America. You know, because he called her a chihuahua before.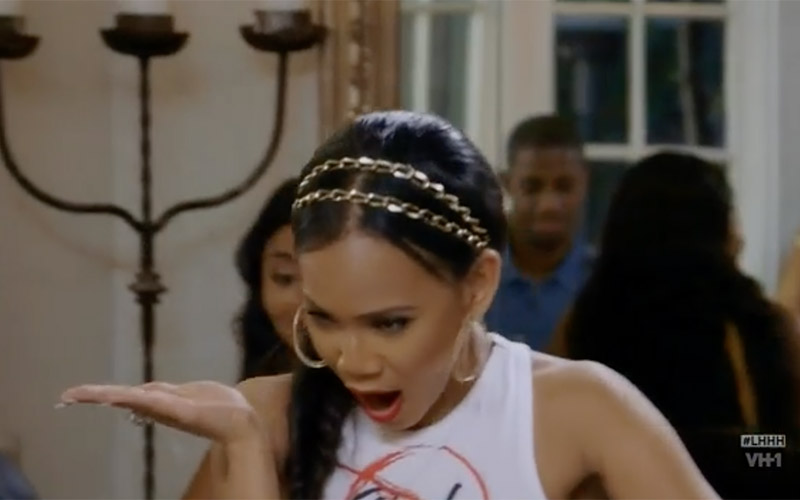 Brandi, gleefully obliges him, although she strangely holds out her hand as she is begging while she barks. Satisfied at Brandi's desperation, Jason agrees to inquire further about Moniece's sex tape. Lil' Brandi and Princess are poised to strike back at Moniece successfully after all.
To be honest, Brandi got off pretty damn easy if that's all she had to do. What Jason should've done is had Brandi pluck his ass hairs and scrub his toilet. But I guess he was feeling kind these days.
Masika and Fetty Wap Can't See Eye to Eye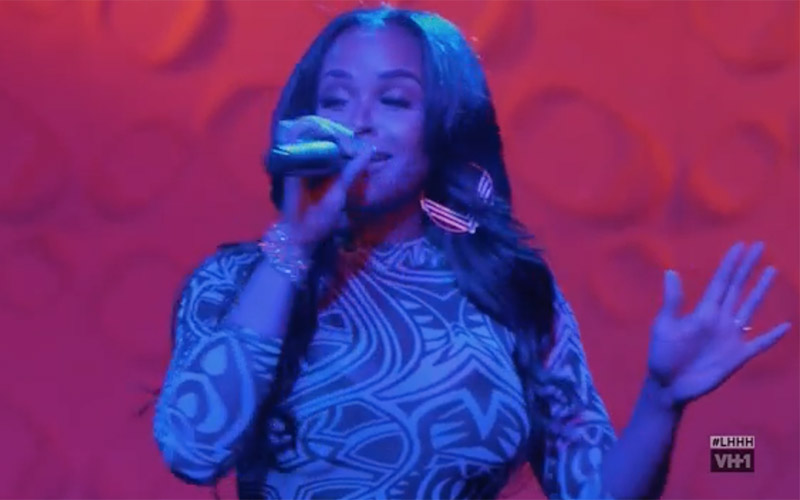 You might have forgotten this (because let's be honest who took it seriously to begin with?), but Masika is apparently a recording artist. And apparently, she has a song called "Black Cinderella" that she supposedly wrote while she was miserable and pregnant with Fetty Wap's child.
Masika has a "listening party" (I've never seen people have listening parties so for so many songs that never end up released as I do on Love & Hip Hop) for this so-called song and she two-steps in a sexy Forever 21 bodysuit.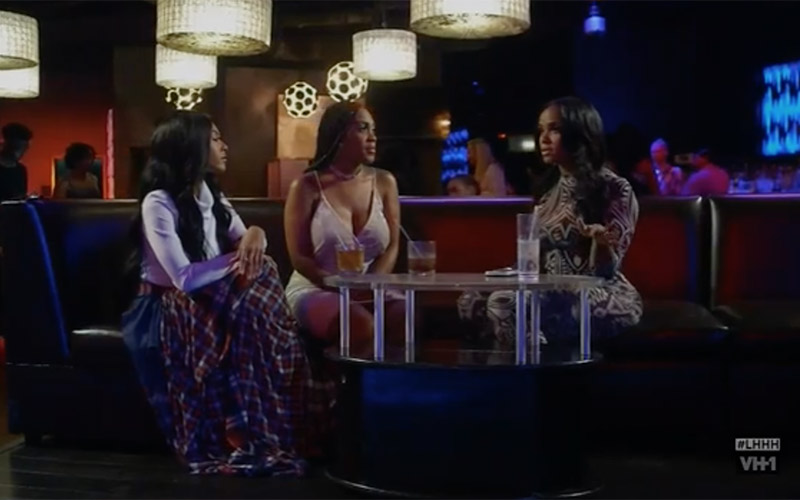 After her lip-synched set ends, Masika sits down with Moniece and Nia Riley to dish on the latest drama with her baby daddy, Fetty Wap.
Fetty has been in L.A. for a while, but he still hasn't managed to stop by and spend time with his daughter because he arrives at the house very late and Masika believes that if he arrives that late, he needs to sleep over and spend the night. Fetty, on the other hand, feels like she just wants to rekindle their relationship.
I'm gonna go ahead and say they're both right: 1) Fetty shouldn't be stopping by the house that late. 2) Masika needs to let him see the baby and leave without stipulations that he needs to spend the night, because that makes her look thirsty.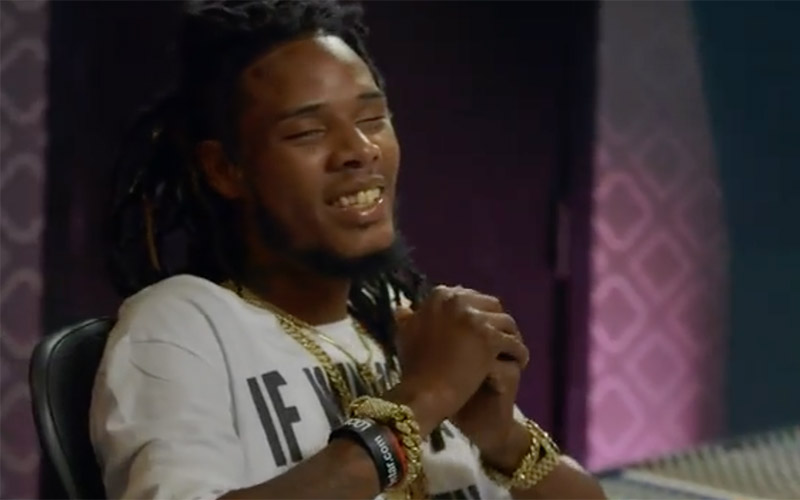 Meanwhile, Fetty Wap sits in the studio and complains about Masika to one of his boys, Ikey. Honestly, the conversation was largely irrelevant, as Fetty complained about not wanting to be in a relationship with Masika, but we did learn that one-eyed Fetty dropped $30,000 on his baby girl in one day. He better be careful: That "Trap Queen" credit line ain't gon' last forever.
Lyrica Garrett Demands Lipo from Her Daughter and Fights Her Son-in-Law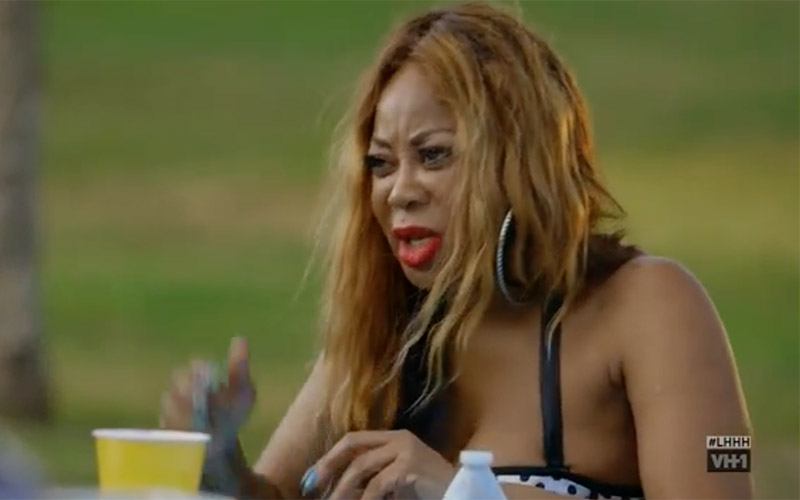 She must be determined to make herself the Momma Dee of LHHH, because Lyrica Garrett sure knows how to overstep her boundaries and act a fool.
After having an unnecessary temper tantrum at her daughter's house when she found out she eloped, Lyrica Garrett meets up with her daughter Lyrica Anderson for a heart-to-heart conversation.
Lyrica Anderson attempts to break the ice by asking her mother about the incident with her husband, A1, and her mother and Lyrica Garrett explains she felt like A1 was rubbing the elopement in her face. Mama Lyrica also feels like she's owed an apology from Lyrica Anderson.
But in lieu of an apology, she's perfectly willing to accept reparations in form of a complimentary liposuction surgery. Yes, Lyrica Garrett pulls out the brochure from her plastic surgeon and tells her daughter that to make it up to her, she needs to foot the bill for her liposuction.
Lyrica Anderson laughs hysterically at first and says, "Girl, bye!" but in the next instant, she starts negotiating term deals by making her mother promise that if she does pay for her lipo, that she's never, ever allowed to bring up anything negative about her eloping with A1.
Lyrica Garrett, aka the Mother of Gremlins, smiles slyly.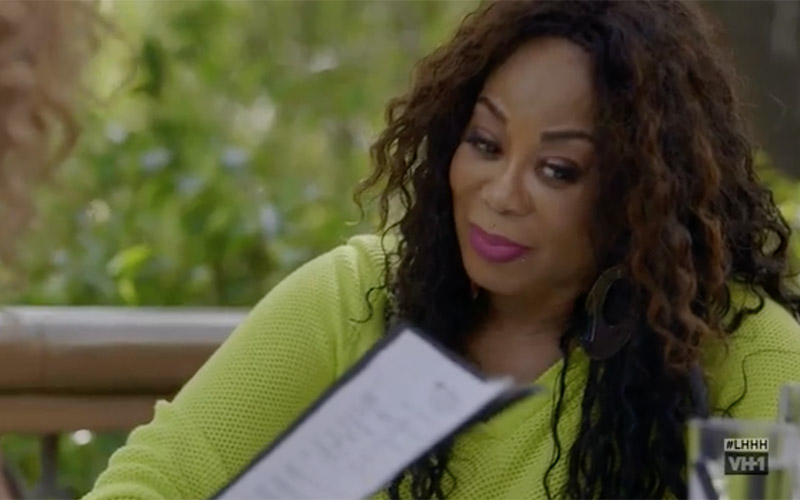 Fast forward to a picnic lunch meeting where Safaree and Teairra Mari are randomly in attendance along with Lyrica Anderson, her mother, A1 and his mother.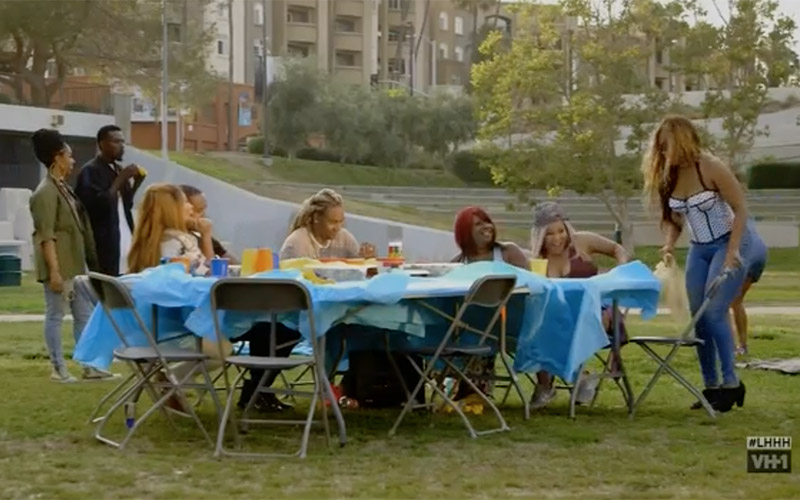 While at the lunch, A1 confronts his bully of a mother-in-law about her indecent proposal to have him and her daughter pay for her liposuction surgery so she can "forgive" them for eloping.
A1, who is proving to be quite the Prince of Petty, has a better idea. He whips out a waist trainer and offers that to Lyrica's mama as a more economical solution to her problem.
Teairra Mari, who is living on the plus-sized side of the aisle these days, chirps up immediately to say that the waist trainer gift is offensive. Lyrica Garrett agrees and tells A1 he needs to give the waist trainer to his mother.
"Tell your fat-ass mama to wear it!" Lyrica Garrett says.
While Pam, A1's mother, does has a sloppy gut, saggy breasts and potato sack body shape, Lyrica Garrett has no business calling Pam out of her name like that. Pam has been minding her business and Lyrica Garrett stay startin' somethin' with Pam. Pam just wants to live her life but Lyrica refuses to let Pam be great again. It's too much hateration.
After the two mothers trade insults, it gets very Jerry Springer and the two women are separated as they attempt to claw each other's eyes out after Lyrica Garrett throws a paper plate at Pam.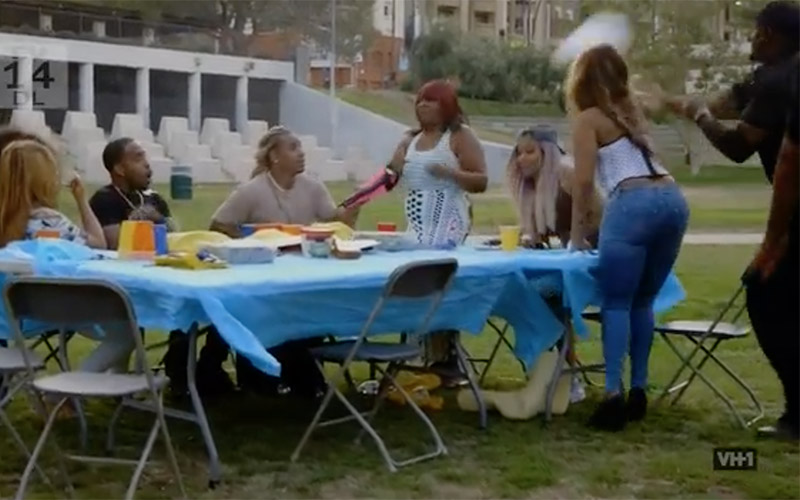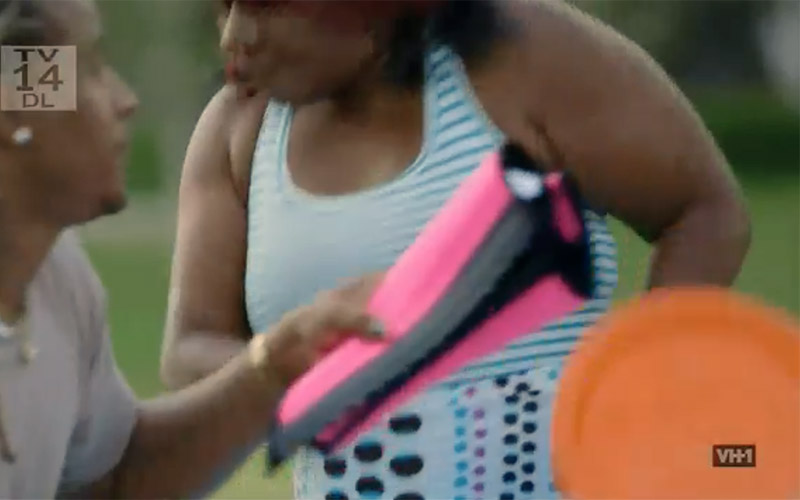 Meanwhile, Safaree sits on the sidelines munching on some salad like a sneaky rabbit. He's here for the circus but he has no desire to be the ringleader. Smart.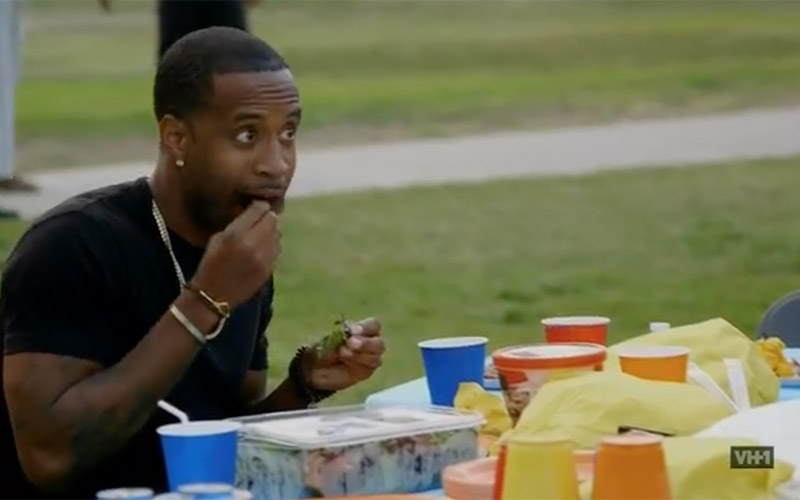 A1, on the other hand, seemed like he was enjoying wearing that waist trainer and pokin' his booty out while he mocked his mother-in-law.
Ok, Miss Thang! Who needs Milan and Miles when we've got A1 twerking it out in a hot pink waist trainer on LHHH?
Be the first to receive breaking news alerts and more stories like this by subscribing to our mailing list.