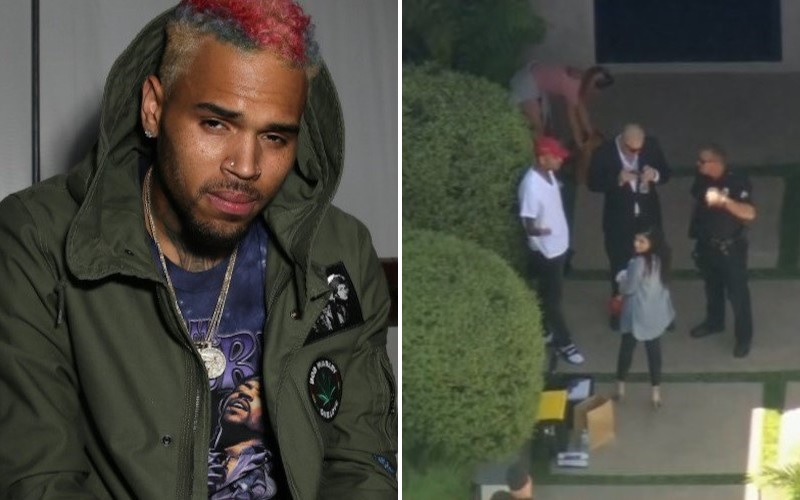 CHRIS BROWN HAS BEEN ARRESTED!
After a stand-off with LAPD that lasted hours, Brown has been taken into police custody and could be charged with assault with a deadly weapon. Brown is now on his way to the police station to be processed.
The possible felony charge comes after police were granted a search warrant to search his home while the singer waited outside. Brown seemed to in good spirits as he talked with police (with his lawyer present) and didn't seem too bothered.
He even waved to media helicopters gathering aerial footage multiple times. Clearly the situation was more serious than he was letting on.
Chris Brown is talking to police.https://t.co/s8hqs9tCfN https://t.co/TYSJoPkrXE

— Complex (@Complex) August 30, 2016
Brown's arrest is connected to an incident that allegedly occurred at his home early Tuesday morning (Aug. 30). Beauty queen, Baylee Curran, claimed Brown pulled a gun on her after an argument over jewelry.
Though she was an uninvited guest in his home, she also reportedly refused to sign a non-disclosure agreement. Curran called the police after the incident, and LAPD and SWAT have surrounded his house ever since.
Details from the authorities' perspective or what was found during the search are still unknown. However, while refusing to exit his home, Brown did allegedly throw out a duffle bag out a window containing a gun, other weapons, and drugs. He reportedly the yelled, "Come and get me!
Be the first to receive breaking news alerts and more stories like this by subscribing to our mailing list.