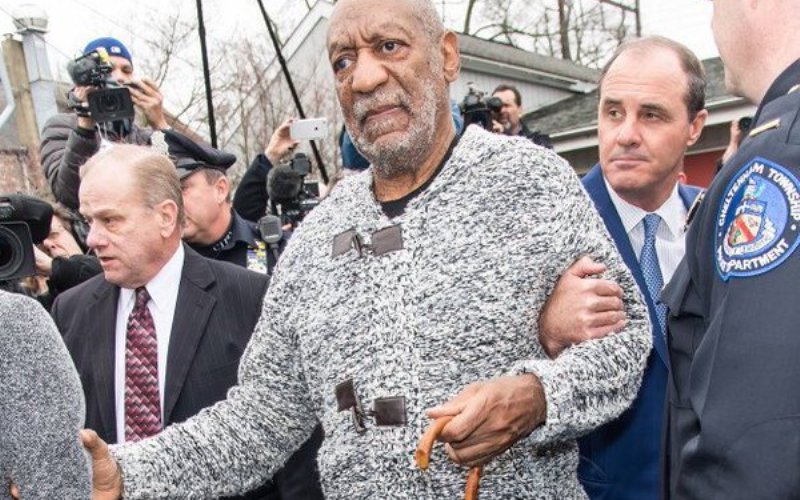 A "close source" wants us all to feel sorry for Bill Cosby. The man who over 50 women have accused of sexually assaulting them is reportedly now completely blind and confined to his Pennsylvania home.
Cosby suffers from keratoconus, a degenerative eye disorder that causes the cornea to bulge. His condition has been well-known and has severely worsened in the past few months. The source says his wife of 52 years, Camille is his primary caretaker and the one working with his defense team against the assault charges.
"His alleged victims may take some solace in the fact that he's in his own personal hell," the source told Page Six. "He has been suffering from a degenerative eye disease and is completely blind… All his Hollywood friends have turned their backs on him."
The source added, "He is confined to his house in Pennsylvania, and the only person on his side is his wife, Camille, who is masterminding his defense. His only friends are the small army of lawyers on his payroll."
While his health issues are unfortunate, nobody is going to give Cosby a pass just because he can't see. He allegedly drugged and sexually assaulted dozens of women for decades, while claiming to be "America's Dad" and a great example of morality. His accusers deserve their day in court, granted the statute of limitation allows.
A judge recently announced Cosby will stand trial for allegedly assaulting Andrea Constand (a Temple University co-worker) in 2004. He faces three counts of felony aggravated indecent assault. A trial date has yet to be determined.
A judge in a civil case also recently ruled that Cosby can countersue Constand for breaching a confidentiality agreement she signed with him after they settled a legal dispute out of court in 2006.
Though The Cosby Show is a classic and Cosby's contributions to the entertainment industry should be acknowledged, going blind does not excuse him from any wrongdoing. He sure as hell wasn't blind when he was slipping Quaaludes in women's drinks. He better show up in court!
Be the first to receive breaking news alerts and more stories like this by subscribing to our mailing list.