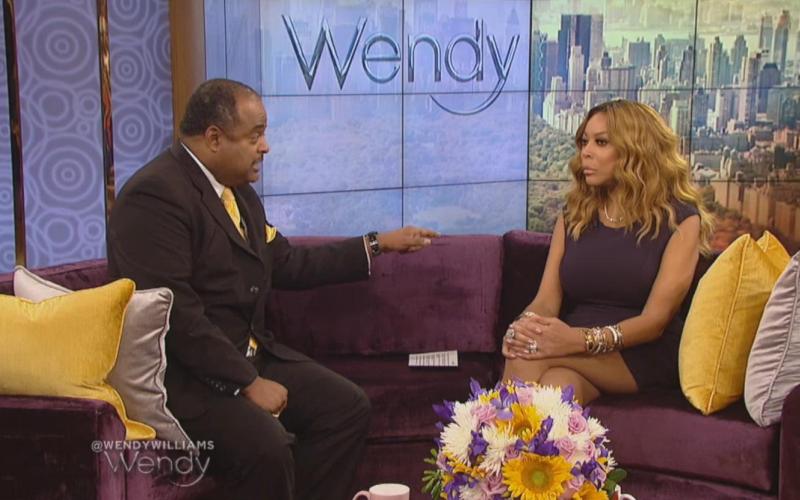 He came. He Saw. And he schooled Wendy Williams like no one else. Roland Martin appeared on The Wendy Williams Show Thursday (Jul. 14) after he called the host out for condemning HBCUs and the NAACP.
Many criticized Williams for her statements, but Martin was by far the most critical and blunt. After a long phone conversation between the two of them, she invited him onto her show to further the discussion.
The on-air meeting was highly anticipated. If his original comments were any indication, we all knew Martin was about to go for the kill on Williams' own show. Though he didn't hold back, he was relatively tame during the one-segment interview.
Briefly chronicling the black American experience from the arrival of the first slave all the way to now in 2016, he explained to Williams why her argument was flawed. Since the first slave arrived in 1619, he said black people have been "technically fully free Americans" since only 1970; that's just 46 years.
Martin explained HBCUs, the NAACP, Black Lives Matter, and other similar initiatives are necessary because it forces America to live up to the ideal that all men and women are created equal.
"When it comes to our colleges, we couldn't go to those schools. As a matter of fact, we couldn't read during slavery. You could be killed if you were found to be reading. So, that's why it is so critically important. Our institutions are allowing us to survive in America even though we built this country," he told Williams.
Martin acknowledged that proper education is still the most vital issue facing the black community because it directly impacts employment, income, imprisonment, and other areas. "If you don't have education, you're screwed in America," he said.
Martin also spoke about the current topic of police brutality. "[Police officers] don't want the level of accountability and that's the problem. And so when cops say, 'oh, ya know, why y'all attacking us,' no the problem is: cops talk about 'don't snitch in the streets,' the greatest don't snitch policy in America is in police departments. They don't want to talk, they don't want to turn each other in and that's a problem."
For probably the first time ever, Wendy was completely speechless. She remained quiet and listened to Martin's talking points for most of the interview. However, she did issue one of those typical "I'm sorry you were offended" apologies.
"First, I want to apologize. I want to apologize to everyone that I might have offended regarding my remarks. Apology. And I was wrong," she said after introducing Martin to her audience.
I truly hope Wendy Williams learned from Roland Martin's lesson. Although I don't always agree with Williams, I do find her entertaining, but was put off from her remarks regarding the issue. She even lost a major sponsor due to the controversy.
However, this brief discussion was helpful and maybe she now understands why it's important for people of color and other marginalized groups to develop their own spaces in a society that often excludes them.
Be the first to receive breaking news alerts and more stories like this by subscribing to our mailing list.