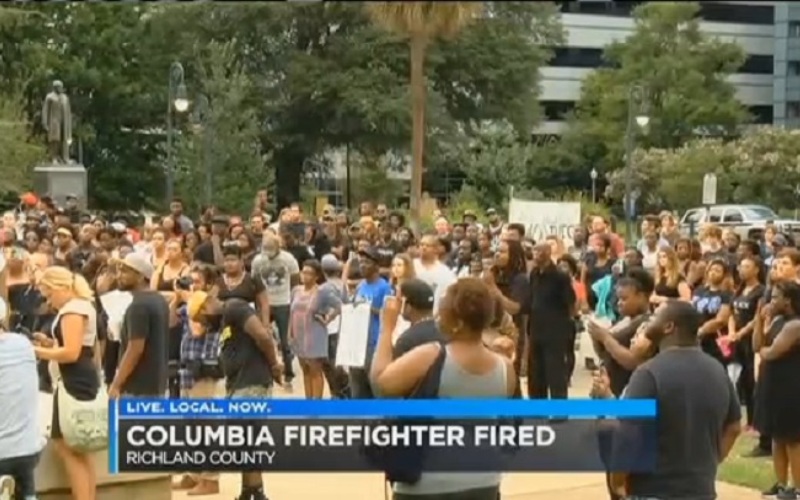 A public servant proves once again why the Black Lives Matter movement is so important. A South Carolina fire captain was fired after writing on his Facebook page that he would "run over" BLM protesters if they were gathered in the street.
Jimmy Morris was upset that protesters were shutting down streets and highways and causing traffic changes.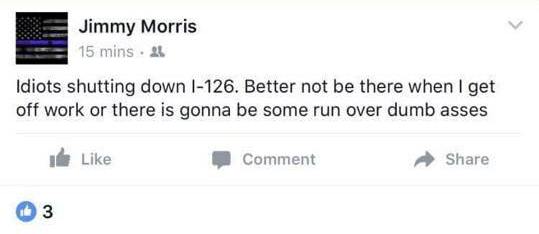 The white 16-year-vet added a second post.
"Public Service Announcement:If you attempt to shut down an interstate, highway, etc on my way home, you best hope I'm not one of the first vehicles in line because you're ass WILL get run over! Period! That is all."
People were protesting against the Confederate Flag being raised outside the South Carolina State House a year after it was taken down and the same week racial tensions were high following two back-to-back officer-involved shootings as well as the attack on Dallas police officers.
Morris' "public service announcement" (or threats, as I would call them) did not go over well with Columbia Fire Department Chief, Aubrey Jenkins — who happens to be black. He quickly fired Morris and released a statement on the matter.
"This decision was made to ensure our communities that the Columbia Fire Department will not condone or tolerate this type of behavior. This one poor decision should not reflect the character, dedication and professionalism of the men and women of the Columbia Fire Department."
Outrage over Morris' posts caused his own firehouse to close temporarily and other stations were placed on lockdown. Jenkins stated this was done as a precaution to protect the firefighters from any protests sparked by the posts.
The fact that Morris would disregard lives and threaten to run over protesters is another example as to why the movement is so important. Black people shouldn't have to remind others that their lives have value.
Sarah Palin recently stated in an interview that she doesn't consider Black Lives Matter protesters as people. She labeled them "rioters" and "thugs" instead.
The saying "All Lives Matter" in opposition to BLM clearly isn't accurate if firefighters and politicians continuously demean and dehumanize people of color. Let's applaud Fire Chief Jenkins for quickly giving Morris his walking papers.
Be the first to receive breaking news alerts and more stories like this by subscribing to our mailing list.