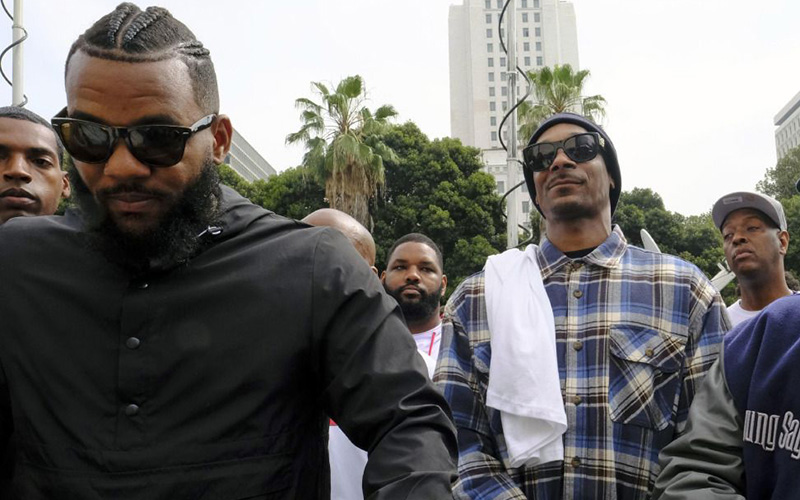 Just hours after the shooting that claimed the lives of five Dallas police officers during a Black Lives Matter protest, rappers the Game and Snoop Dogg led a peaceful march on the LAPD headquarters just in time for the graduation of the law enforcement agency's latest recruits, according to The Los Angeles Times.
Jayceon Terrell Taylor, aka "The Game," sent out a message via Instagram at 6:30 a.m. Friday morning, calling upon men of all races to participate in a march to the Los Angeles Police Department's headquarters. The goal was to "make the Californian government & it's law branches aware that from today forward, we will be UNIFIED as minorities & we will no longer allow them to hunt us or be hunted by us !!!"
https://www.instagram.com/p/BHmkqnLgboz/?taken-by=losangelesconfidential
Organizers started organizing the march before dawn. Roughly 50 men arrived to show their support. The Game encouraged women and children to forego the event.
"THIS IS OUR MISSION FOR THEM," the Game wrote in his post.
Participants wore shirts emblazoned with the achronym H.U.N.T. (Hate Us Not Today, Hunt Us Not Today).
https://www.instagram.com/p/BHmwEQVAeh1/?taken-by=losangelesconfidential
Organizers were not aware of the graduation ceremony, Snoop Dogg, whose real name is Calvin Broadus, told reporters. Hip Hop mogul and philanthropist Russell Simmons was also spotted out there.
"The mission is to reintroduce our community to the LAPD… just to get some understanding and dialogue," he said. "We're the ones they're going to be dealing with, we're the ones that are going to be pulled over. … We're here on peace."
https://www.instagram.com/p/BHnfElEAFfw/?taken-by=losangelesconfidential
The Game, who hails from Comton, led the march out of a sense of civic, moral and personal responsibility.
"I would be lying to you if I didn't say I was saddened by what happened in Dallas. I would be lying to you if I didn't say I was angered about what occurred in Minnesota and Louisiana and Fresno," he told the L.A. Times. "The cops that died in Dallas weren't the cops that shot and killed Philando or Alton. As much as Philando and Alton didn't deserve that, those cops in Dallas didn't deserve that. And the only thing I could think of was to initiate peace on both sides, so that's why I'm here."
Organizers took precautions to ensure the event was a peaceful one by asking attendees not to bring "any weapons or anything illegal" and educating participants of the H.U.N.T. movement's "unifying, peaceful message, so it couldn't be misconstrued by police, and conversely, so they would listen when law enforcement responded."
"We don't have to fear each other today," the Game posted.
Be the first to receive breaking news alerts and more stories like this by subscribing to our mailing list.