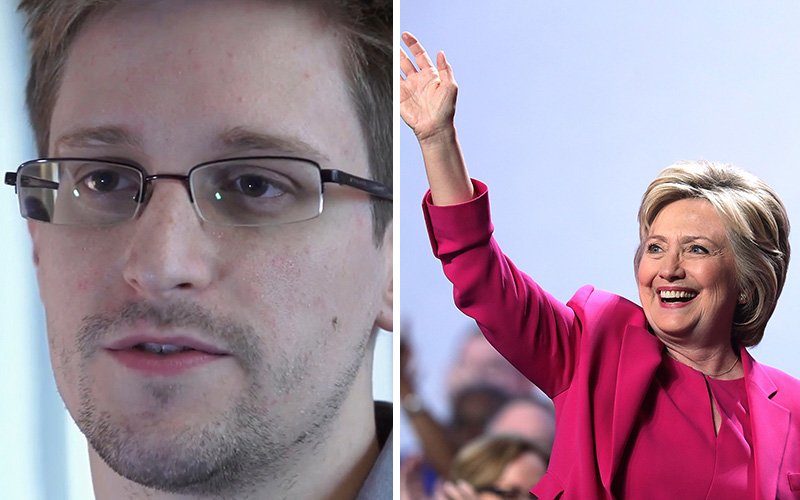 On Tuesday (Jul. 5) the FBI finally came to a conclusion regarding Hillary Clinton and her infamous "email scandal." The result? Largely underwhelming. In what Trevor Noah of the Daily Show described as a very "Ryan Seacrest" moment, FBI director James Comey announced that Clinton's actions were "extremely careless" but not malicious in intent — which is enough, apparently, to not warrant any further action.
Just mark it up to, 'whoops, I goofed. Sorry everybody.'
Later that day, Clinton appeared in North Carolina with President Obama later in the day and no mention was made of the scandal. For her, it's time to move on to bigger issues, i.e. her presidential rival Donald Trump (that still sounds weird to say).
But for many, the issue is not done just yet. Many people pointed to the secret meeting between Bill Clinton and Attorney General Loretta Lynch prior to the FBI's announcement as proof positive that Hillary is receiving unjust treatment due to her position.
One of those people who thinks something's up isEdward Snowden. You may remember Snowden as the former NSA member who secretly snuck out of the United States and proceeded to release caches of files regarding the nefarious methods the government uses in the name of security.
If you don't know about him, watch his movie coming out later this year. It actually looks really good.
Following the FBI's announcement, Snowden shared a Tweet showing his perplexed outlook on the ruling.
— Edward Snowden (@Snowden) July 5, 2016
And this isn't the first time he's weighed in on the issue.
Break classification rules for the public's benefit, and you could be exiled.

Do it for personal benefit, and you could be President.

— Edward Snowden (@Snowden) June 1, 2016
For Clinton, this was kind of a no-win scenario. Either she's charged by the FBI and must undergo criminal charges, or she is found not to be in fault and everyone screams corruption.
Whatever the truth is behind the matter (and let's be honest, we'll never know) one thing is for sure: Snowden, who is barred from returning to U.S. soil for fear of facing espionage charges, ain't too happy.
Be the first to receive breaking news alerts and more stories like this by subscribing to our mailing list.