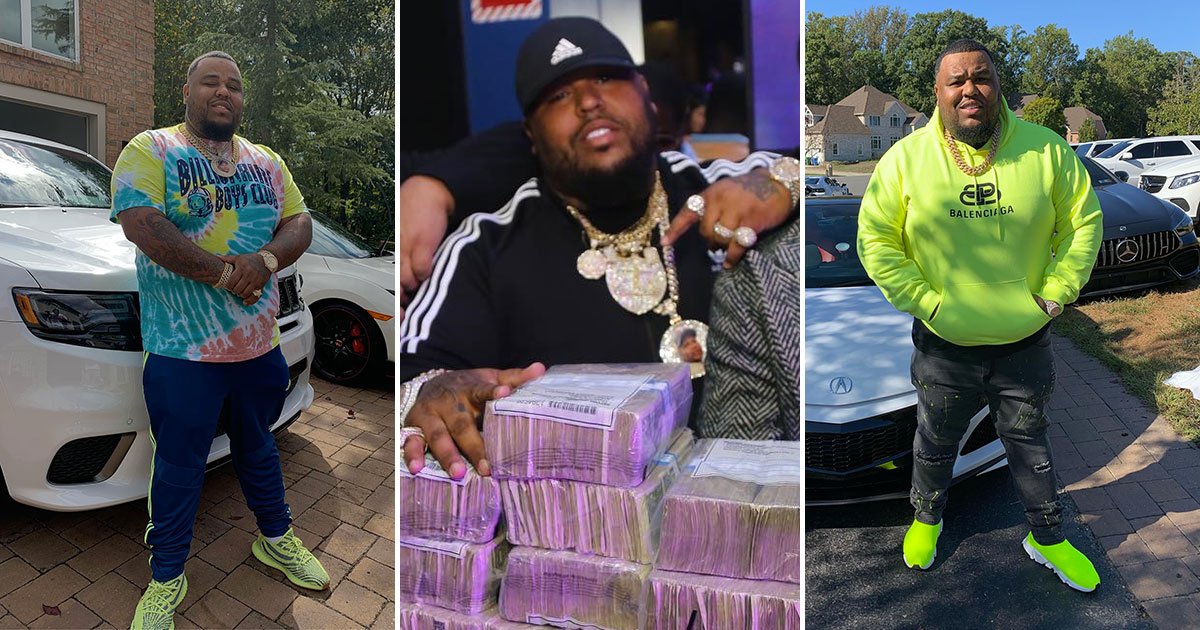 A popular YouTube personality says the FBI recently raided his Philadelphia home and "took everything" he owns.
Bill Omar Carrasquillo, known online as "Omi in a Hellcat," is known for his lavish vlogs on YouTube and is the creator of an IPTV app called Gears Reloaded that allows users to watch an array of premium cable content for a low fee on devices like Amazon Fire TV Stick.
In a lengthy video titled "THE FBI SEIZED EVERYTHING FROM ME" published to his YouTube channel on Wednesday (Nov. 20), Omi in a Hellcat revealed to his nearly 500,000 subscribers that federal agents had seized all of his possessions, including several luxury vehicles and "every SD card, every camera, every television in my house."
Carrasquillo said the feds also "took Xboxes, they took computers, laptops, cellphones. They didn't even leave drones." He added: "The only thing they didn't take was my d*ck because it's attached to my balls."
In the video, which Carrasquillo said was filmed at a friend's house, the famed YouTuber said he's under investigation for alleged money laundering, tax violations, as well as the legality of Gears Reloaded, which he says exploits a legal "gray area" in regards to copyright infringement by providing users with unlimited access to premium cable channels like HBO, Showtime, Cinemax and Starz.
Carrasquillo, who has a reported net worth of $50 million, said in previous videos that he accumulated his wealth through construction, real estate and a number of side businesses.
The YouTuber also does music and dropped a single called "Know the Feeling" with Chicago rapper Derez Deshon in September 2019.
He told the IBTimes in an interview last month that his first job was working as a freelance app developer, and he turned that career into a real estate portfolio that saw him own hundreds of properties all over Philadelphia, including affordable housing in North Philly.
Carrasquillo said, in that regard, he followed in the footsteps of his father, Julio Carrasquillo, who is also heavily involved in real estate. He said of his upbringing: "Giving up was never an option. I knew that my sacrifice would pay off someday to my family."
In videos published on his popular YouTube Channel, Carrasquillo was seen purchasing hundreds of thousands worth of diamonds and showing off a fleet of luxury cars. He has a special affinity for Dodge Hellcats, hence the nickname "Omi in a Hellcat."
In a video posted in July 2019, Carrasquillo—who is married with children—said he'd paid a security firm nearly half a million dollars for a two-year contract to protect him and his family.
In the video regarding the FBI raid, Carrasquillo blamed his recent financial woes on an unreliable account who failed to file his taxes properly, which is what brought on the tax evasion charges, and he urged his followers to make sure they pay Uncle Sam on time.
"This ain't clickbait," Carrasquillo said at the beginning of the 30-minute video. "This ain't fake, this is not fake. This is 100% real."
He also asked his supporters to buy his merchandise "when it drops."
Carrasquillo said he believes he'll likely end up in jail for at least "a few years" but doesn't wish to see those around him go down with him, saying "I'll take the rap for my guys."
"I'm going to take full responsibility for what I did," he said. "This is a life lesson … Now to see who are my real friends in a time of crisis, a time of need."
In a statement to Heavy, the U.S. Attorney's Office for the Eastern District of Pennsylvania said they could "neither confirm nor deny the existence of an investigation," and the FBI also declined to comment on the alleged investigation.
Be the first to receive breaking news alerts and more stories like this by subscribing to our mailing list.