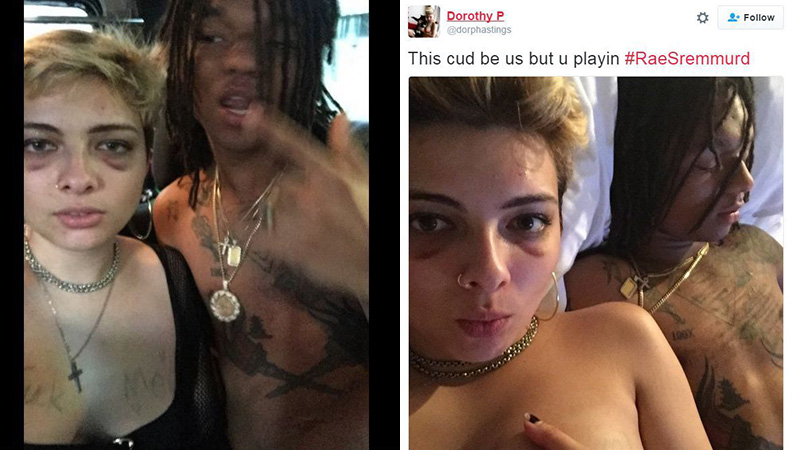 Rae Sremmurd wasn't lying when they said they ain't got no type.
This past weekend, one half of the rap duo, Swae Lee was exposed by a female groupie, who claims the two got down and dirty in the sheets.
After a photo of Swae and the woman laying in bed together surfaced online, the groupie, who goes by Dorothy P, bragged on Twitter about how she was able to get some celebrity D, despite her horrible appearance.
https://twitter.com/dorphastings/status/716479212740337666
The pic, which shows Dorothy with two black eyes and the words "F*ck Me" scribbled across her chest, caused many to speculate Swae may have put his hands on her.
She eventually confirmed the bruises were due to a skateboarding accident.
https://twitter.com/dorphastings/status/716481676063465473
Swae, on the other hand, is telling a totally different story. He claims the woman was a third wheel and posted a NSFW video on his Twitter of what really went down.
@dorphastings man come on you don't want me to leak the video you know you were a third wheel stop getting these people excited lol

— Swae Lee Lee Swae (@goSwaeLee) April 3, 2016
But if I leaked the video y'all would know what really happened ???

— Swae Lee Lee Swae (@goSwaeLee) April 3, 2016
In the video, Swae is seen lying beside a woman (not Dorothy) who has a baseball cap on with a red cup in her hand. Dorothy appears to be lying above Swae and the other woman, but only her breast can be seen in the video.
For what it's worth, the chick with the cap on was actually hot. Dorothy on the other hand, well… we'll just leave that to Twitter:
@iHipsterLee How did you get a 0 & a 10 in the same room? ?? vs. ?

— Scottie Drippin ?? (@Obey_my_crOWd) April 3, 2016
@iHipsterLee ????

— Dominus (@ColbyTzan) April 4, 2016
@iHipsterLee the brunette was gorgeous.. That other chick (blonde) looks & seems like straight trash tho.. Def basic.

— BritBooo MaryJane (@realtalkyo) April 5, 2016
@iHipsterLee bruh set a better example for a Mississippi dude…I'm white and I woulda never let the junkie in the room..friend was bad tho

— /||/||White Boy Rick||/|| (@Alfred_RichCock) April 4, 2016
Meanwhile, Dorothy P is taking her newfound fame in stride. Sort of.
https://twitter.com/dorphastings/status/716711964010029056
https://twitter.com/dorphastings/status/716716195978813440
https://twitter.com/dorphastings/status/716722368207519745
https://twitter.com/dorphastings/status/716726149305528320
https://twitter.com/dorphastings/status/716765279473246208
https://twitter.com/dorphastings/status/716768446319603712
https://twitter.com/dorphastings/status/716786210455306240
https://twitter.com/dorphastings/status/716806805456830464