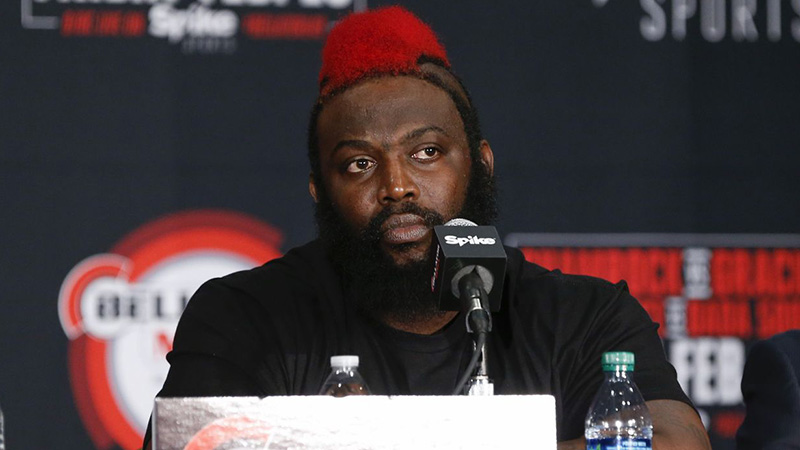 Dada 5000 collapsed in the ring over the weekend after barely getting touched by Kimbo Slice following a sluggish bout between the two MMA fighters.
Dada (real name: Dhafir Harris) was immediately placed on a stretcher and taken to a local hospital in Houston after receiving oxygen treatment at the Toyota Center, and according to recent reports, Harris' troubles worsened from there.
According to Bleacher Report's Jeremy Botter, the fighter's heart stopped temporarily Friday night (Feb 19) and he was placed on a ventilator while he was in the hospital.
https://twitter.com/jeremybotter/status/701137492980858881
A statement from the Harris' family stated that he had apparently suffered "severe dehydration, fatigue and renal failure" due to high levels of potassium in his blood brought on by him losing 40 pounds just before the fight.
Harris is now in stable condition as he continues to recover at the hospital.
Here is the statement in full:
"The Harris Family would like to inform Dada's friends and fans that Dada is ok and resting comfortably in a Houston area Hospital under the care of an incredible staff of doctors and nurses.

"The doctors have now informed us that Dada had accumulated extremely high levels of potassium in his blood which led to severe dehydration, fatigue and renal failure. The high potassium levels were likely caused by his 40lbs weight loss in preparation for the fight.

"Thanks to the EMTs and doctors, Dada is now recovering nicely.

"Dada showed the heart of a lion in the cage – not backing down throughout. He worked extremely hard preparing for the fight and stepped forward for 3 rounds against a tough veteran. He kept digging through the adversity- leaving it all in the cage for his fans and supporters. You can never take that away from him.

"We'd like to thank all those who have supported Dada as well as express our sincere appreciation to Scott Coker, and the good people at BELLATOR and Spike who have been on-site to visit Dada and support the family.

"We ask for the public and media to respect Dada's privacy as he recovers."
https://twitter.com/jeremybotter/status/701142492029145088
Be the first to receive breaking news alerts and more stories like this by subscribing to our mailing list.