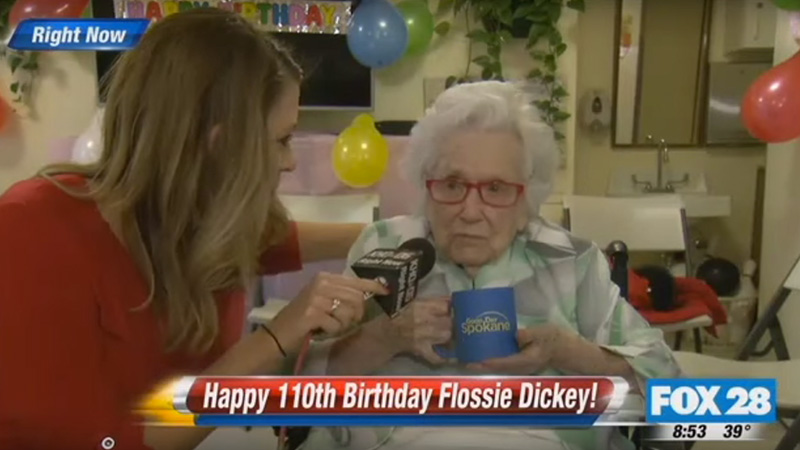 Washington state resident Flossie Dickey is 110 years old, so you'll have to excuse her if she isn't particularly interested in her birthday or the cameras you keep shoving in her face.
"Good Day Spokane" paid a visit to the Cheney Care Center in the state of Washington on Thursday (Feb 18) to interview Ms. Dickey on her 110th birthday, and it's clear that the supercentenarian was not here for any of it.
110-year-old Flossie Dickey is not excited for her birthday party – or this TV interview https://t.co/1iXxKl0OBI pic.twitter.com/zPblqD9nW6

— New York Post (@nypost) February 20, 2016
"Are you excited for your party?" anchor Nichole Mischke asks Dickey as the senior sips coffee from a "Good Day Spokane" mug.

"Not one bit," Dickey replies. Mischke also asks Dickey how she's feeling on her birthday. "I am tired," Dickey answers morosely. "I take a nap as many times as I can."

Dickey has three children, 12 grandchildren, 20 great-grandchildren and 15 great-great-grandchildren. When asked what the secret to living such a long life is, Dickey says: "I don't know, I don't fight it. I live it."

Dickey's caregiver, Kris Bahr, joins the pair for the remainder of the segment. When asked what Dickey's like, Bahr happily responds, "She's a jokester. Her favorite thing, according to her family, is to sit down and have some whisky, straight up."
So, according to Flossie Dickey, the secret to a long life is:
1.) Naps
2.) Don't fight it. Live it.
3.) Drinking whiskey (straight up, of course)
4.) Being so low on f**ks to give that the amount of f**ks you have to give are well into the negatives.
Watch Flossie Dickey's hilarious interview here:
Be the first to receive breaking news alerts and more stories like this by subscribing to our mailing list.