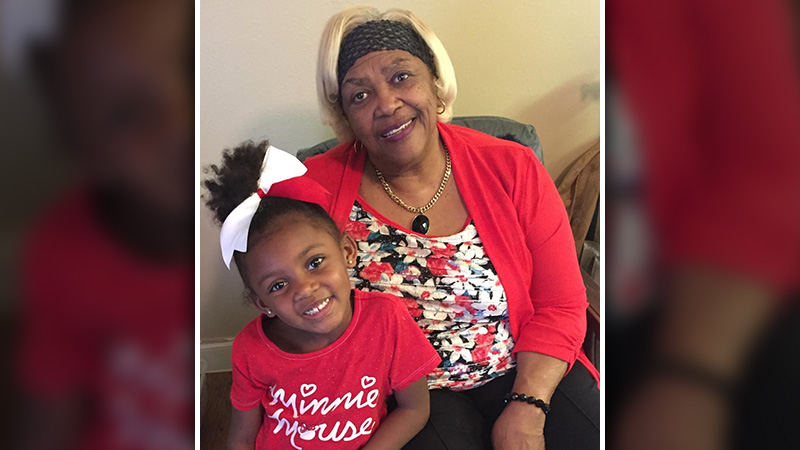 A 5-year-old Louisiana girl is being praised as a hero after she used a lesson she learned at school to help save her and her blind grandmother from a house fire.
Back in October, Cloe Woods, a Pre-K student at Our Lady of Perpetual Help in Kenner, Lousiana, went with her class on a field trip to the Kenner Fire Department, where they learned about fire safety.
"They talked to the kids saying if there was a fire you need to get out of the house," her teacher, Brittany Gaillot, told WWLTV.
And it looks like Cloe was paying close attention too, because early Wednesday morning (Feb 17), while Cloe's mother was out running an errand, the stove in their home caught fire and set off the smoke alarm, and little Cloe quickly sprang into action, saving her grandmother and herself from the fire.
Cloe's mom, Shone Arceneaux-Woods, said Cloe hopped out of bed and instantly ran to her blind grandmother's bedroom.
"She told my mom to hold her shoulder and that they had to get out of the house," Arceneaux-Woods said, adding that her mom tried to stop and grab a pair of shoes, but Cloe told her, "Grandma, don't worry about your shoes, the house is on fire."
The fire broke out just before 7 a.m. Wednesday (Feb. 17) at the Gerry Drive home that Cloe shared with her grandmother, Claudia Arceneaux, 76; her mother, Shone Arceneaux-Woods, 39; and her brother Koy Moore, 14. Arcenaux-Woods had just left the house to drop her son off a few blocks away for morning carpool to Jesuit High School.

"They were both asleep when I left," Arceneaux-Woods said of Cloe and her mother. But Cloe woke when she heard their home's blaring smoke detector and realized there was a fire in the house.

Cloe led the way out of the house, with her grandmother holding on to her shoulder and their dog, Coco, trailing behind them. She then ran to the homes of several nearby neighbors asking for help and a bucket of water.

She learned that, too, from firefighters during her visit to the station house. "They let us bring water," she said, referring to the firefighters who allowed the students to handle a fire hose.

Arceneaux-Woods returned home within minutes to see her daughter dashing down the sidewalk and her mother holding on to a gate.

"I pushed the door open, and you couldn't see," Arceneaux-Woods said, describing the smoke billowing through the house. "It was pitch black and you could see flames towards the right side."

The accidental fire started on the stove and caused smoke and water damage to the kitchen and living room, according to Hellmers. But thanks to Cloe's actions, no one was injured.

Arceneaux-Woods said she realizes the fire could have taken a tragic turn if not for her daughter. "I'm proud of her. I consider her our little hero," she said.
Kenner Fire Dept. Chief John Hellmers said that the fire easily could have turned tragic, but thanks to little Cloe, it didn't.
"She saved her grandmothers' life and saved her own life," Hellmers said. "It's remarkable that Cloe didn't hide, but took action when she heard the smoke detector activate, alerting her grandmother and insisting they go outside."
Cloe and her family have been temporarily located to a hotel for about a week, and her school has set up a GoFundMe campaign to help them "recover from the loss of their home and personal possessions."
Watch the video report (via WWLTV) here:
Be the first to receive breaking news alerts and more stories like this by subscribing to our mailing list.