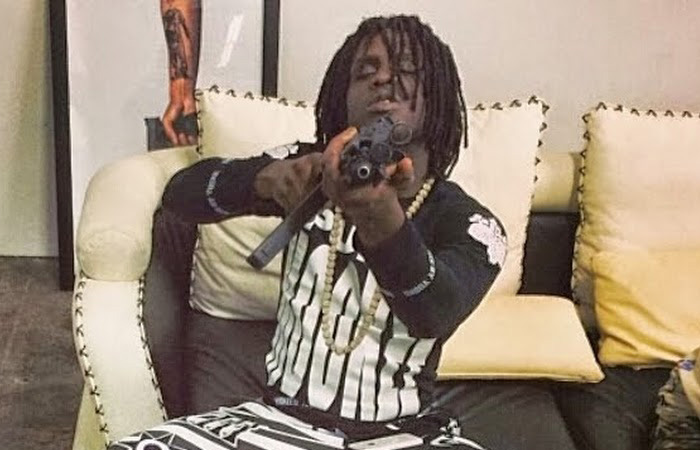 An elementary school in Chicago is catching flack after a substitute teacher quizzed her students on Chief Keef and other famous rappers.
The sub was hired to fill in for the school's sixth grade music class while their instructor was out on leave.
On various assignments, the students were asked questions like "Who shot Chief Keef when he was 16?", "What Kanye West song was Chief Keef featured on?" and "At what age did he stop attending school?"
Parents of students in the class were shocked to find out their children were being tested on Keef, who is known for heavily using profanity in his rhymes and references to drugs and violence.
"I had never heard of him. But after careful research I found out that his music is about having sex, using the 'B' word, anti-police and supporting gangs," parent Katrina Sanders told the Chicago Sun-Times.
"What happened to the musical composers? The music that this teacher is presenting is the very thing that the children don't need: profanity, drugs and acting as if being arrested is a badge of honor," Sanders added. "With this assignment you're basically teaching children, OK, well you can go out there and get you some guns."
Sanders posted a video on Youtube showing one of the tests her son was given.
She says that the sub's lesson plan is totally inappropriate for kids in her son's age group, who she thought would have been taught about different composers and music history.
"We already know children are exposed to a lot of things, but with this type of work and a young man that has a rap history, that's a bit much for a sixth grader," Sanders said.
As of Tuesday, the teacher was no longer working at the school, Chicago's WLS reported.
A CPS spokeswoman said about the matter:
"This inappropriate project was immediately suspended by the principal as soon as she learned about it. While teachers have flexibility in making assignments, CPS requires them to provide age-appropriate material in the classroom."
In addition to Chief Keef, the students were also quizzed on artists such as Fetty Wap, Chris Brown, Nicki Minaj, and Tyga.
Be the first to receive breaking news alerts and more stories like this by subscribing to our mailing list.