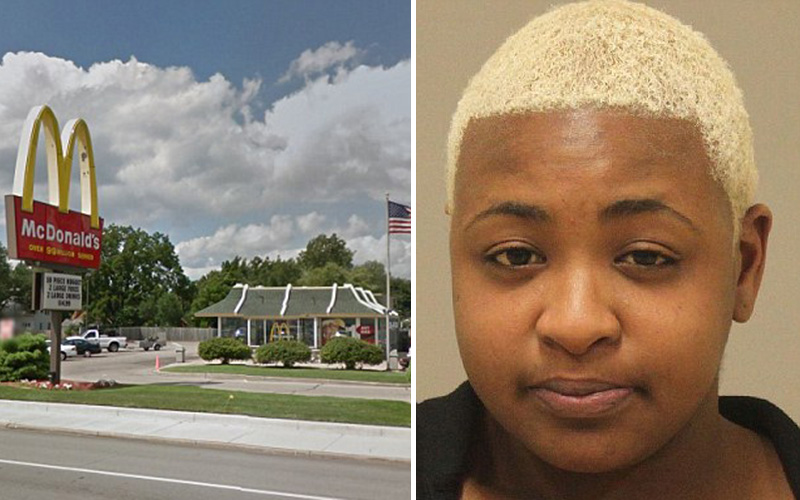 A Michigan woman was so mad at a McDonald's employee for failing to put bacon on her bacon cheeseburger (for the SECOND time in a row) that she pulled out a gun and shot through the fast food restaurant's drive-thru window.
Now, she could be facing up to seven years in prison after being convicted of felony use of a firearm, carrying a concealed weapon and discharging a firearm into an occupied building.
30-year-old Shaneka Monique Torres reportedly ordered a bacon cheeseburger at a Grand Rapids McDonald's during the early morning hours of February 10th 2014, but when she received the burger it was missing a key ingredient: THE MOTHER F**KING BACON.
After speaking with a manager, Torres was offered a free bacon cheeseburger on her next visit, and after clubbing with a friend later that night, she took Mickey D's up on their free burger offer.
From The Daily Mail:
Sitting in the passenger seat, she headed to the drive-thru at 2am — stopping to chat up a manager at one of the windows before giving him her number, which later helped police track her down. But when she and her friend received their order, she again had no bacon on her burger.

Torres pulled out a handgun and fired once, sending the bullet through the window and out the other side of the restaurant, police said. Her attorney, John Beason, had previously said in court that the gun, which had no safety, went off accidentally.

Torres' friend, Nydia Ray, who was driving the car, told the court her friend had not been upset by the lack of bacon on her burger. She said she saw the gun after handing the order back and was in the middle of saying 'What the f*** is going on?' when it fired.

The server, Essence Lake, had walked away from the window when she heard the shot and saw the hole in the glass, she said, adding the bullet would have struck her if she had still been by the window. "We went back and forth screaming and yelling and then we pulled off," Ray said.
Torres was arrested at her home about 30 minutes later.
Apparently not buying her story that the shooting was an accident, a jury found Torres guilty of the aforementioned charges after deliberating for just an hour last Wednesday (Mar 25). She's currently out on a $50,000 bond and is due in court again on April 21st for sentencing.
Be the first to receive breaking news alerts and more stories like this by subscribing to our mailing list.