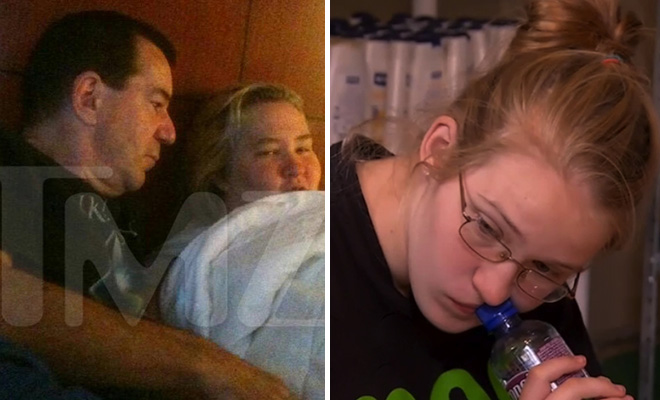 Just when you thought this Honey Boo Boo child molester scandal couldn't get any worse, it goes and does.
On Thursday (Oct 23), TMZ broke the news that Honey Boo Boo's Mama June Shannon is currently dating someone who molested "one of [her] relatives," and Friday, we found out that the "relative" was actually her daughter Anna aka "Chickadee."
According to TMZ, Mama June's new boyfriend is 53 years old and was convicted in 2004 for aggravated child molestation after he forced oral sex on June's now 20-year-old daughter Anna Cardwell two years prior when she was just 8 years old.
"June was dating McDaniel at the same time he molested the child," TMZ reported.
McDaniel served 10 years and was released this past March. He is now a registered sex offender in the state of Georgia.

We're told Honey Boo Boo's mom has been seeing McDaniel for the last few months … sneaking away from production of the show and meeting up with him. We're told she's also been setting him up by buying him various gifts.
The photo above (on the left) was reportedly taken "a few weeks ago in a hotel room where June, McDaniel and other guests were hanging out." You know, nothing too fancy, just "hanging out" with a convicted child molester.
TMZ contacted reps from TLC, the network that produces the popular reality show "Here Comes Honey Boo Boo," and they said that while the show isn't currently in production, they were "concerned about this new information" and "reassessing the future of the series."
TMZ initially refused to reveal the child's name, but just a few hours after the news broke Friday that TLC had cancelled "Here Comes Honey Boo Boo" in the wake of the molestation scandal, Anna told them to "tell everybody" she was the victim.
Sources tell TMZ … Anna Cardwell — who is now 20 and married with a child — believed her mom earlier today that she was not dating the man who molested her. But we're told Anna has now received a lot more info, and is now convinced June betrayed her by seeing McDaniel again.

Anna — known on the show as Chickadee — wants it known she's the victim because it makes what her mom is doing all the more egregious. We're told Anna feels her relationship with her mom has been destroyed, and the only way June can see her granddaughter is if McDaniel is nowhere to be seen.

We're also told TLC reached out to Anna today to offer her counseling.
Jesus, take the wheel … then fix it.
Be the first to receive breaking news alerts and more stories like this by subscribing to our mailing list.