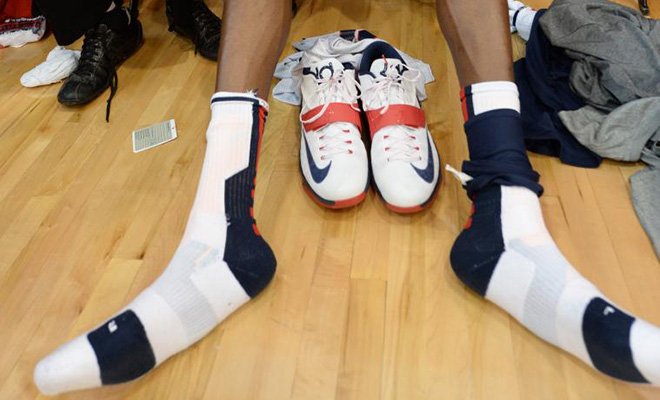 NBA star Kevin Durant is the subject of the Internet-famous "You Da Real MVP" meme, but right now, he's going viral online for another reason.
An image taken of Durant's feet and legs after a long day of USA Basketball practice — where some of NBA's top players are preparing themselves for the FIBA World Cup — went viral this week after it was pointed out that the lower half of his body looked like hockey sticks.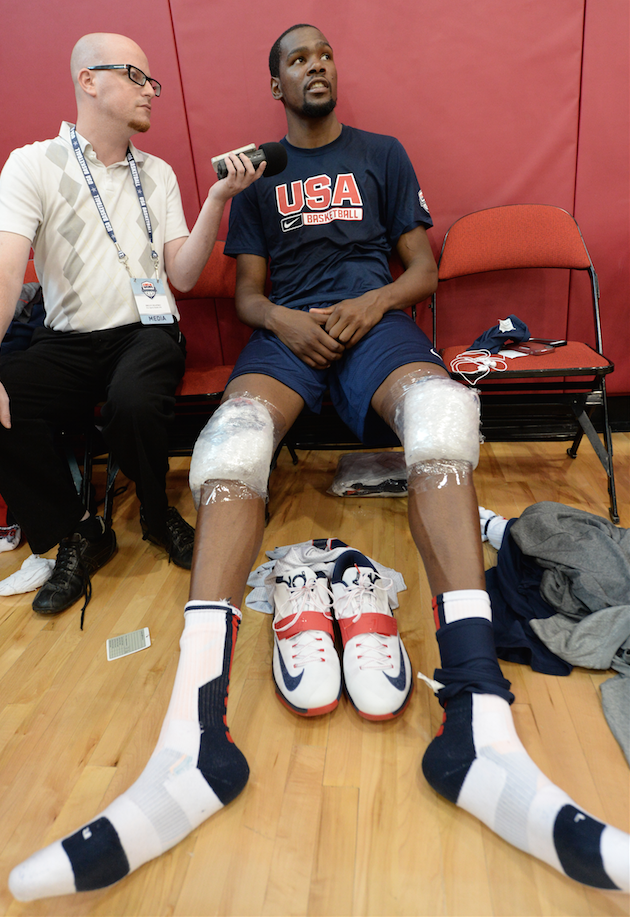 Lets just take a moment and realize that Kevin Durant's legs look like hockey sticks pic.twitter.com/sApd0P2Za5

— Lil Wyte (@Kyle_Dobbs) July 30, 2014
Kevin Durant is too damn skinny. His legs really do look like hockey sticks. pic.twitter.com/dgMV8cGlXE

— ? (@ItsRaniiiii) July 30, 2014
Kevin Durant's legs/feet remind me of hockey sticks lmao pic.twitter.com/udUQsf6Yv7

— ac slater (@Allison_Carella) July 30, 2014
Not sure if Kevin Durant legs or hockey sticks…. pic.twitter.com/X2DRRvuCMV

— Dailyhoops (@DailyHoopsNL) July 30, 2014
Hockey sticks? No, Kevin Durant´s legs. pic.twitter.com/C0NxJfa6yk

— Doctor NBA (@DoctorNBA) July 30, 2014
Cc @onlychyld RT @odiolasgalletas: Dawg. Look at Kevin Durant's legs. pic.twitter.com/0ski3POdq4"

— J Dan (@NFLGoodwitch) July 31, 2014
Kevin Durant legs built like a kangaroo pic.twitter.com/El4xT0HiNi

— Tyler Tutt3? (@TylerTutt24) July 30, 2014
Be the first to receive breaking news alerts and more stories like this by subscribing to our mailing list.