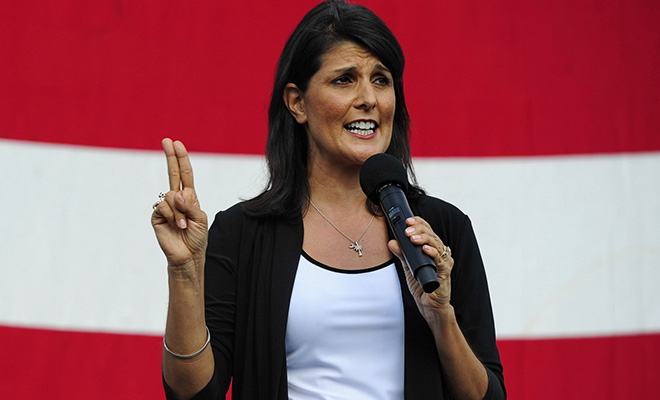 "South Carolina made history this year by passing education reform. We will no longer educate children…" read a shocking tweet from the state's governor, Nikki Hailey (R).
Well, at least, that's what most of her Twitter followers probably thought when they initially saw the message Tuesday afternoon (Jun 9).
You see, on most social sites, one is free to post however many words they please … but that isn't the case on Twitter, where there is a strict 140 character limit.
Twitter allows its users to post to the site from other social services, like Instagram, for example, but if the caption for the post exceeds 140 characters, Twitter clips the original message and puts the link at the end for the user to click on.
Gov. Hailey was touting South Carolina's passage of an education reform bill that will provide more funding to schools in poorer areas when she shared the following photo on Instagram, which was automatically blasted to her 81K+ Twitter followers.
Here's what it looked like on Twitter:

Poor Nikki Hailey didn't realize that once her lengthy Instagram caption ended up on Twitter it would be cut off at the worst possible point in the sentence.
The full message accompanying the Instagram photo read:
South Carolina made history this year by passing education reform. We will no longer educate children based on where they are born. Through reading coaches, technology investments, and expanding charter schools we just confirmed that we want our children to be the future workforce for our growing high tech jobs! #ItIsAGreatDayInSC
The original tweet was eventually deleted and replaced with a more appropriate one that sent a better message:
South Carolina made history this year by passing education reform. http://t.co/1mPcrc5jIf

— Nikki Haley (@nikkihaley) June 9, 2014
h/t: Huffington Post