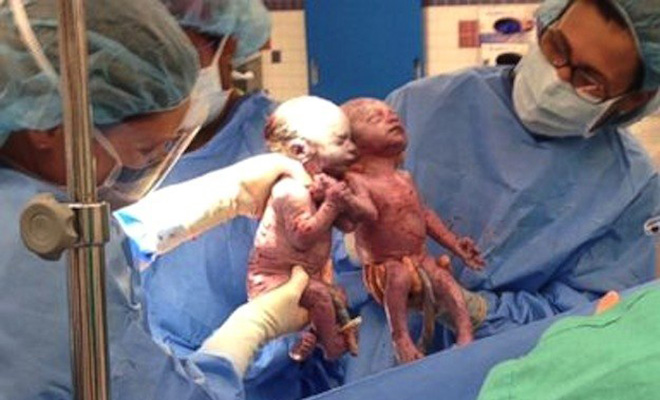 Just in time for Mother's Day, an Ohio woman gave birth to a pair of "mono mono" twin girls in a rare kind of pregnancy that happens about once in 10,000 births of all twins.
According to the Associated Press, Sarah Thistlethwaite and her husband Bill didn't find out they were having twins until Sarah's 19th week of pregnancy and her third ultrasound.
As written on Wikipedia, "Monoamniotic-Monochorionic twins" (also called "Mono Mono twins" or "MoMo twins") are identical twins that share the same placenta and amniotic sac, and they occur when the same embryo splits more than eight days after fertilization.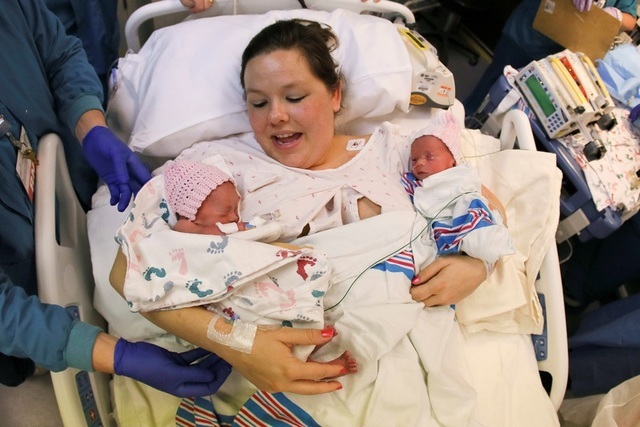 Since the pregnancy is considered high-risk, Sarah was hospitalized for two months before her C-section at 33 weeks on Friday (May 9), three days before Mother's Day the following Sunday.
When doctors lifted the identical twin girls (named Jenna and Jillian) up for their parents to see them after delivery, they were holding hands, as seen in the photo at the very top.
Sarah told the Akron Beacon Journal that was "the best Mother's Day present ever."
"They're already best friends," she said. "I can't believe they were holding hands. That's amazing."
Be the first to receive breaking news alerts and more stories like this by subscribing to our mailing list.