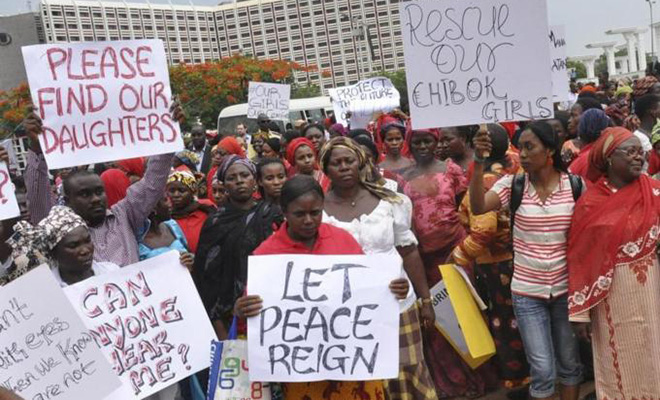 We've all heard about Donald Sterling's racist comments against black people, and you can't watch the news without hearing about the Malaysian Airlines jet that disappeared … but have you heard about the hundreds of missing schoolgirls from Nigeria who were reportedly sold off as child brides?
According to various reports, as many 276 girls — between the ages of 15 to 18 — were kidnapped at gunpoint from their Chibok school in Nigeria by a group of Islamic extremists linked to Al Qaeda known as the Boko Haram terrorist network.
The group's name, when loosely translated, means "Western Education is Sinful" … so it goes without saying that the terrorists are against anything "Western," including the education of women, because according to their beliefs, women belong at home and not in school learning.
Though this horrible act of terror happened nearly a month ago, it wasn't until this week that the story broke in the mainstream media, thanks, in part, to the social media hashtag #BringBackOurGirls, which was launched to bring awareness and to force the Nigerian government to step up and do their jobs.
When the girls were taken, the Nigerian military initially announced that 129 girls were missing, and all except eight had been rescued, however that turned out to be untrue.
The number of missing schoolgirls has now jumped up to 276, and now it's being reported that the young women have been sold as brides to Islamist militants for 2,000 naira, which is about $12 USD.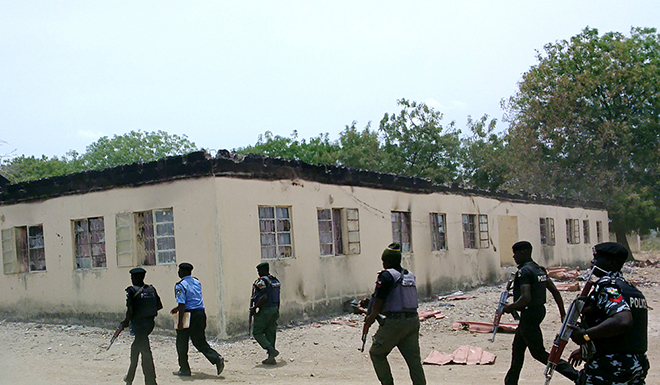 According to the Washington Post, Samson Dawah — an uncle of one of the kidnapped students — uncovered this horrific piece of information through is own independent investigation:
This week, he gathered his extended family. He had news but also an unusual request. He asked that the elderly not attend. He wasn't sure they could bear what he had to say.

"We have heard from members of the forest community where they took the girls," he told them. "They said there had been mass marriages and the girls are being shared out as wives among the Boko Haram militants."

The girl's father fainted, the Guardian reported, and has since been hospitalized. But the news got worse. Village elder Pogo Bitrus told Agence France Presse locals had consulted with "various sources" in the nation's forested northeast. "From the information we received yesterday from Cameroonian border towns our abducted girls were taken… into Chad and Cameroon," he said, adding that each girl was sold as a bride to Islamist militants for 2,000 naira — $12.

The Washington Post could not independently verify such claims, and the Nigerian defense ministry didn't immediately return requests for comment Wednesday morning. But if true, the news would add another terrifying wrinkle to an already horrifying set of events that has galvanized the nation, spurred foreign leaders to take notice, and exposed the powerlessness of President Goodluck Jonathan's administration in the face of a radicalized and murderous militant group named Boko Haram.

The group, for which Western education is anathema, has killed at least 2,300 people since 2010, according to estimates in journalistic and Amnesty International reports. In the first four months of this year alone, Amnesty International says 1,500 people have died in sectarian violence between Muslims and Christians.
The news of the mass marriage reportedly is from a group of fathers, uncles, cousins and nephews who for the past two weeks have been gathering every morning to combine their resources, buy fuel and journey unarmed to forests and bordering towns in search of the missing girls.
The men said this week, they learned that the mass wedding ceremonies happened last Saturday and Sunday, and the insurgents reportedly shot their guns into the air after taking their new brides, then split them into three separate groups.
"It's a medieval kind of slavery," village leader Bitrus told the BBC. He added, "The free movement of the kidnappers in huge convoys with their captives for two weeks without being traced by the military, which claims to be working diligently to free the girls, is unbelievable."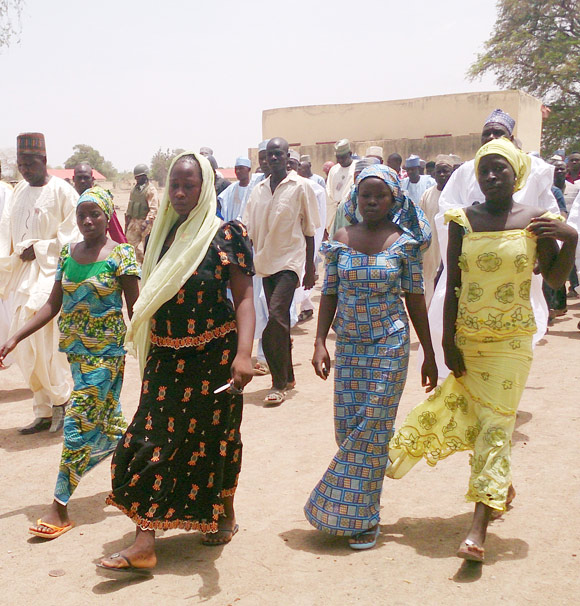 18-year-old Deborah Sanya was one of the few girls who escaped and she told the New Yorker her tale of abduction and subsequent escape:
"I thought it was the end of my life," Deborah Sanya told me by phone on Monday from Chibok, a tiny town of farmers in northeastern Nigeria. "There were many, many of them."

Sanya is eighteen years old and was taking her final exams before graduation. Many of the schools in towns around Chibok, in the state of Borno, had been shuttered. Boko Haram attacks at other schools—like a recent massacre of fifty-nine schoolboys in neighboring Yobe state—had prompted the mass closure. But local education officials decided to briefly reopen the Chibok school for exams.

On the night of the abduction, militants showed up at the boarding school dressed in Nigerian military uniforms. They told the girls that they were there to take them to safety. "They said, 'Don't worry. Nothing will happen to you,' " Sanya told me. The men took food and other supplies from the school and then set the building on fire.

They herded the girls into trucks and onto motorcycles. At first, the girls, while alarmed and nervous, believed that they were in safe hands. When the men started shooting their guns into the air and shouting "Allahu Akbar," Sanya told me, she realized that the men were not who they said they were. She started begging God for help; she watched several girls jump out of the truck that they were in.

It was noon when her group reached the terrorists' camp. She had been taken not far from Chibok, a couple of remote villages away in the bush. The militants forced her classmates to cook; Sanya couldn't eat. Two hours later, she pulled two friends close and told them that they should run.

One of them hesitated, and said that they should wait to escape at night. Sanya insisted, and they fled behind some trees. The guards spotted them and called out for them to return, but the girls kept running. They reached a village late at night, slept at a friendly stranger's home, and, the next day, called their families.

Sanya could not tell me more after that. She is not well. Her cousins and her close friends are still missing, and she is trying to understand how she is alive and back home. All she can do now, she said, is pray and fast, then pray and fast again.
Be the first to receive breaking news alerts and more stories like this by subscribing to our mailing list.