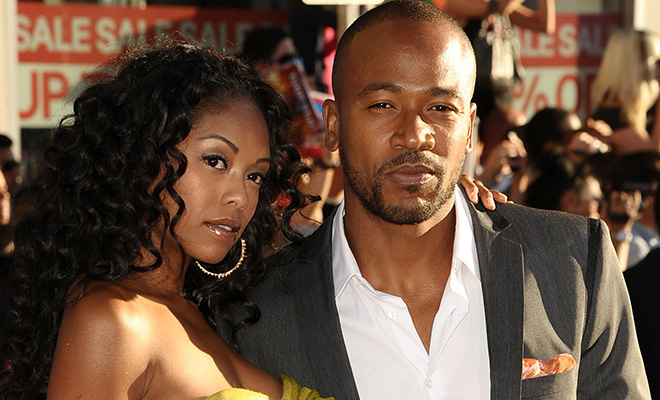 Columbus Short is bat sh*t crazy…
The "Scandal" star's wife Tuere Short has filed divorce papers and a restraining order against him (AND kicked him out of the house!) after he allegedly put a knife to her throat and threatened to kill her.
WTF is this guy's problem???
According to a new restraining order — obtained by TMZ — Short got into it with his wife April 7 at their Chatsworth home, where she claims he came into her room intoxicated with a wine bottle in hand, acted like he was going to hit her with the bottle and then unloaded the wine on her.

Tuere Short claims Columbus then ran to the kitchen for a knife, pinned her to the couch and began choking her.  She says he then demanded they play a game he called "Truth or Truth."  He allegedly said if she lied he would stab her in the leg.

She says he then started naming men he believed she was having affairs with.  She denied them all but he allegedly then put the knife to her throat and threatened murder/suicide.  As she tried escaping she says he slashed her tire.

The restraining order requires Columbus to move out of the house.  We've learned cops were there today to ensure the peace as he moved out.
On Tuesday, Tuere filed for divorce and cited irreconcilable differences as the cause for the break-up. She is also asking for sole custody of their 2 year-old daughter.
Back in February, Columbus was arrested for attacking his wife at his Woodland Hills home in front of his children. Short was charged with spousal battery and child abuse because of his kids being present when the incident took place.
Just two weeks later, Short got into a heated argument with his wife and allegedly pushed her. And in March, Short knocked a man out cold and broke his nose after a bar fight that broke out.
We're not sure what's going on with Columbus and his anger issues right now, but he needs to get it together pronto before he ends up locked up!
Be the first to receive breaking news alerts and more stories like this by subscribing to our mailing list.