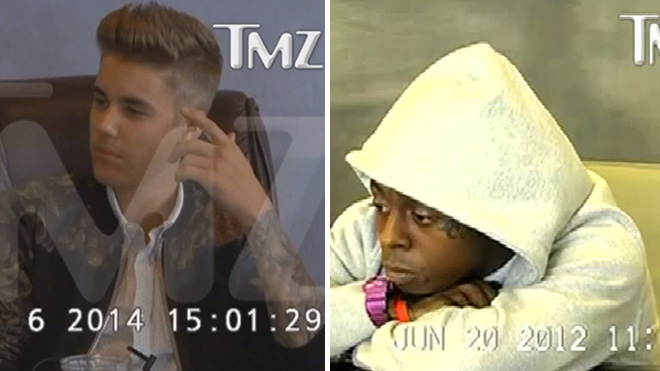 Justin Bieber must have taken some protips from his longtime rap buddy Lil Wayne before heading into his first court deposition last week, because it seems as if the Biebs is channeling Weezy all the way in the leaked video clips.
Bieber is being sued by a photographer who claims he was assaulted by one of the 20-year-old Pop star's bodyguards, and the singer was questioned by lawyers in a videotaped deposition that lasted for nearly five hours last Thursday (Mar 6).
Of course TMZ obtained the video footage, which shows Bieber appearing what the gossip site described as "arrogant," "contentious" and "disrespectful" as he was being grilled in the hot seat, seemingly channeling Lil Wayne, who was featured on his song "Backpack" (from his latest album 'Journals').
Just like his pal Lil Wayne did during his own interrogation, Justin answers most of the questions thrown at him with the phrase "I don't recall" or "I don't know."
At one point Bieber even says "What kind of question is that? That doesn't even make sense, that's a weird question" in response to the interrogating lawyer's inquiry, which also sounds like when Lil Wayne accused attorney Pete Ross of asking a "stupid ass question" during his own deposition.
When the attorney asked Justin to listen before answering a question, Justin snapped back: "I don't have to listen to anything you have to say," and in comparison, Weezy told Ross "I don't have to do anything."
Justin was also asked about his relationship with his ex-girlfriend Selena Gomez, which he did not take too kindly: "Don't ask me about her again," he repeated (sternly), like 100 times.
That "contentious" side of the Biebs came out when he compared his interrogation to being grilled by Katie Couric or "60 Minutes," and those so-called "arrogant" and "disrespectful" sides came out when he was asked if Usher played an "instrumental" role in launching his career.
Bieber's response to that question? "I was found on YouTube … I think was detrimental to my own career."
Clearly he meant "instrumental," but the little guy isn't totally wrong about being "detrimental to [his] own career."
To be fair though, 99.9% of the questions he was being asked made no sense at all, and we can honestly understand why he didn't bring any f**ks with him to give out to those lawyer guys.
The whole thing is 4 and-a-half hours long, however TMZ has trimmed it down to the BEST 6 minutes.
WATCH THE CLIP HERE:
Be the first to receive breaking news alerts and more stories like this by subscribing to our mailing list.