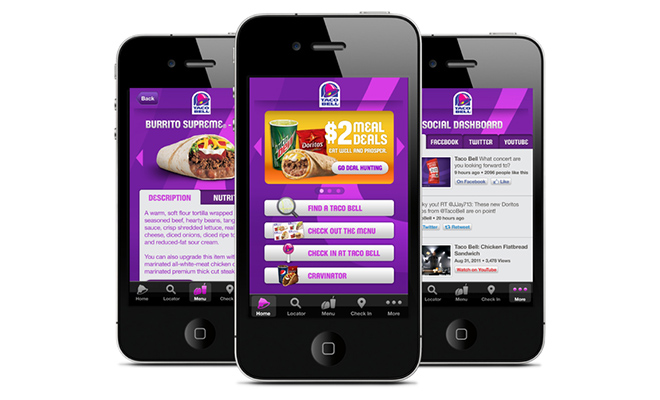 Taco Bell is expanding into the mobile ordering market!
According to Nation's Restaurant News, the fast food chain started development on the app about two-and-a-half years ago, and they are now beta testing it at five stores in Orange County, CA.
A number of other restaurant chains have seen success from mobile ordering, including Chipotle, as well as pizza chains such as Domino's, Pizza Hut and Papa John's. Chick-Fil-A is also said to be testing their own mobile app as well.
Outside of smartphone apps, Pizza Hut sold $1 million worth of pizza through its online delivery app on the Xbox 360 game console in the first four months of the app's launch, proving there's a potential market for "console ordering" too.
But the difference between apps for pizza restaurants and fast food chains like Taco Bell is the delivery service portion. Customers at the Bell will have to actually go to the restaurant to pick up their pre-prepared meals, much like Chipotle's app.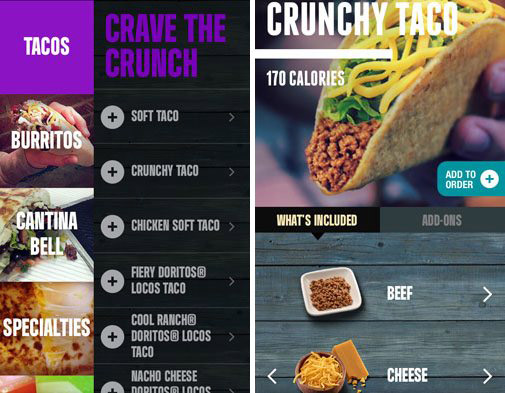 Taco Bell's app will allow users to find the restaurant closest to them, displaying pricing specific to that location along with customized menu options and more.
In addition to stored debit/credit cards, users will also be able to use Taco Bell gift cards and orders in the restaurant will be flagged as from a mobile device.
The app then determines the user's location using GPS technology to figure out when they are near the restaurant, and then it will send their order to Taco Bell to be prepared.
That way, your tacos won't be sitting there getting all soggy because you were high and forgot that you even ordered Taco Bell. (It's the little things, people. The little things are what really matter!)
The guest then has the option of in-store pick up or using the drive thru — but they don't have to make that decision until they arrive at the restaurant. If the drive thru line is long, for example, they can tap "in-store" pickup and go inside. Jenkins said a separate pick up window for mobile orders will be available to allow those guests to avoid the line.

If using the drive thru, guests simply stop at the call box and announce their arrival by name — "Mobile order for John" — cueing the kitchen to prepare the meal and have it ready at the pick up window.

Workers will be challenged to maintain speed of service during peak hours, when restaurants are receiving a steady flow of mobile orders at the same time guests are lined up at the counter.

However, [Jeff Jenkins, mobile lead for Taco Bell] contends that mobile ordering will help eliminate some of the drag caused by consumers with "menu board anxiety," as well as improving accuracy.

When ordering by smartphone, for example, guests can take their time deciding whether to add sour cream or remove the cheese without holding up the line. "It's really more about convenience and customization," he noted.
According to recent research from the National Restaurant Association, at least 74 percent of consumers in the 18-34 demographic said they would order takeout/delivery on a mobile device, if it were available.
Two in five consumers among all ages said that they already use smartphones to find restaurant and/or get directions, and Jenkins believes capturing those users alone would be a wonderful opportunity.
"Mobile is the biggest shift in QSR since the drive thru," said Jenkins. "If you can get 10 million people to download your app, you're putting a portal to Taco Bell in 10 million pockets."
Taco Bell already has a mobile app (which currently only has a menu and store locator), but the new mobile ordering service is expected to roll out nationwide later this year.
Be the first to receive breaking news alerts and more stories like this by subscribing to our mailing list.