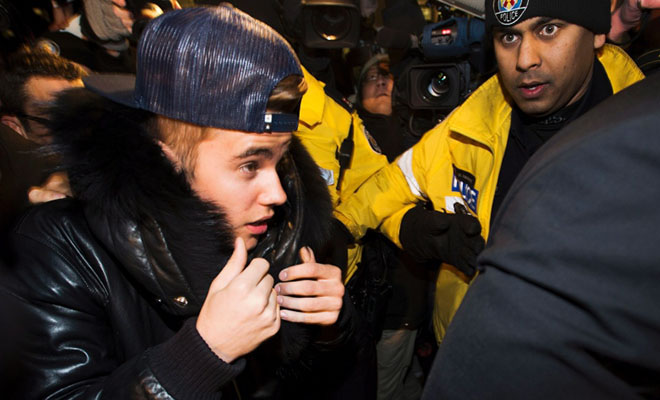 As if 2014 already wasn't bad enough for Justin Bieber, CNN reported that the 19-year-old Pop star turned himself in to police Wednesday to face an assault charge for allegedly attacking a limo driver in December.
"Bieber's arrest is expected within a few hours at the Toronto police station," a law enforcement source with direct knowledge of the case told CNN.
Justin reportedly took a limo to Toronto last month and got into some sort of violent encounter with the driver. According to TMZ, a member of Bieber's entourage was being investigated for "roughing up" the driver, but the investigation into the incident recently took a turn.
Yesterday, three witnesses were interviewed, and Justin's name came up as the person who actually assaulted the limo driver.
Justin showed up at the police station in Toronto and turned himself in for questioning. He was booked processed and released shortly thereafter.
Via Toronto's CBC News:
Emerging from a black SUV wearing a winter coat and a backward ball cap, Bieber was led through a throng of reporters and screaming fans. The pop star was escorted by several police officers — who linked arms to guide him through the mob — and a bodyguard.

Police said Bieber left the building through a back door about two hours after entering. He is scheduled to appear in court at Old City Hall on March 10.

Toronto police said the charges stem from an altercation between a limo driver and a passenger in the early morning hours of Monday, Dec. 30, after a group of six people was picked up outside a nightclub in the area of Peter Street and Adelaide Street West.

Police said one of the passengers hit the limo driver in the head several times during the altercation. The driver stopped and called police, but the passenger left the scene before police arrived.
Justin Bieber's lawyer Howard Weitzman said he believes the case will be "treated as a low-level offense and that his client is innocent," while Bieber's longtime manager Scooter Braun wants us all to "be kind and hope for the best in people" and "not assume the worst."
i ask people to be kind and hope for the best in people. not assume the worst. thanks

— Scooter Braun (@scooterbraun) January 29, 2014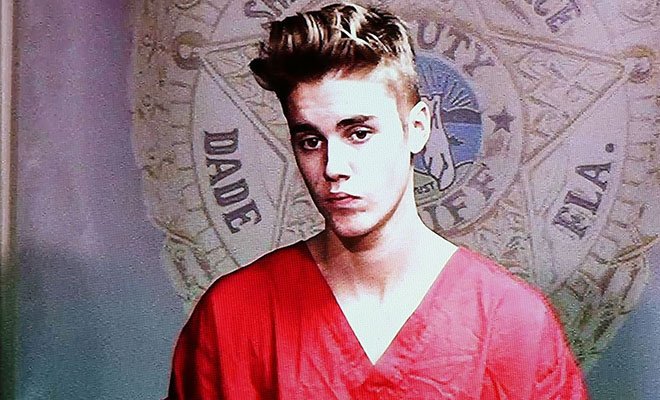 The past few months have been pretty eventful for Justin Bieber.
Not even a week ago, the Biebs was jailed in Miami after he was stopped by police who said he was drag racing down a residential street. He was later booked on charges of drunken driving, resisting arrest and driving with an expired license, all of which he pleaded not guilty to earlier today in court.
And earlier this month, JB's house was raided (which resulted in the arrest of his friend Lil Za) by police as part of an investigation for allegedly egging his neighbors house and causing thousands of dollars worth of damage.
Is it too soon to start actually "worrying" about Justin Bieber? WHAT HAPPENED?
Meanwhile, in related news:
Be the first to receive breaking news alerts and more stories like this by subscribing to our mailing list.