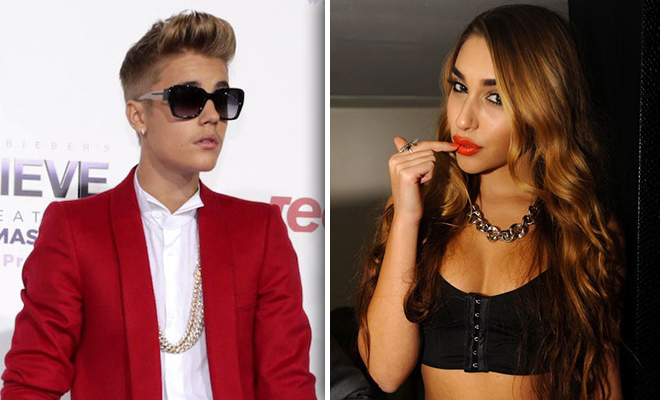 One of the biggest questions to emerge from this whole "Justin Bieber got arrested for (allegedly) drunk driving and drag racing" debacle is "WHO THE HELL IS THAT CHANTEL JEFFRIES GIRL WHO WAS RIDING IN THE CAR WITH HIM?"
Well, thankfully you have friends like us who can answer that burning question for you!
Yesterday, when news broke that Justin Bieber had been arrested and hauled off to jail on suspicion of DUI, drag racing and resisting arrest, everyone's focus quickly turned to the young woman who was riding in the passenger seat in the car with him at the time of the incident.
That young woman's name is Chantel Jeffries, a young model from Jacksonville, N.C. who is 21 years old, which is right around JB's age (he's 19 and turns 20 on March 1st).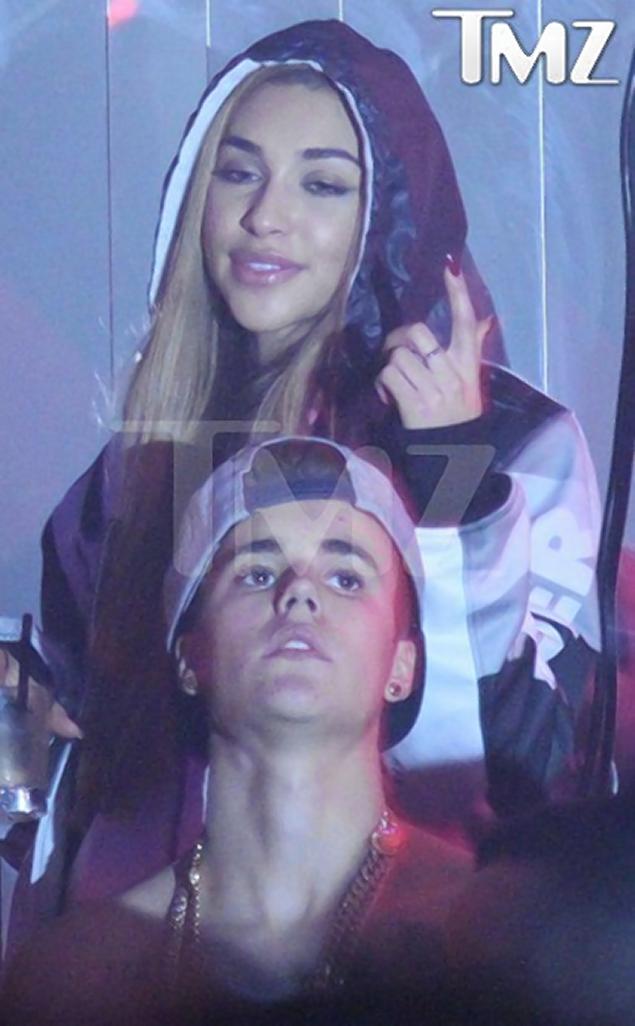 Bieber and Jeffries had reportedly been partying together at Miami Beach's SET Nightclub before leaving at around 2 a.m. with several other women, according to E! News. And here's a photo of Bieber (still shirtless, just like in the above photo) leaving the club with Jeffries.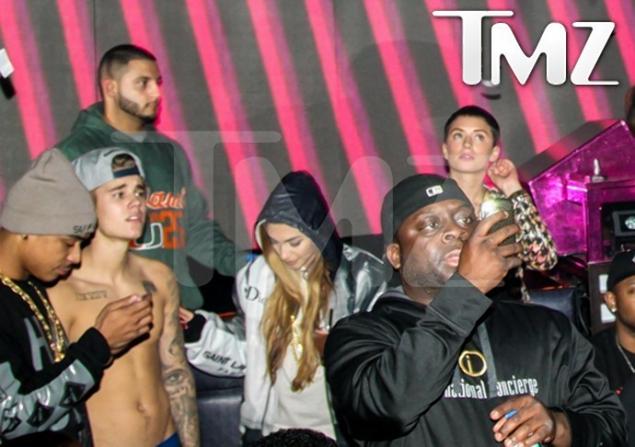 After leaving the club, Justin shared a photo on Instgram (below) of Jeffries driving the yellow Lamborghini he was renting during his stay in Miami with the caption: "@chanteljeffries taking me for a ride in the lambo."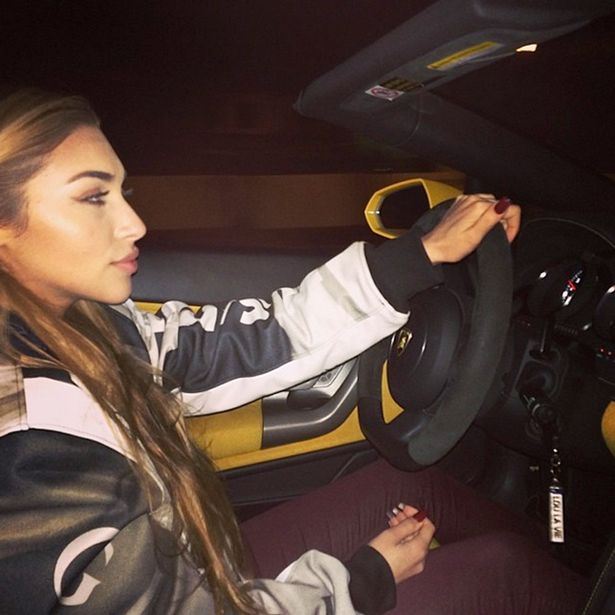 Bieber's friend Khalil (who was also arrested and jailed) also shared this picture of Jeffries driving Bieber's rented whip from his view:
The photos have since been removed from their respective social media accounts, but since this is the Internet, they're still being passed around, obviously.
While Chantel was the one behind the wheel in the photo, Justin was the one driving when the police arrived just after 4 a.m., police confirmed to HollywoodLife.com. Police also confirmed with the celebrity gossip site that Chantel was NOT arrested along with Bieber and Khalil.
Chantel Jeffries has over 30,000 followers on Twitter, where she calls herself a "Student. Model. Eyebrow connoisseur. Animal lover. Deep thinker." Her Twitter bio links to a broken page on the official Wilhelmina Models website, though her booking information is from a representative of the Miami division of the popular model and talent management agency.
She's a bit more popular on Instagram though, with well over 500,000 followers (and growing) because, well … when you click this link you'll see for yourself. THE GIRL IS SEXY AS F**K!
Take a look at some of her latest photos:
She woke up like THIS, y'all. LOOK AT GOD.
But yeah… back to that whole "WHO IS THIS CHICK?" question I'm sure you keep asking yourself.
According to her bio, Chantel is a model who became extremely popular on Instagram and on the "underground urban model circuit."
Also, "Basketball Wives L.A." star Draya Michele hired Jeffries to launch her product lines Mint-Swim and Fine-Ass-Girls.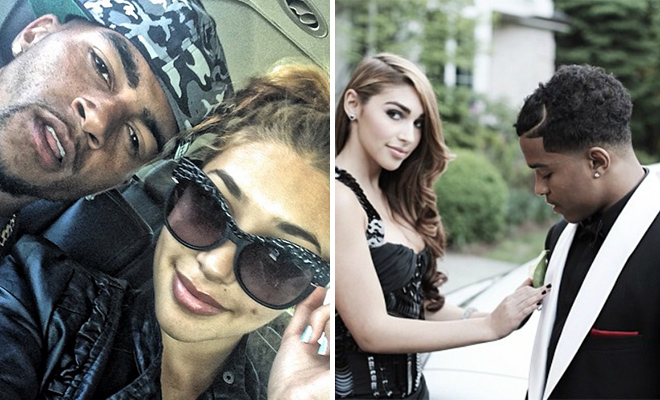 She has also been romantically linked to NFL player DeSean Jackson (of the Philadelphia Eagles), Diddy's 20-year-old son Justin Combs and Young Money rapper Lil Twist. It isn't known what her "relationship" with Justin Bieber is.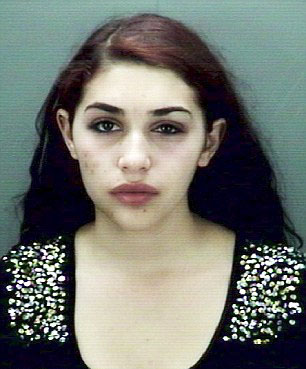 Jeffries has a pretty long rap sheet too, especially for a young woman.
According to the Daily Mail, she has been arrested at least five times, including one incident in February 2011 when she was charged for assault with a deadly weapon for stabbing another woman in the arm "during a physical altercation."
Police records show that the charges against Jeffries were dropped in March 2011 when her alleged victim refused to press charges because she "did not want to proceed with the matter" and Jeffries agreed to pay for court costs.
Jeffries was also arrested for going 92mph in a 70mph zone, but those charges were later reduced, resulting in a simple fine.
According to the NY Daily News, Jeffries' aunt, who lives outside of Boston, was not aware of her niece's racy lifestyle.
"She truly is an honest, Christian girl," Nancy McCluskey, 39, of Billerica, Mass., told the Daily News. "She's a very well-rounded and intelligent individual, so it's kind of shocking to hear she was present for this."

McCluskey said she didn't know Jeffries was hanging with Bieber. "I don't know what she was doing with him, but it's shocking she was even associated with someone exhibiting that kind of behavior," the aunt said. "She was born and raised Christian. She's a church-going girl."

Asked if Jeffries had any history of drag racing, the aunt laughed. "God no. She's never been in trouble for drag racing," McCluskey said.
Sounds like Chantel Jeffries needs to call her aunt and bring her up to speed about what she does when she's not around her family.
Be the first to receive breaking news alerts and more stories like this by subscribing to our mailing list.