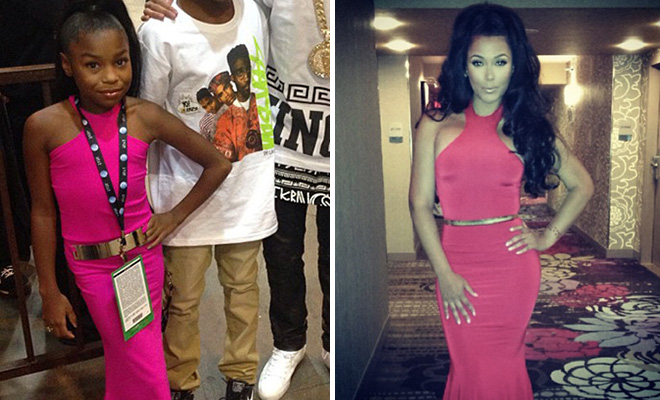 Floyd Mayweather Jr. just pocketed over $40 million after beating Saul "Canelo" Alvarez in a Las Vegas boxing match, but apparently there was a totally different battle going on behind the scenes that we didn't even know about.
According to TMZ, Floyd's baby mama Josie Harris is "LIVID" because she paid a designer (Project Runway's Michael Costello) close to $800 bucks for a one-of-kind dress for her daughter Jirah to wear to the fight, only to find out that Floyd's jump-off Shantel Jackson showed up ringside wearing THE SAME EXACT DRESS.
"It's an unspoken rule and a cardinal sin for a 'real designer' to dress clients alike going to the same major event," Josie told TMZ. "Tacky, tacky, tacky."
Josie also fired a shot as Miss Jackson, calling the woman a "total gold-digger" who "conveniently came back around 2 days before Floyd got his $41.5 million check."
As for the designer, he said that Josie would NOT be getting a refund, and if she wanted Jirah to be the only person wearing that design, she should have paid more.
"No exclusivity was promised regarding the dress. If you want exclusivity, you need to pay more," said Costello, adding that Miss Jackson was informed that Floyd's daughter would be wearing the same dress and she didn't care.
Be the first to receive breaking news alerts and more stories like this by subscribing to our mailing list.