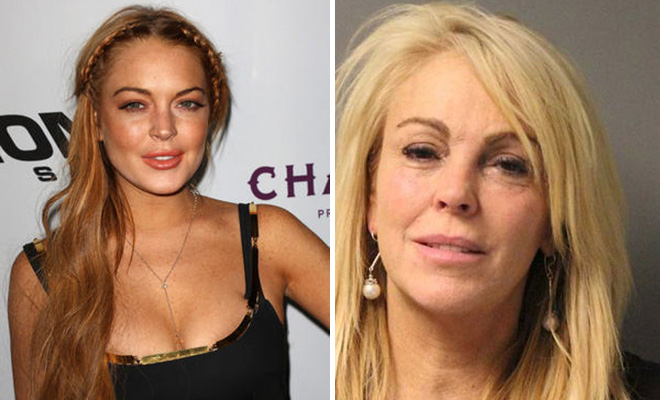 Following her latest rehab stint, Lindsay Lohan has been pretty good lately, but too bad the same can't be said about her mother Dina.
According to TMZ, the 50-year-old matriarch of the infamous Lohan family was pulled over in Long Island by New York State Police Thursday night (Sep 12) after she was allegedly driving 77 mph in a 55 mph zone in her white BMW.
WATCH: LINDSAY LOHAN'S PARENT'S CAN'T STOP, WON'T STOP EMBARRASSING HER
Dina was subsequently arrested Thursday night (Sep 12) and charged with a DUI after cops say she blew a .20 in a breathalyzer test, which is more than twice the legal limit of .08.
According to officials, "Lohan made an allegation that she was injured during the course of the arrest" … but when medical personnel responded to the scene and determined she was fine, Dina "recanted her claim." Lohan was hauled to a nearby station where she was booked on two counts of driving while intoxicated and one count of speeding.
After posing for what TMZ described as a "squinty-eyed" mug shot, Dina was reportedly released to a "sober 3rd party," who was NOT Lindsay, by the way, sources said, because she didn't even find out about her mom's arrest until the story broke in the media.
"Lindsay wasn't surprised that her mom got popped for a DUI," a source close to the 27-year-old actress said, according to Radar Online. "It was only a matter of time, according to Lindsay."
The insider added, "Since being released from rehab, Lindsay has had limited contact with her mother because Dina can be a bad influence on her daughter's sobriety … Dina will say she is the last person that has a problem with booze, but she does. Lindsay loves her mom, but she is putting herself first, and her recovery, which is a very good thing."
WOW! You know it's a sad day when Lindsay becomes the most responsible Lohan in the family.
Be the first to receive breaking news alerts and more stories like this by subscribing to our mailing list.