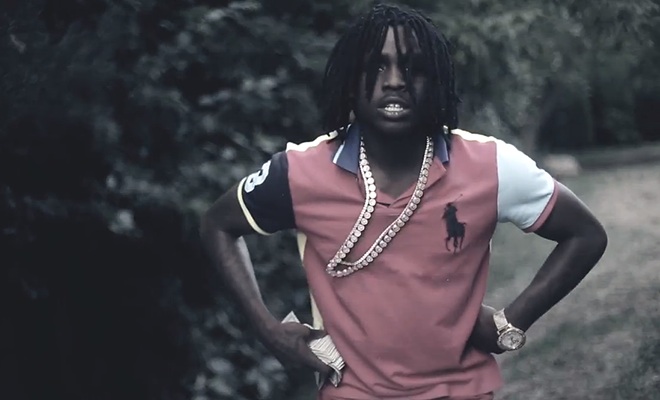 Chief Keef … you going to jail now!
Chief Keef is a wanted man in his hometown of Chicago after the reckless rapper decided to blow off a recent child support hearing.
The 17-year-old was ordered to appear in court on September 5th to explain why hasn't paid his baby mama over $20,000 in child support, but when Keef didn't show up, the judge issued a warrant for his arrest.
…which means if cops see his ass, they can drag him right to the slammer and hold him until he pays roughly 1/5th of his child support debt.
Getting arrested and being hauled off to jail isn't exactly an unfamiliar situation for Chief Keef, as he has already been through that more than a few times over the past year or so.
Oddly enough, Keef tweeted this Thursday afternoon (Sep 12), saying that he was on his way to court:
On my way! To Court #PrayFaMe

— AlmightySo (@ChiefKeef) September 12, 2013
Back in July, TMZ reported that Chief Keef had been "stiffing" his baby mama on child support, pointing out that he is well within his means to afford it seeing as he regularly walks around with thousands of dollars in cash in his pockets.
Keef allegedly fathered the child when he was 15, and based on his $13,000 per month income, was subsequently ordered to pay at least $2,600 per month in child support, plus $500 for daycare expenses.
But Keef's baby mama says the rapper has only given her $1,900 since the child support order was issued in May, and the young mother — whose age is unclear — says she is unable to support herself without Keef's money and needs it asap.
The worst part about all of this is the fact that Chief Keef's income is certainly much more than $13,000 a month (let's be honest here, Chief Keef makes A LOT more than that), so it's not like he doesn't have the money to pay up. It's just that he doesn't want to.
Chief Keef is known for carrying around huge wads of money. When he was arrested in Illinois for speeding earlier this year (just one week after getting arrested for smoking weed at a hotel in Atlanta), he had $8,000 in cold hard cash on him. Then there was that one time he bragged to TMZ cameras at LAX about having stacks on stacks, on top of stacks (on top of more stacks).
So the point is … Chief Keef is FRIGGIN LOADED, which means that he's the last person who should have issues paying the mother of his child less than $3,000 a month.
What do you think?
Be the first to receive breaking news alerts and more stories like this by subscribing to our mailing list.