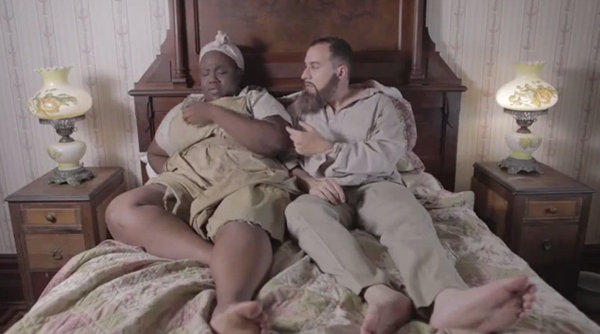 Russell Simmons and his All Def Digital team somehow got it in their pea-brained heads that a skit mocking slavemaster rape, Harriet Tubman's legacy and modern-day celebrity sex tape culture would somehow be a recipe for YouTube success.
In the long list of history's royal screw-ups, Russell Simmons decision to publish a highly unfunny skit in which an actress portraying Harriet Tubman "seduces" her slavemaster into having sex with her on camera has automatically achieved legendary status.
WATCH THE HARRIET TUBMAN SEX TAPE SKIT BELOW
There are so many different angles of this video — which was published by Russ's All Def Digital channel on YouTube — that are inherently wrong, but let's start with the first and most glaring problem: The damn skit isn't funny. Not even a little bit. You won't even half-grin at this dry, awful, horribly executed piece of SNL reject shit if your life depended on it.
This skit was so bad, I actually briefly thought that Keenan Thompson playing Harriet Tubman in drag would've been an improvement.
Comedy can and often does offend. People have different tolerances for certain jokes and humor that attempts to make light of slavery is high on the list of subjects comedians should be extremely delicate with. But offenses can be brushed aside or even excused if said material is actually funny. So on the most basic objective this skit failed.
Then there's the offense of acting like slaves chose to bed their slavemasters or that rape is somehow a joke. We won't even get into the dumb decision to sully Harriet Tubman's legacy as a freedom fighter by portraying her as some sort of 1880s Kim Kardashian. How dare you, Russell.
Once the video went live, Russ tweeted with glee that the skit was the "funniest thing I've ever seen."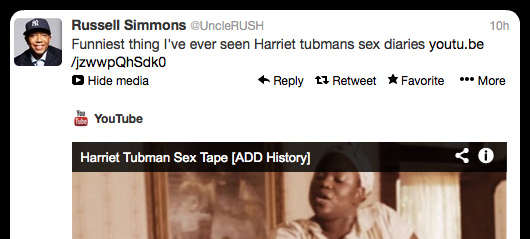 The Internet, however, did not agree. Twitter went in on Russell, especially for trying to trend that tacky ass #harriettubmansextape hashtag, and then the blogs piled on too.
Writing for Ebony.com, Jamilah Lemieux wrote, "Harriet Tubman. Sex tape. Comedy skit. It's as if all the words in the world were pooled for a terrible dangerous game of Mad Libs."
Others on Twitter simply couldn't wrap their minds around the hideous nature of it all:
Our moral compass as a society is way off. Who could have imagined a time where this would ever be considered funny #HarrietTubmanSexTape

— Stacey Speller (@StaceySpeller) August 16, 2013
So once the social media tsunami hit, Russell and his team pulled the video and apologized. Russell's mea culpa went a little something like this:
In the whole history of Def Comedy Jam, I've never taken down a controversial comedian. When my buddies from the NAACP called and asked me to take down the Harriet Tubman video from the All Def Digital YouTube channel and apologize, I agreed.

I'm a very liberal person with thick skin. My first impression of the Harriet Tubman piece was that it was about what one of actors said in the video, that 162 years later, there's still tremendous injustice. And with Harriet Tubman outwitting the slave master? I thought it was politically correct. Silly me. I can now understand why so many people are upset. I have taken down the video. Lastly, I would never condone violence against women in any form, and for all of those I offended, I am sincerely sorry.
~Russell Simmons
Uh huh. And this is the genius who decided to give Don Lemon a tongue lashing about black history and respect for black culture? GTFOH.
Be the first to receive breaking news alerts and more stories like this by subscribing to our mailing list.