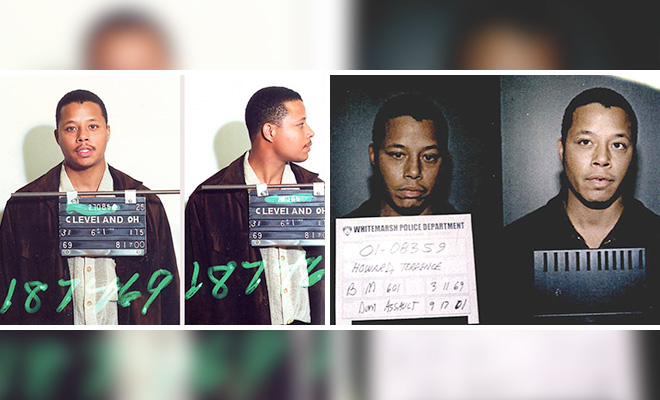 As much as Terrence Howard has attempted to deflect negative attention as of late, his troubling actions in the past are coming to the surface.
Last week, "The Butler" star was accused of abusing his ex-wife Michelle Ghent after the two reunited for a trip to Costa Rica. According to Ghent, the 44-year-old actor beat her after the two got into an argument.
From an outside perspective, it was odd that she chose to go on vacation with him considering she filed a restraining order against him in December 2011, claiming that the Oscar nominee began abusing her a week after they wed in January 2010.
Howard calmly responded to the allegations in an interview with Entertainment Tonight, in which he made it seem as though his ex was a lost woman whom he was trying to save but couldn't.
"Unfortunately I've tried to help people and it's not necessarily in the same enlightened path, of trying to help themselves," he said.
Howard also maintained his innocence and cited the fact that her allegations were made public on the same day that "The Butler" premiere happened as proof that Ghent has a vendetta against him.
"I just wish the best for her, but as far as me harming somebody… I really can't harm a fly." Howard said. "It's completely against my spirit, but I'm so heartbroken, that you can see that doing it on a night like this is only for an attempt to try and hurt me."
Based on that one accusation alone, it would seem plausible that the "Hustle & Flow" star, who has proved to be a talented and versatile actor, was the target of false accusations. But in digging a little deeper, it's pretty clear that Howard has a troubling history.
As Gawker's Defamer notes, Howard has been accused of abusing a woman on SIX different occasions, all occurring over a 13-year period.
According to Philly.com, Howard allegedly assaulted his ex-girlfriend, May Seng Yang at his home in May 2012. Yang accused him of throwing her to the ground and punching her.
As the Philly Post reported:
No criminal charges were filed against Howard in that case, and Yang was actually arrested and charged with attacking Howard. These charges were later dropped. The lawyer claims in his suit that Howard then paid Yang $75,000 behind the lawyer's back "in exchange for signing a Non-Disclosure Statement which obligated her to remain silent about the events of May 6, 2012… ."
The Philly Post has also uncovered the fact that Howard punched a woman he didn't know in a Pennsylvania diner in 2005. He also assaulted her fiancé.
The site sums up the incident as follows:
In March 2005, Danielle DiStefano and her then-fiancé Kevin Saffell stopped into Ray's Dining Car on Germantown Avenue for breakfast. The couple was at the front of the busy diner's line, waiting to be seated, when Howard walked in and decided he didn't want to wait in line like everyone else. He attempted to be seated first.

When the hostess began seating Saffell and DiStefano ahead of Howard, the actor stepped in front of them and asked why he wasn't being seated first. DiStefano told him that she and Saffell were first in line. Howard told her, "Fuck you, I wasn't talking to you."

Naturally, her fiancé, a United States Marine, took exception to Howard's words and stepped toward the actor and told him to apologize. Instead, according to police and court documents, Howard punched him in the face, dropping him to the ground. Then he punched DiStefano in the chest. Saffell tried to get up, but Howard continued hitting him, causing him to lose consciousness, says the police incident report.
In 2001, Howard was arrested for beating his first wife, Lori McCommas. According to the police report (which was obtained by the Smoking Gun), Howard went to his wife's home, whom he was separated from at the time, broke her front door down and punched her in the face twice. TWICE.
Howard was charged with simple assault, making terroristic threats, harassment and stalking. In 2002, he pleaded guilty to disorderly conduct and the other charges were dropped. That case has since been expunged. Howard and McCommas divorced in 2003, remarried in 2005 and divorced again in 2007.
In 2000, the Smoking Gun revealed that Howard was arrested for assaulting a Continental Airlines flight attendant. The charges were later dropped.
Howard allegedly assaulted a Continental Airlines flight attendant after refusing her request to return to his seat because the seat belt sign was on (the actor, cops said, grabbed the flight attendant by the wrist and tried to push her). Howard was arrested when the flight landed in Cleveland, where he posed for the above Cleveland Division of Police mug shot. The misdemeanor rap against him was subsequently dropped by a local prosecutor for lack of jurisdiction.
It's rather strange that these stories, which have always been public, have not caught up with the actor. He still continues to book high-profile film and TV roles despite the fact that he is a known abuser of women.
Comparatively, Chris Brown's career has waned since he assaulted Rihanna and he famously lost endorsement deals after the unsettling incident. In fact, Brown's very name has become synonymous with violence against women.
Perhaps if any one of the women Howard was accused of beating was a beloved pop star, he'd be blacklisted from Hollywood by now.
Be the first to receive breaking news alerts and more stories like this by subscribing to our mailing list.