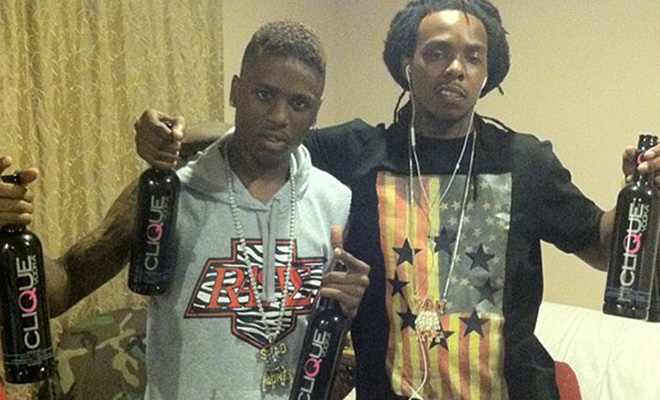 Two rappers associated with Soulja Boy were arrested in Warwick, Rhode Island last Friday after police found out they had attacked two fans in separate incidents and posted a video of one of the incidents online, which was used as evidence in the case.
According to WPRI 12 News in Rhode Island, police were called to a gas station early Friday morning where they found a man who had claimed he had just been pistol whipped, and another who said he was assaulted at a nearby motel.
The victims said the incident was the last in a series of events that happened Thursday night throughout Warwick, Providence and Boston, and that a video of the assault could be found on YouTube.
According to the following narrative posted to the website CKHID.com, the second man was assaulted because he "disrespected" the suspects by saying he would rather meet Soulja Boy over them:
Apparently upset the fan said he was more interested in meeting Soulja Boy than them, the duo felt the claim was ultimate disrespect. The fan apologized for how it sounded but damage to the SODMG rappers egos was done and they were ready to fight.

"Bro, you just said you f**ked with my boy to get to Soulja" says the amped up 22-year-old, Jacorey Dejuan to the fan after punching him in the face.

Its his reason for sucker punching an unarmed Rhode Island youth in the face. After the statement, the camera man for the incident warns the young fan to get out their Motel 6 room. His tone a lot calmer and non-threatening, he forewarns the youth "Ay bruh, you got to get out bruh. You gotta get out bruh."

As the young man walks to the door another member of the Soulja Boy associated crew walks up. As the victim reaches to open the door he's assaulted again, punched 4 times by Ira Malcom aka "Lil Flo Malcom." After dropping to the Motel 6 room's floor from those hits, Dejuan and Malcom double team the scared Rhode Island youth. The two Atlanta men punch and stomp the victim, who tried various times to apologize for what he said. However, they felt he was 'flexin.'

"Why you flexin on A.Goff Man?" says SODMG rapper to the camera as the beating takes place.
With that information, a police SWAT team entered the motel room where the suspects were staying and arrested 22-year-old Jacorey Dejuan Bryant aka "Zone1G" (of Atlanta) and Ira Rophiel Malcom Jr. aka "Lil Flo Malcom" (of Lithonia, Ga.), charging both men with robbery. Bryant was also charged with other crimes too, including two counts of assault with a dangerous weapon (for the pistol-whipping) and malicious damage.
Another video posted to Lil Flo Malcom's Instagram account shows Zone1G (Jacorey Bryant) and another SODMG rapper, A.Goff, "checking" the assault victim about him being from the hood:
Police said Bryant and Malcom were in Massachusetts promoting a rap album under the name "SODMG," which is Soulja Boy's record label imprint.
A word of advice to Soulja Boy: You might want to check your "artists" because whatever they do, your name is going to be thrown into the mix.
CHECK OUT PHOTOS OF SOULJA BOY'S GOON RAPPERS "ZONE1G" & "LIL FLO MALCOM" & HERE:
Be the first to receive breaking news alerts and more stories like this by subscribing to our mailing list.