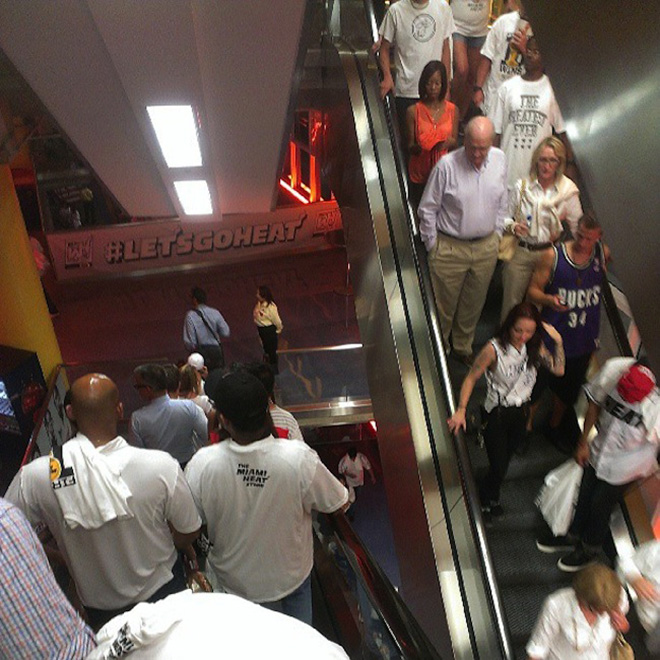 Oh, Miami Heat fans. Why must you make it so easy for the world to make fun of you?
It's very well documented that Miami fans catch a lot of "Heat" (pun intended) for a lot things — like being bandwagoners, or wearing shades indoors, or their "bro culture," or being douchebags, generally. But not ALL Heat fans are like that, though it is hard to argue that a good bit don't fall into at least one of the aforementioned categories.
One big thing that Heat fans are known for doing is leaving before the end of the game when their team is down. And they did just that during Game 6 of the 2013 NBA Finals Tuesday night. But this time it backfired because the Heat actually came back, thanks to Ray Allen and his game-saving 3-pointer, and the poor Miami Heat fans who wanted to "beat the traffic," instead of sticking around to see greatness right in front of their very own eyes, were left outside banging on the doors trying to get back in.
Sorry guys, you know the deal when it comes to sporting events and concerts. Once you're in, you're in. And once you're out … well, you get it.
This well-written piece from the Miami Herald best sums up what happens when you give up on "your team" when they're down:
Stewart Arroyo realized he had made a mistake when he heard a roar coming from AmericanAirlines Arena on Tuesday night.

He was crossing the street toward Bayside, along with his three nephews and dozens of other fans who left in the final minute of regulation in Game 6 of the NBA Finals. They assumed the Miami Heat's season was over.

"Someone looked at his smartphone and said, 'They just tied up!' " Arroyo, 45, said.

Moments later, fans rushed back to the gates and tried to convince security to let them in. But they were denied, and had to watch one of the most epic victories in sports history on the monitors in front of the Heat store.

Photos and videos circulating online showed throngs of fans pouring out of AmericanAirlines Arena in the final minute when the Heat trailed by five points.

A sullen silence had engulfed the arena, some fans said. And few expected the Heat to force overtime and eventually beat the San Antonio Spurs 103-100 to force Game 7.

The early walkout has led to derision from Heat haters across the nation and soul searching among Heat fans, who have gained a reputation for being fickle.

Channel 10 reporter Victor Oquendo, who witnessed the commotion of fans trying to re-enter as he set up for a live shot outside the arena, tweeted Tuesday night:

"I was born and raised in Miami. I used to hate the national perspective against Heat fans but I can't fight it anymore. Now I'm watching horrible, drunk, quitting fans desperately trying to get back in. This is madness." His tweets were picked up by national media and was trending in Chicago.

Danielle Calixto, who was sitting in the lower level behind the basket, said she watched overtime surrounded by dozens of empty seats. She said she was disappointed with the lack of support but not completely surprised because she had witnessed early dismissals during other games this postseason.

"You don't see that in other NBA stadiums," she said. "They need to become better Heat fans."

Arroyo, who sat in the second level behind the Spurs bench, said he left early because he didn't want to endure the pain of watching the Spurs' celebration and trophy ceremony like he experienced in 2011 when the Dallas Mavericks clinched the championship at the Arena, also in Game 6.

"I was screaming my head off the whole game," Arroyo said. "To watch TV at home and criticize somebody for leaving early is wrong. It doesn't mean you are not a good fan."
What?!? Are you kidding? Leaving early IS wrong and it DOES mean that you are NOT a good fan.
No other NBA team's fanbase does this, and this is exactly why people make fun of Miami Heat fans, and this is why you guys had no friends in middle school. People don't like fickleness.
Be the first to receive breaking news alerts and more stories like this by subscribing to our mailing list.