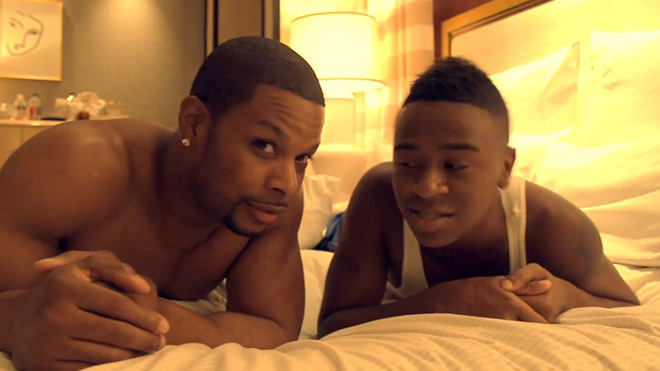 Kerry Rhodes has insisted that he is a 100% heterosexual male on more than one occasion, but a new video that has emerged, showing the NFL free agent lying in the bed (SHIRTLESS!) with his alleged ex-boyfriend Russell "Hollywood" Simpson, may disprove his claims of being "not gay."
As you may have heard by now, Kerry Rhodes has been caught up in somewhat of a "gay scandal" ever since Media Take Out published some suspect-looking photos of the NFL player and his personal assistant Russell "Hollywood" Simpson.
Shortly after the infamous webloid posted the questionable images, with one in a subsequent post showing Rhodes hugging Simpson and kissing him on the forehead, Rhodes put out a statement through TMZ adamantly denying accusations that he was doing gay things with his "assistant."
His exact words:
"Photos have been circulating of my former assistant and I that have caused some rumors regarding my sexuality, and I wanted to address the situation. I am not gay. The shots were taken during a past vacation in a casual environment with my entire business team."
That statement apparently set "Hollywood" off, and he set out on a personal mission to ruin Kerry Rhodes' good name, telling all the blogs who would listen that he wasn't just Kerry Rhodes' "assistant," but his ASS-istant as well … if you catch our drift.

Kerry Rhodes Insists He Isn't Gay, But His (Alleged) Ex-Boyfriend Russell "Hollywood" Simpson Tells Another Story
Still, Rhodes continued to try and rebut Hollywood's claims that they were moreso lovers than friends. He even went as far as to have his publicist put a story out that he was engaged to some woman he's been dating for 10 years that no one has ever heard of because she is "drama free" and prefers to "stay out the limelight."
Supposedly, they're getting married in June … but back to that video tho.
Apparently, "Hollywood" is trying to get a reality show about being friends with and an assistant to an athlete, so he put together a little mini-documentary to try and catch the attention of some TV producers, but honestly, it really just looks like he's continuing his mission of ruining Kerry's good name, because it has GAY, GAY, GAY written all over it.
From The YBF:
This random video that shows how "Hollywood" lives his life as a celebrity assistant is very….interesting. Apparently, dude is trying to get a reality show about his life that is about being friends with and an assistant to an athlete. But there two indeed seem…close.

Toward the end, the two are laying in bed kiki'ing…with Kerry shirtless and Hollywood rubbing his arm. They seemed to be talking about a mutual friend's soda habit and they seemed to think it was hilarious. Guess it's one of those "inside" jokes.
And here's the video so you can make your own judgments:
Be the first to receive breaking news alerts and more stories like this by subscribing to our mailing list.