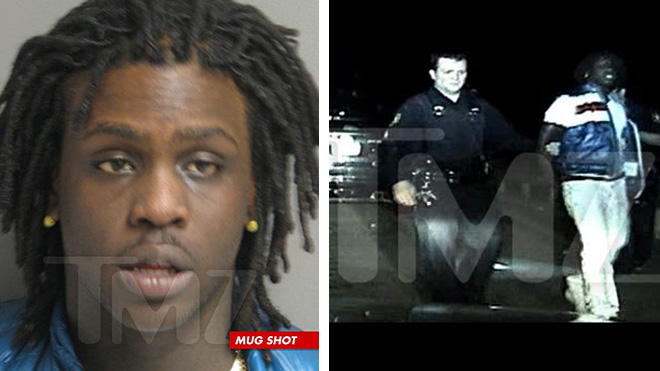 Exactly one week after getting arrested for smoking weed at a hotel in Atlanta, Georgia, everybody's favorite trouble making rapper Chief Keef was arrested in his home state of Illinois earlier this week, this time for speeding. (Excuse the dumb-founded look in his mugshot; the poor kid can't help it.)
According to Northfield, Ill. police, just after 3 a.m. on Monday (May 27), the teen rapper — who was on his way home from a show in Davenport, Iowa — was clocked doing 110 mph in a 55 mph zone, and when he was pulled over in his 2011 BMW X6 M, he reportedly told the cops he had $8,000 on him.
"Eight thousand dollars cash, right?" the clearly astonished officer verifies, as heard in the dashcam footage released Friday.
WATCH HERE:
Keef (real name: Ketih Cozart) was charged with driving without a license, because he was only had a permit, and he also had three other passengers in the car with him, and judging by the arrest footage, Mr. Cozart didn't really seem too bothered by the whole thing at all.
TMZ's video shows Cozart's black BMW flying past the police, and when the arresting officers show him how fast he was going on their radar, you can hear him responding in the clip, "It's a fast car, that's why I bought it."
Can't argue with that logic.
Be the first to receive breaking news alerts and more stories like this by subscribing to our mailing list.