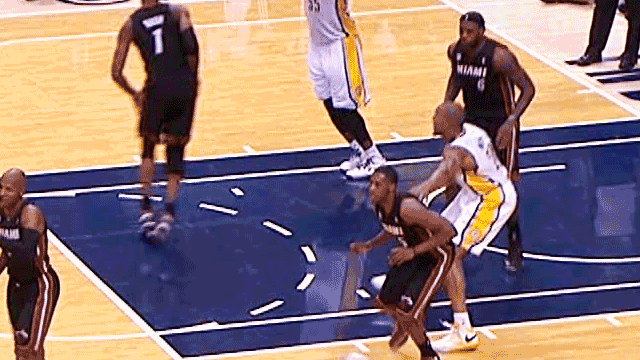 Flop so hard muhfukas wanna fine me!
Backstory: This happened last night during the fourth Miami Heat/Indiana Pacers playoff game, which the Heat lost, 99-92 (tying the series 2-2). But wait! LeBron says he's no flopper:
"Some guys have been doing it for years, just trying to get an advantage," James said Monday in the lead-up to Tuesday's Game 4 of the Eastern Conference finals. "Any way you can get an advantage over the opponent to help your team win, so be it."
And he previously said this during the Bulls series:
"I don't need to flop," James said. "I play an aggressive game. I don't flop. I've never been one of those guys."
Oh, OK. I see it now. He wasn't flopping. Someone on the sidelines must have shot him! Was it a photographer? Was it an angry Pacers fan? Is he okay? Someone should really look into this…
OBLIGATORY VIDEO FOOTAGE:
[H/T: Deadspin]
Be the first to receive breaking news alerts and more stories like this by subscribing to our mailing list.