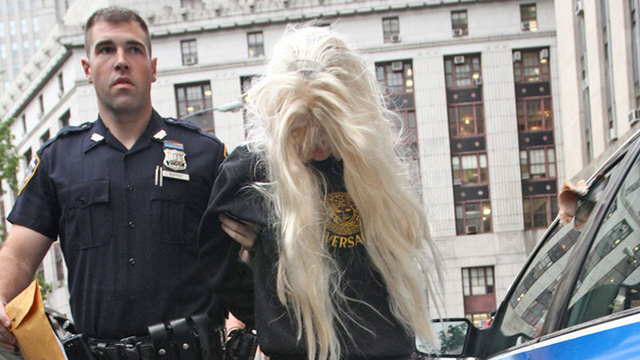 Sexual assault/harassment is never something that should be taken lightly, as it is a chronic global issue. Yet when crazy train conductor Amanda Bynes claimed to have been touched inappropriately by the NYPD, most people partook in a collective eye role.
The former "All That" star was arrested last Thursday for reportedly throwing a bong out her window. She has also been accused of smoking pot in her lobby.
According to reports, building personal contacted the police, who arrived at her apartment and found that it (surprise!) reeked of pot. Perhaps the most knee-slapping funny moment was when the cops spotted a bong, which Amanda promptly chucked out the window. and Bynes claimed it was "just a vase."
Of course Bynes denies all of this, claiming that the "bong" she hurled from her window was "just a vase."
On Monday, the 27-year-old posted a lengthy Twitter rant proclaiming her innocence and accusing the NYPD of sexually harassing her. The president of Nutcaseville also talked about her prospective career as a singer/rapper. (ROFL!)
For once and for all, this is the last thing I'll say about the mistaken arrest. I'm suing NYPD for illegally entering my apartment, lying about drugs on me and lying about me tampering with non existent drug paraphernalia, then I'm suing for being put into a mental hospital against my will, then locked up overnight for coming home after a facial and working out with my trainer like the good girl that I am.

I'm allergic to alcohol and drugs and don't partake in any of the above. I'm so offended by all of this but so proud to not be a drug or alcohol user. I don't need to talk about this anymore. My lawyer and I are taking this offense so seriously! Everything they did was against the law and The judge saw that there was no drugs on me or proof of any type of bong or mental illness.

I was so offended to even be taken to a mental hospital and they would not let me call my lawyer until the next day after being in jail all night, then I went to court and was immediately released because the judge saw that I was wrongly arrested. The cops found no proof of any type of drug use or evidence of drug paraphernalia such as a bong in or around my apartment.

I'm also suing my apartment complex for lying about me smoking in my building. I'm free forever! You can't lock up an innocent person! Thanks for caring! Look forward to seeing me in music videos! I'm getting in shape and getting a nose job! I'm looking forward to a long and wonderful career as a singer/rapper!
So how true are Bynes' claims that she is innocent?
While cops engaging in criminal activity and framing innocent people is not unheard of, Bynes has an extensive rap sheet of crazy that includes several arrests for drug use and reckless behavior, so the odds that the arrest was unwarranted are pretty slim.
The NYPD has released a statement (via ABC News), denying Bynes' claims of sexual assault.
"Internal Affairs investigators have found no evidence to corroborate Ms. Bynes' allegations," said an NYPD spokesperson. "To the contrary, a credible civilian witness who was with the officers throughout told investigators that none touched Ms. Bynes inappropriately or otherwise engaged in misconduct at any time."
As for Amanda's plans for kicking off a "long and wonderful career as a singer/rapper" …. LOLOLOLOLOLOLOL!!!
Stay tuned for the star's next batshit crazy move…
Be the first to receive breaking news alerts and more stories like this by subscribing to our mailing list.