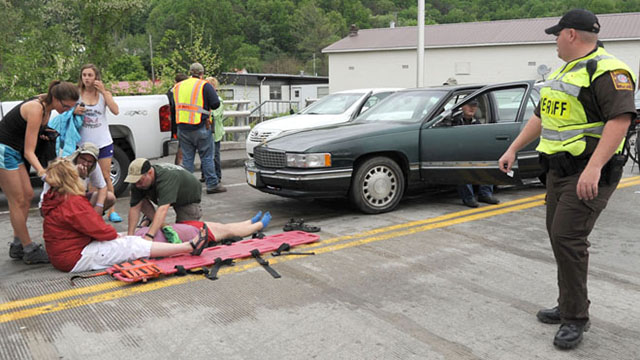 At least 50 to 60 people were injured after a car plowed through a group of hikers at a parade at a small town in Virginia. Among the injured were at least five or six reported "trauma victims," according to police dispatchers who said the injuries ranged critical to superficial.
Three of the victims were reportedly flown by helicopter to regional hospitals, while another 12 to 15 were taken by ambulance. The rest were treated at the scene. The status of the driver wasn't released, however multiple witnesses have described him as an elderly man.
Pokey Harris, the director of emergency management for Washington County, told the Associated Press that authorities are still investigating the incident, but they believe the man behind the wheel of the car may have suffered a medical emergency before the accident, which happened early Saturday afternoon, at around 2:30 p.m., during the Hikers Parade at the annual Trail Days festival in in Damascus, Va.
It wasn't immediately known what exactly caused the man to drive into the crowd, but witnesses say he came out of nowhere from a side street and "thuds" could be heard as he ran over a large number of hikers, while people were screaming "Stop! Stop!" After going for more than 100 feet, the man eventually stopped, but not before injuring over 50 people.
"He was hitting hikers," said Vickie Harmon, a witness from Damascus. "I saw hikers just go everywhere."
As reported by the Associated Press:
"He was hitting hikers," said Vickie Harmon, a witness from Damascus. "I saw hikers just go everywhere."

Damascus resident Amanda Puckett, who was watching the parade with her children, ran to the car, where she and others lifted the car off those pinned underneath.

"Everybody just threw our hands up on the car and we just lifted the car up," she said.

Keith Neumann, a hiker from South Carolina, said he was part of the group that scrambled around the car. They pushed the car backward to free a woman trapped underneath and lifted it off the ground to make sure no one else was trapped. Another person jumped inside to put it in park. "There's no single heroes. We're talking about a group effort of everybody jumping in," he said.
Thankfully, there were already ambulances ahead of the hikers in the parade, and paramedics on board were immediately able to respond to the crash.
Story developing…
Be the first to receive breaking news alerts and more stories like this by subscribing to our mailing list.