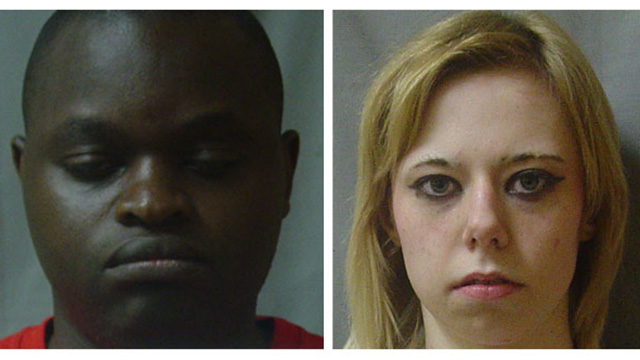 Baltimore police arrested a 31-year-old man who tried to pimp his teen wife out to an undercover cop for $100 at a hotel, which would have been a pretty common news story had the husband-pimp not been a Baltimore City cop himself.
The Maryland State Police Child Recovery Unit was reportedly working their normal proactive child prostitution/human trafficking operation last Thursday (May 9) when they came across a young-looking woman offering her services as an escort on a website known for prostitution, authorities said.
The cops responded to the ad and arranged a meeting. An undercover officer met with the woman from the ad, 19-year-old Marissa Braun, who called herself "Lexi," at a hotel room near the Baltimore-Washington International Thurgood Marshall Airport while Braun's husband, Lamin Manneh, waited outside in the parking lot.
Police said they arrested Braun after she allegedly told the undercover cop "You give me the $100 and then you can (have sex) with me."
She also told the undercover that she was working for her husband, who uses his credit cards to post the ads online, and also "drives her from date to date since she cannot drive."
Police eventually found Manneh in the parking lot of the same hotel, and he admitted to police that he was indeed pimping his wife out and corroborated her story. Manneh was arrested and charged with human trafficking and prostitution, while Braun was charged with one count of prostitution.
Manneh was reportedly booked and released on his own recognizance, but authorities said that he would be suspended without pay pending an internal affairs investigation from the Baltimore City Police Department.
Manneh is said to be in a probationary period with the department, so his arrest will likely lead to dismissal.
A spokesman from the Baltimore City Police Department released the following statement from Deputy Commissioner Jerry Rodriguez:
"This allegation is a disgrace and embarrassment to every member — both current and retired — who serve with the Baltimore Police Department. The alleged actions and criminal charges brought against Mr. Manneh are serious and undermine the integrity and pride of this organization. We expect every member of this department to hold themselves to the highest of professional standards. Our colleagues and our community deserve nothing less."
Baltimore City police have been in the news a lot lately for criminal activity. Early last week, a Baltimore cop killed his girlfriend and held a toddler hostage before he engaged in a standoff with the SWAT Team.
And just last month, a woman recently filed a million-dollar lawsuit against the Baltimore City Police Department on claims that she was assaulted by four officers when she tried to record them with her cell phone while they were allegedly assaulting a juvenile suspect.
All of which raises this burning question: What the f**k is going on with Baltimore police?!?
Be the first to receive breaking news alerts and more stories like this by subscribing to our mailing list.