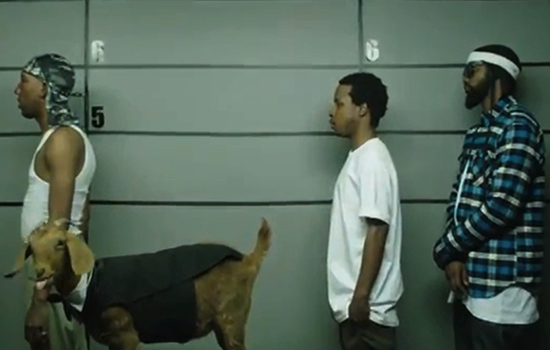 Mountain Dew's parent company PepsiCo has announced that they are pulling an offensive commercial advertisement that has sparked a ton of outrage online from viewers who feel as though the ad is racist.
Pepsi released the following statement:
"We understand how this video could be perceived by some as offensive, and we apologize to those who were offended. We have removed the video from all Mountain Dew channels and have been informed that Tyler is removing it from his channels as well."
The 60-second spot, which was created by controversial Hip Hop artist Tyler the Creator, shows a battered woman on crutches who is asked to pick her assailant out of a police lineup of five black guys (one named Beyonte?) and a crazy goat named Felicia.
The five black guys are members of Tyler the Creator's music group Odd Future, and that particular ad is one of several commercials devised by the rapper.
In the commercial, Felicia the goat — in a male voice — taunts the battered woman, using phrases like "You betta not snitch on a playa!", "Snitches get stitches, fool!" and "Keep your mouth shut!" In all honesty, it's really stupid and not even in the least bit funny. I think "pointless" is the real word we're looking for here.
Your Black World's Dr. Boyce Watkins had this to say about the ad, which he considers to be "arguably the most racist commercial in history":
In the world of Mountain Dew, every single suspect is black Not just regular black people, but the kinds of ratchety negroes you might find in the middle of any hip-hop minstrel show: Gold teeth, "mean mugging," sun glasses wearing, white-t sportin, hard core n*ggaz ready to "get into some ol gangsta sh*t." Apparently, this is the kind of ad you put out if you want to appeal to the black male demographic.
In response to the controversy, Odd Future's manager released a statement via Tumblr. Read an excerpt below:
It was never Tyler's intention to offend however, offense is personal and valid to anyone who is offended. Out of respect to those that were offended and the ad was taken down. For those who know and respect Tyler he is known for pushing boundaries and challenging stereotypes thru humor. This is someone who grew up on David Chappelle. This situation is layered with context and is a discussion that Tyler would love to address in the right forum as he does have a point of view. As someone who hasn't had the experience of being discriminated against I choose to respect the opinion of those who have… what I can speak to is Tyler who represents much more than the current narrative this story suggests. Contrary to what many may discern from this Tyler is the embodiment of not judging others, his delivery may not be for everyone (which is true for anyone who pushes boundaries) but his voice is nonetheless important to the conversation since his demographic understands what he ultimately stands for and sees the irony of it all.
Be the first to receive breaking news alerts and more stories like this by subscribing to our mailing list.