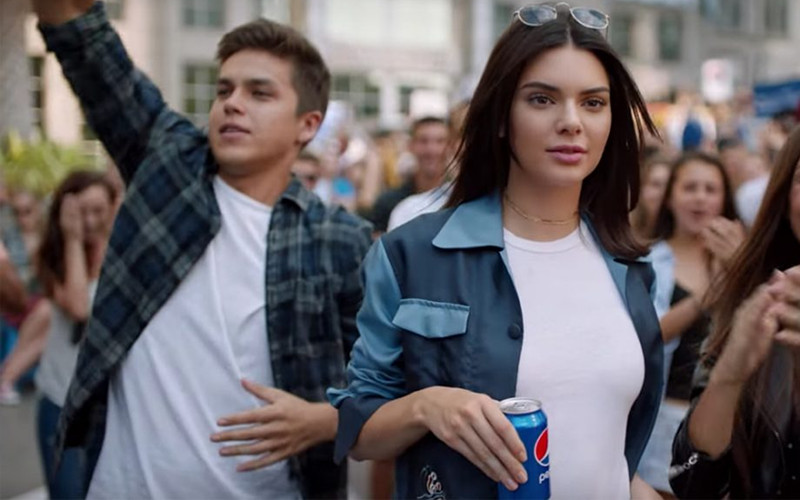 Kendall Jenner has no clue why all of you are so upset over a commercial. That's because, apparently, in Kendall's world, no such ad ever happened. The model has returned to social media for the first time in more than a week and there was no mention, whatsoever, of her incredibly tone-deaf Pepsi commercial.
It's been nine days since Kendall Jenner ended police brutality by handing a police officer a can of Pepsi in a commercial that has since been pulled. Though Pepsi apologized and admitted they "missed the mark" with the ad, the reality star/model collected her check and has kept quiet on the controversy.
The popular celebrity finally returned to social media on Thursday (Apr. 13). However, she did not offer an apology, explanation, or sympathy to those who found the commercial insensitive and tone-deaf. In fact, she didn't address the Pepsi ad at all. She simply used her Twitter as a self-promotional tool for her latest magazine cover.
Harper's Bazaar 150th anniversary issue. @harpersbazaarus stay tuned… pic.twitter.com/SplBzWuWOE

— Kendall (@KendallJenner) April 13, 2017
It's wonderful news that the model landed the cover of Harper's Bazaar's 150th anniversary issue, but many couldn't care less. The reaction to the post went exactly how you would expect.
https://twitter.com/Trinketier/status/852577006587854848
Good for u entitled rich one. Reappropriating resistance & capitalizing on vulnerable communities who fight injustice is disgraceful.

— Flo Davis (@Flo4Davis) April 13, 2017
Are you really this tone-deaf and self-absorbed?! Which is worse: Harpers featuring Jenner or Jenner tweeting it? It's a tie. Get a clue.

— Quinn Daniels (@MightyQuinnUSA) April 13, 2017
No word about #Pepsi ad huh Kendall, Really?!?!You disgust me?

— ??Dee Dee Parker?? (@DeeDeeParker21) April 13, 2017
https://twitter.com/ShafPatel/status/852548171066691586
Despite the heavy criticism of the Pepsi ad, which was pulled a day after its release, a recent Morning Consult survey found the ad was actually well-liked. A survey of 2,202 people conducted April 6-9 found that 44% had a more favorable view of Pepsi, while only 25% had a less favorable view of the brand. 28% reported no impact from the commercial.
What's even more shocking is that minorities overwhelmingly approved of the ad. 75% of Latinos and 51% of black people found the ad favorable. Only 41% of white people said the same. 264 Latinos and 246 black people were interviewed for the survey.
Real-time reactions to the ad along party lines were also monitored by Morning Consult. Democrats had a negative reaction whenever Kendall or police officers appeared onscreen. Meanwhile, Republicans, unsurprisingly, got scared when a woman wearing a hijab was shown and approved of the line of police officers.
The disparity between the social media outrage and survey results may reveal just how powerful and influential social media really is. However, regardless of the true response to the Kendall Jenner/Pepsi commercial, the fact that police brutality and tensions between protesters and police officers cannot be fixed by a can of Pepsi still remains.
Be the first to receive breaking news alerts and more stories like this by subscribing to our mailing list.