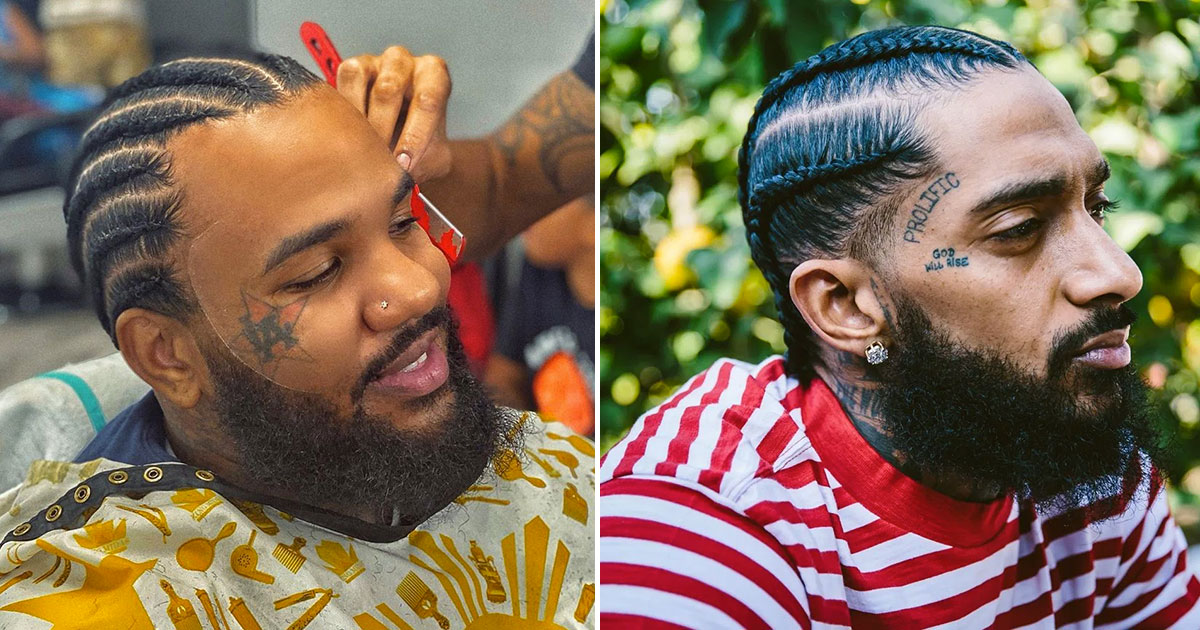 The Game recently showed off a new look on Instagram, and fans quickly pointed out how much he resembles his late friend, Nipsey Hussle.
Since Nipsey's heartbreaking shooting death back in March, Game has been posting about him regularly on social media, and even went as far as getting a huge tattoo of Nip's face on his chest.
Now, some fans are accusing Game of taking his apparent obsession with Nipsey a bit too far.
The photo Game shared is of him sitting in a barber's chair getting lined up, and it's clear that he's showing off his fresh braids.
The "All Eyez" rapper captioned the post:
You gotta learn to smile through the bullsh*t … been in the cut letting my sh*t grow on the low lmaooo … Shout out @westcoastbraids for gettin a young ni**a right & my dawg @allenray_3 for the precision on this immaculate line-up lol… Oh' & me & my brother @DaveEast [are] now at "WAR" wit the length on this braids… you betta pull up on em so they get longer, give me another month
https://www.instagram.com/p/B30mEPxJpIC/
While some fans thought he resembled Jidenna, others said Game's braids put them in the mind of Nipsey Hussle.
"Nip 2.0," one IG user commented. "Game Hussle?" joked another.
Another hip-hop fan said on Twitter: "The Game gotta be the corniest ni**a out, now he getting braids. He wanna be Nipsey so bad."
The Game gotta be the corniest nigga out , now he getting braids . He wanna be Nipsey so bad ??

— Cee (@_CeesUpMan) October 20, 2019
This isn't the first time Game has faced criticism from fans accusing him of copying Nipsey Hussle. Last month, keen listeners pointed out that Game's verse on Dom Kennedy "PHARAOHS" sounded like Nipsey.
Lmao… Yes, yes he does. He wanna be Nipsey so bad https://t.co/7qk5JwM2Ww

— ?Wo?fOfNewYork?? (@Word2myKnicks) September 6, 2019
Game also recently came under heavy fire from fans who accused him of exploiting Nipsey's name for monetary gain after he announced his new record label Prolific Records LA and its accompanying merch brand. (FYI: Nipsey had the word "Prolific" tattooed on his face.)
The Game is really doing his best to profit off of Nipsey Hussle lol he's sick. Even Nips friends are mad about it pic.twitter.com/QGx7oV4jwh

— . (@YaniG4L) October 17, 2019
However, the Los Angeles rapper made it clear that he's doing nothing of the sort, and he, in fact, sought the blessing of Nipsey's family before making his announcement.
"The use of the world 'Prolific' by myself is the only way of helping to carry on my bro's legacy," he wrote on his Instagram Stories. "Any merch that has been sold has my face on it, my albums is all pictures, logos etc are related to THE GAME.
"Out of love for Nip, Blacc Sam and his immediate family etc. I purposely did not include any pics of Nip nor his likeness & directed all traffic to @themarathonclothing as I've done since bro's passing. I've spoken closely to 'Blacc Sam' every step of the way & have had his blessing with things I've done to help honor bro's name and continue his legacy."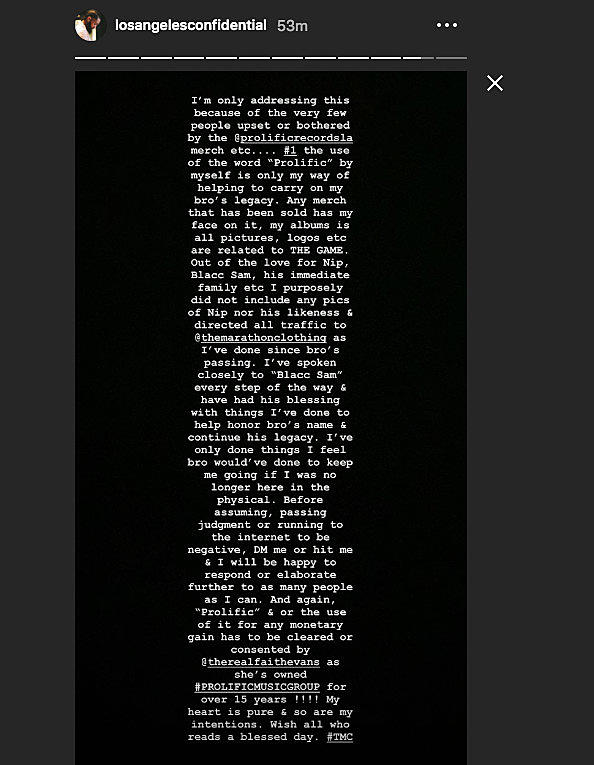 Be the first to receive breaking news alerts and more stories like this by subscribing to our mailing list.