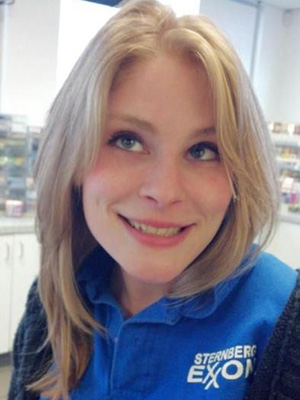 A young mom from Michigan disappeared from the gas station where she worked on Friday night and police suspect she was abducted.
According to Huff Post Crime, 25-year-old Jessica Heeringa went missing just before she was set to close up the Norton Shores Exxon Mobil.
Heeringa, the mother of a 3-year-old child, reportedly made her last customer transaction at 11 p.m. Fifteen minutes later, police received a call from a customer who informed them that the gas station was vacant but still open.
ABC News reports that police suspect foul play and they are on the lookout for a silver minivan that might be connected to the mysterious incident.
Investigators have indicated that robbery was not a motive in the crime, since Heeringa's belongings were found at the scene and no money was taken from the register.
Heeringa's mother, Shelly, told Michigan Live that she believes someone her daughter had seen before at the gas station "lured [her] out back and shoved her in the back of [a] van."
Local Michigan news station WOOD TV has released this description of the woman to aid in her search:
Jessica is a 25-year-old female, 5 feet 1 inch tall, weighing about 110 pounds, and has blonde, shoulder-length hair, blue eyes and wears wire-rimmed glasses. She may be wearing a blue-collared shirt that says Sternberg Exxon.
The case is eerily similar to a  couple of other mysterious incidents.
For instance, in 1999 case in a 19-year-old Minnesota woman named Kathlyn Poirier was kidnapped from the gas station where she worked and was later murdered.
And in 1990, a woman named Deborah Poe vanished while working the graveyard shift at a gas station in Orlando, Florida. Her possessions and the store's register were left untouched. To this date, she has never been found.
Anyone with information on Heeringa's disappearance is asked to call, Silent Observer at 231-72-CRIME (231-722-7463).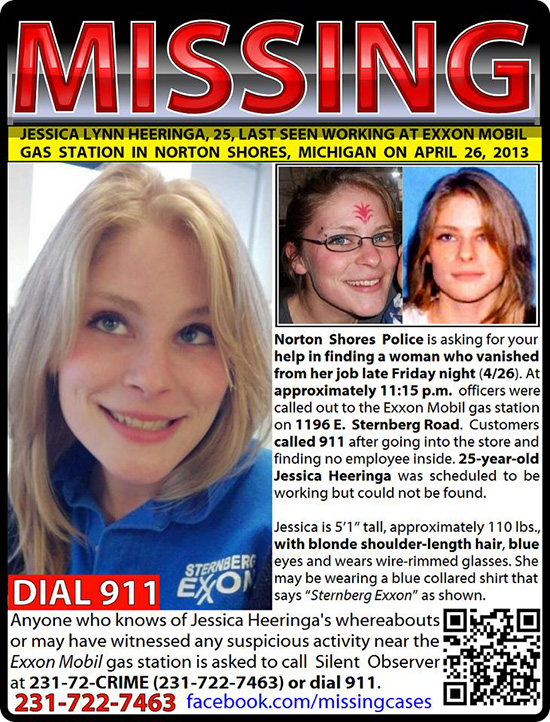 [HuffPost, Unsolved Mysteries, Minnesota Public Radio]
Be the first to receive breaking news alerts and more stories like this by subscribing to our mailing list.