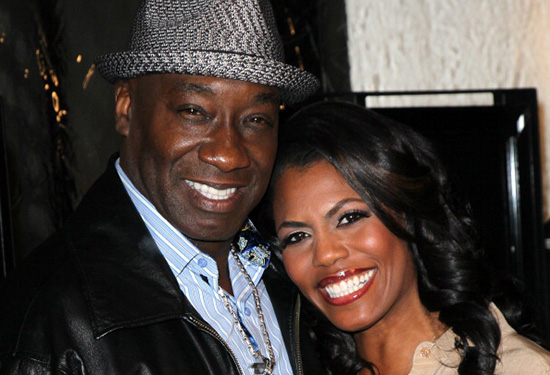 Omarosa Manigault, better known as the most evil villain on reality TV, is in hot water with her late fiance's family, according to a report from TMZ.
When Michael Clarke Duncan unexpectedly died last year, he left nearly everything to his then-fiancee Omarosa. Now La Toya Jackson, Omarosa's cast mate on the latest season of "Celebrity Apprentice", isn't the only one casting aspersions about Omarosa's dedication to her almost-husband.
Judy Duncan, Michael's sister, is suspicious about the circumstances under which a change was made to her late brother's will that handed Omarosa the keys to the kingdom in April 2012. Judy maintains that any changes at that time are questionable since her brother was essentially out of it since late 2011.
Omarosa has also gone on a wild selling spree of Michael's belongings, including his watches, awards and cars. Damn. Guess Omarosa needs to clean out her old man's clutter so she can make room for her boo.
But Omarosa isn't letting Judy's accusations go unanswered. She made a statement to TMZ saying, "I don't control the estate or the finances and Judy knows it. If you saw all of her emails and texts to me you would see that she is just trying to get money from me, and threatened going to press if I did not give it to her and that is a crime!"
Whatever. All I know is that La Toya Jackson is a prophet. She always gets it right, so if she thinks there was something fishy going on with Omarosa and Michael then it must be true. Her (little) nose knows best.
Be the first to receive breaking news alerts and more stories like this by subscribing to our mailing list.