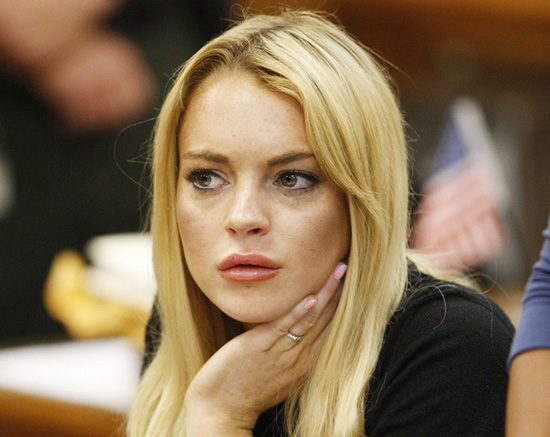 When you're an everyday poor person and you're caught smoking a joint or bootlegging a movie, you can get serious jail time. However, if your an entitled and self-important celebrity, you can drive drunk, fail drug tests, steal, violate parole, punch people in the face, and practically run people over and still manage to escape prison.
Or at least that's what this eye roll-inducing Lindsay Lohan saga has taught us.
The troubled star, who looked a HOT ass mess in court, we must say, accepted a plea deal on Monday in which she'll check into a drug rehab facility for 90 days … instead of being locked up like she should be.
But not to worry folks, the publicity-grabbing one woman circus that is LiLo will probably pay off the facility to release her early and she'll be back on the streets doing damage in no time.
"A suggestion — don't drive," Los Angeles Superior Judge James Dabney told Lohan after the deal was reached.
Clearly he doesn't get that for the last seven years, the 26-year-old could have easily hired a driver (or taken a cab home like mere mortals do).
Lindsay could have been as drunk and as coked-out as she wanted without endangering pedestrians, but alas, common sense has never been her strong suit.
Be the first to receive breaking news alerts and more stories like this by subscribing to our mailing list.